Bhindi Masala – Vegan Dry Okra Curry
This post contains links to affiliate websites such as Amazon, and I receive a commission for any purchases you make using these links. I appreciate your continued support for Oh My Veg!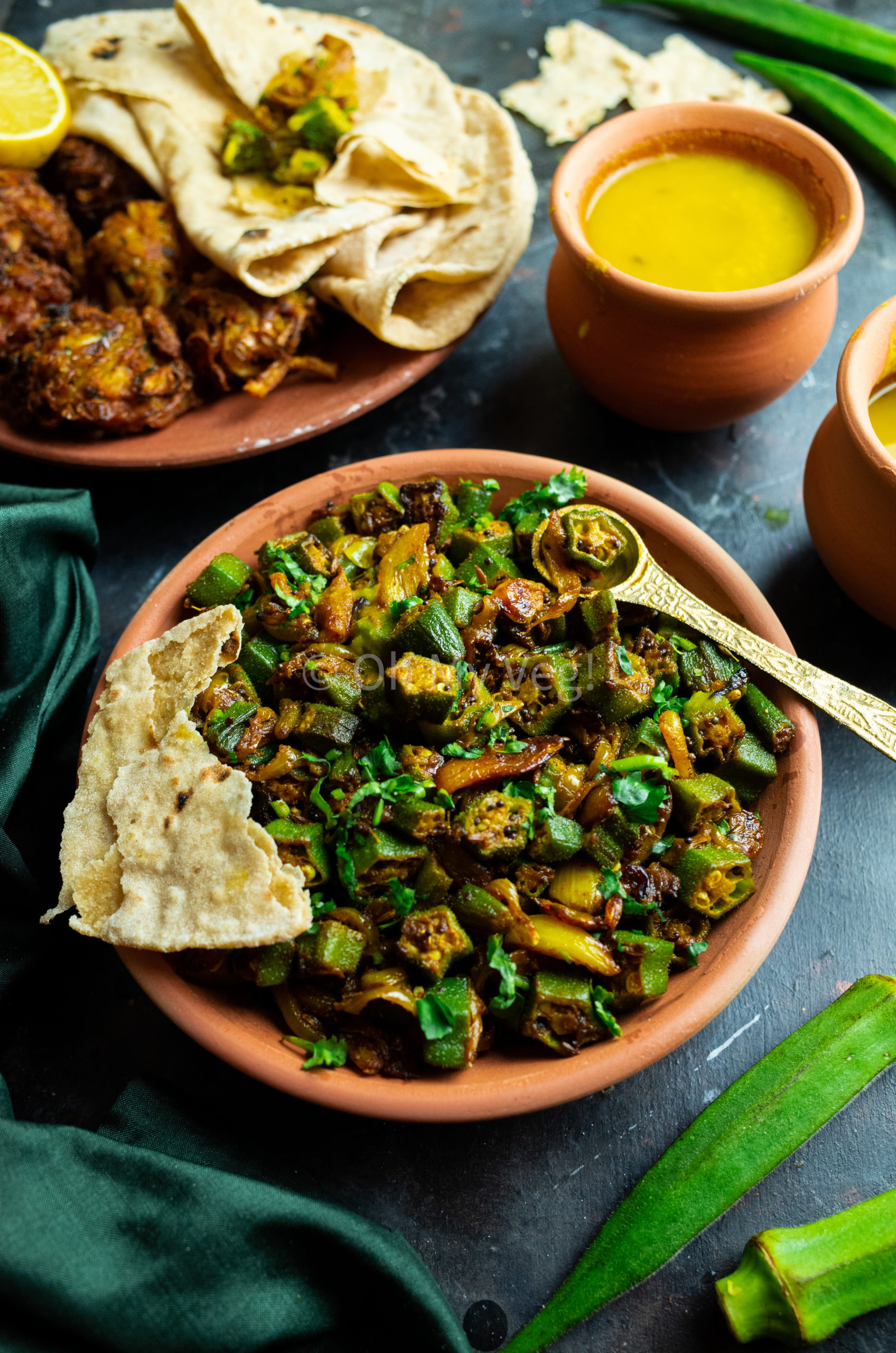 This Bhindi Masala is one of the most popular dishes in our household. Whether you love or hate Okra, without a doubt you'll be sure to enjoy this recipe. Although I'm personally a big fan, I was shocked to find that I've uploaded more recipes for Okra than any other vegetable – including Maharashtrian stuffed Okra Bharli Bhendi, crispy Okra "fries" Kurkuri Bhindi, and now Bhindi Masala, my personal favourite.
In Hindi, "Bhindi" means Okra, otherwise known as "Ladies Fingers". "Masala" simply refers to spices – meaning that this dish is dry-fried in a delicious combination of oil, garlic, onion, and simple spices. The ingredients may be minimal, but it packs a big punch in terms of flavour. If you're sitting on the fence about Okra due to it's reputation of being slimy, please try this dish. Indian recipes have developed a sure-fire method to make sure the resulting dish is crisp and "masaledar" – meaning spicy, tangy, addictive and full of flavour.
Best of all, this dish takes less than 20 minutes to cook, requires less than 10 ingredients (including spices), can be made with either fresh or frozen okra, and tastes great with any variety of side dishes.
This dish is a must-try if you love Indian food.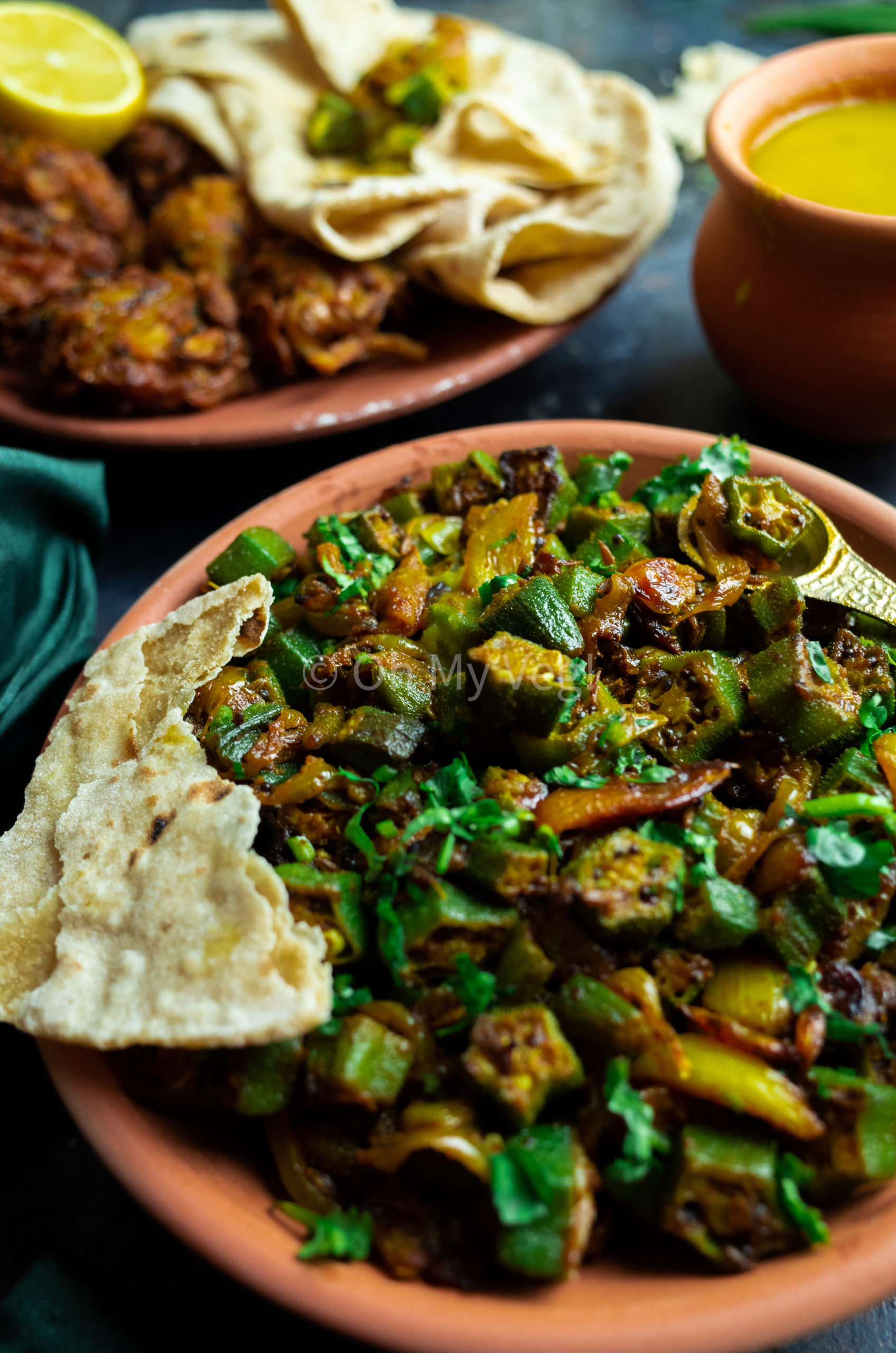 Is Bhindi Masala Vegan, Gluten Free and Soy Free?
Yes! With less than 10 ingredients (including oil & spices!) in total, this Bhindi Masala is completely Vegetarian, Vegan, Gluten Free, Soy Free, Nut Free and Diary Free.
Made with only wholefoods and simple spices (no hidden ingredients!), Bhindi Masala is truly a nourishing meal bound to make even the most discerning guests or family members happy.
How do you remove stickiness or avoid slimy Okra / Bhindi?
Choose the best Okra. The first stage of making your dish a success is to select the best pods. Look for bright green pods without any brown marks, bruising, scratches or blemishes. Smaller pods will generally be more tender. Do be aware that okra have fine hairs which can irritate the skin and be quite 'prickly', so handle minimally!
Keep everything dry during prep. Wash your Okra and then leave it to air-dry next to a sunny windowsill. Before cutting the okra, make sure your knife and cutting surface is completely bone-dry. Okra releases slime when being cut and water exasperates the problem. This is not necessary if using frozen okra.
Don't overcrowd the pan, don't over stir and don't cover. Make sure you select a pan which is big enough to hold all the okra without overcrowding. Further, avoid excessively stirring the okra and just let it be. Finally, try not to cover the pan as this creates steam and in turn, moisture. It can be done if necessary to cook the okra further, but in general try to avoid this.
Salt at the end. Salting food releases moisture, which can make the okra more slimy. That's why I always prefer to season my okra with salt right at the end of cooking.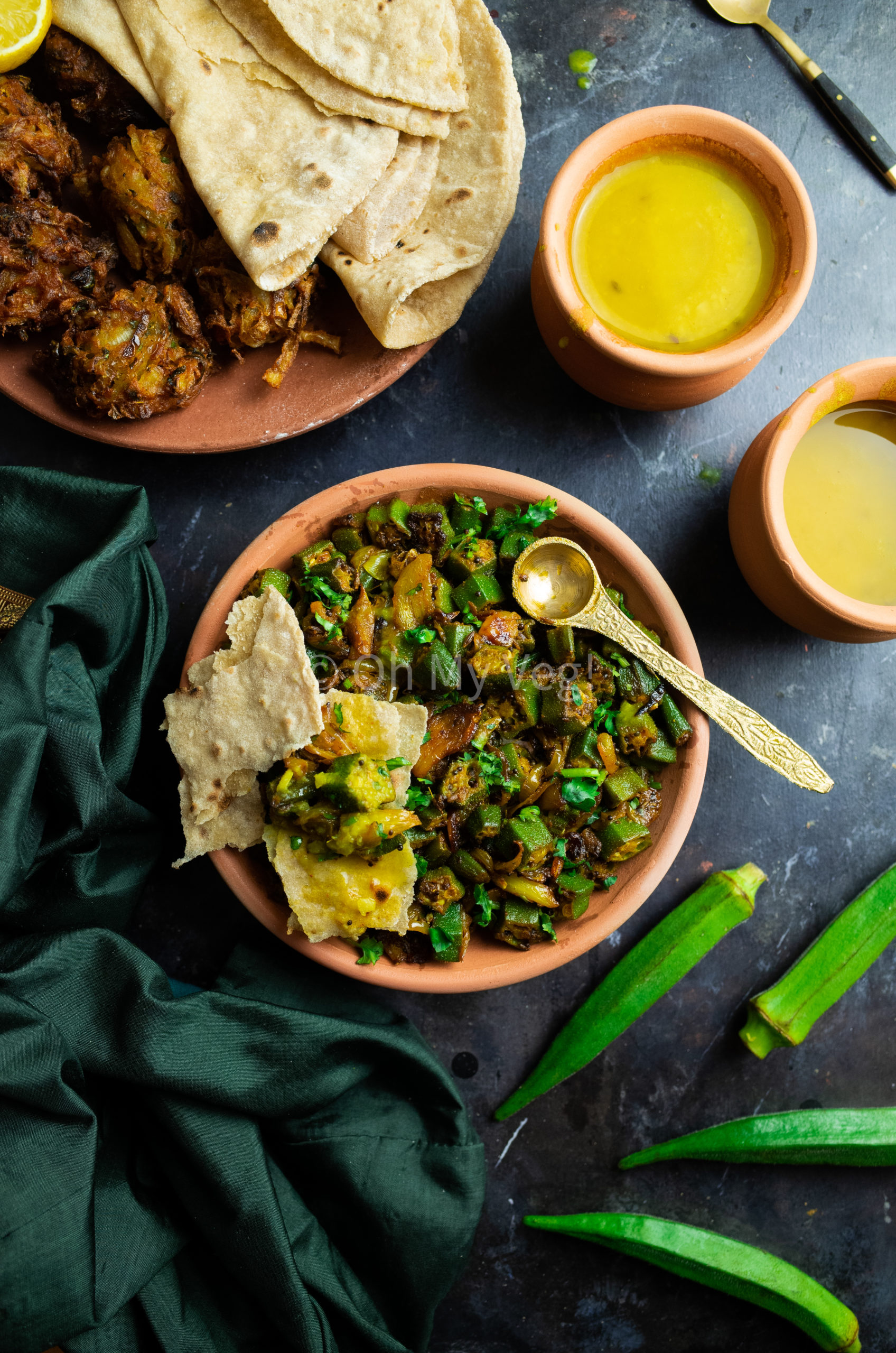 Can you use frozen Okra in Bhindi Masala?
Yes! One of the best things about this recipe is that it works well with either fresh or frozen Okra, making it much more accessible for those of you who don't have access to fresh exotic vegetables. Although using fresh vegetables is generally the best option, there's very little if any reduction in taste between the two. If you can, opt for pre-cut okra and use it straight from the packet.
This Bhindi Masala Recipe Is …
Vegetarian, Vegan, Gluten Free, Nut Free and Soy Free
Low calorie and healthy
An authentic Indian recipe popular all over the subcontinent
Quick and easy – ready in 20 minutes
Budget Friendly
Totally non-sticky or slimy
If you're interested in more Vegan recipes, why not check out Bharli Vangi, a delicious Maharashtrian stuffed aubergine curry; Punjabi Chole, an aromatic and spicy chickpea dish; Kanda Poha, a 15 minute breakfast made with rice flakes; Batatyache Rassa or Palak Aloo, both simple Potato recipes; or for a more South Indian feast try out Rava Idli, Medu Vada and Vegetable Sambar.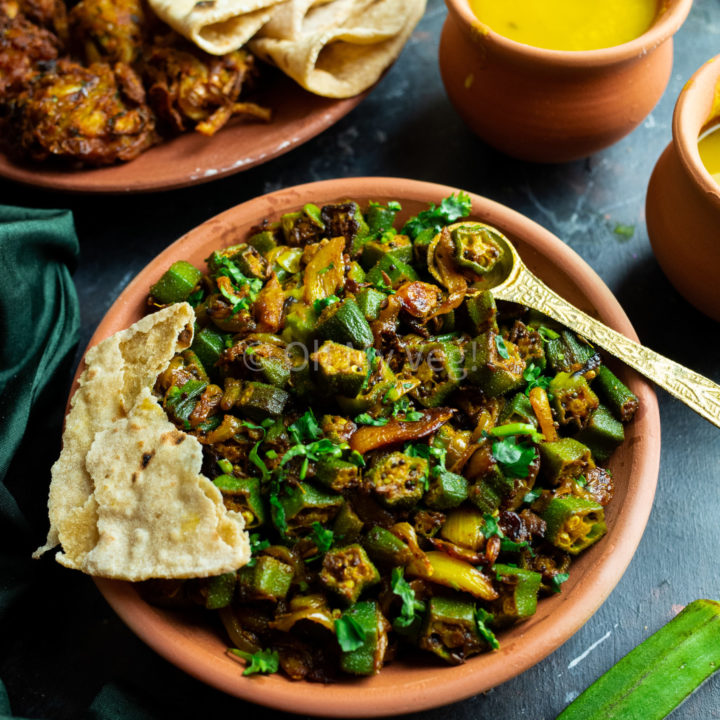 Bhindi Masala - Vegan Dry Okra Curry
A super simple Vegan dry curry made with less than 10 ingredients. Perfect to eat with Dal and Flatbread.
Ingredients
160g Whole Bhindi/Okra/Ladies Fingers 
2 tbsp Neutral Oil of choice 
4 Garlic Cloves, roughly crushed in mortar and pestle 
50g White Onion, finely sliced 
Salt to taste
Fresh Coriander, to garnish 
Instructions
Prep the Okra*. Wash the Okra well and let it air-dry (or pat down with a paper towel). Using a dry chopping board and a dry knife, cut the okra into medium sized rounds. Discard the tips. Prep the garlic and onion also.
To cook the Okra, begin by adding oil to a medium Kadai or non-stick frying pan over medium heat. Once the oil is hot add mustard seeds and wait for them to 'pop'. Immediately add the cumin seeds, which should splutter. Next add the garlic and onion and sauté for 30 seconds -1 minute. Add the dried spice powders: turmeric powder, red chilli powder, and coriander powder. Stir well and then add the chopped okra.
Don't cover the pan and cook for around 10 - 15 minutes, stirring occasionally, until the okra is softened and non-sticky. Once the okra is cooked, turn off the heat and add salt and fresh coriander. Stir through and serve hot.
Notes
* If you're using pre-cut frozen Okra, there's no need to wash and dry the Okra. You can skip this step and add it directly to the pan.
Recommended Products
As an Amazon Associate and member of other affiliate programs, I earn from qualifying purchases.
How to serve Bhindi Masala?
Bhindi Masala is a versatile dish which will taste wonderful paired with any Indian meal. My favourite way to eat it is with Baingan Bharta, Chapatis, Onion Bhajis and a simple Varan or Dal Tadka. Tearing a small piece of garam garam chapati, taking a piece of bhindi and scooping up some creamy hot dal then devouring the whole mouthful is just an experience you must have.
However, you could even serve this as a side dish with South Indian Vegetable Sambar with either Rice, Medu Vada, or Rava Idli. Or try pairing it with a nourishing Chole/Chana Masala for a veritable vegetarian feast!
Please let me know down below how you chose to serve your Bhindi Masala and your feedback on the recipe.