Garlic Chili Oil & Zucchini Instant Ramen Noodles
This post contains links to affiliate websites such as Amazon, and I receive a commission for any purchases you make using these links. I appreciate your continued support for Oh My Veg!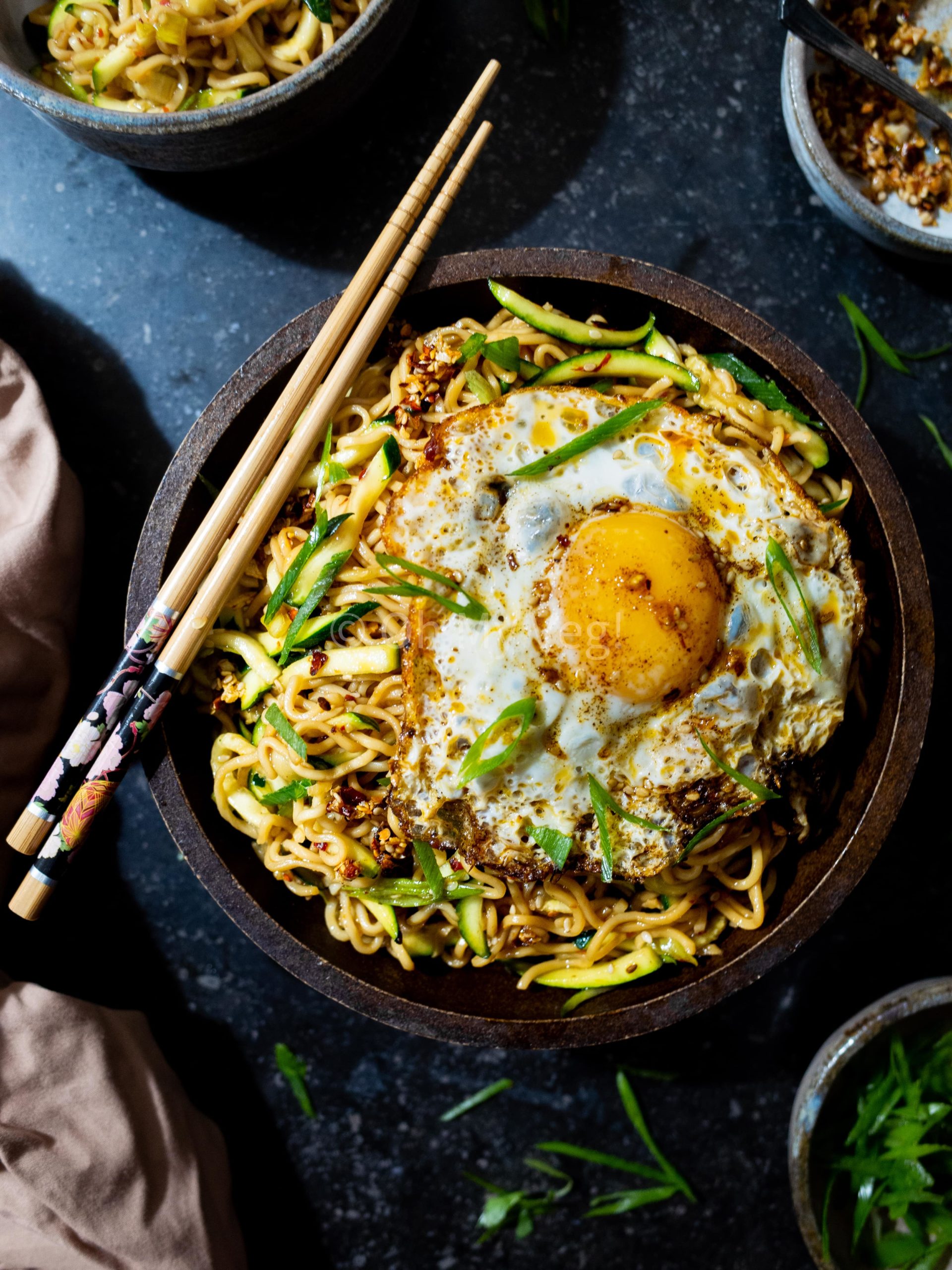 Ramen Noodles. Who doesn't love them? If you're anything like me, you'll have countless memories of eating ramen noodles – at a friends house while you watch Back to the Future for the 5th time (just me?!), as comfort food when you're too exhausted to cook, or perhaps when there's just no food left to eat. There's a lot of different ways to elevate instant ramen noodles – but this Garlic Chilli Oil Noodles with Zucchini is my favourite. It's ready in less than 15 minutes, and you'll never be eating plain ramen again.
Intensely fiery hot chili oil. Soft and chewy ramen noodles. Fresh and juicy slivers of zucchini (courgette). Crispy pan-fried egg drizzled with spicy oil and topped with a sprinkling of fresh green onions. Are you hungry yet? This dish is so simple, and yet it's packed full of fierce flavours. The rich umami from dark soy sauce, addictive aroma from garlic, heat from chilli, nuttiness from sesame, mild sweetness from zucchini and velvety richness from egg yolk all combine to make something extraordinary.
No time? No groceries? No problem. Garlic Chili Oil Noodles are coming to the rescue!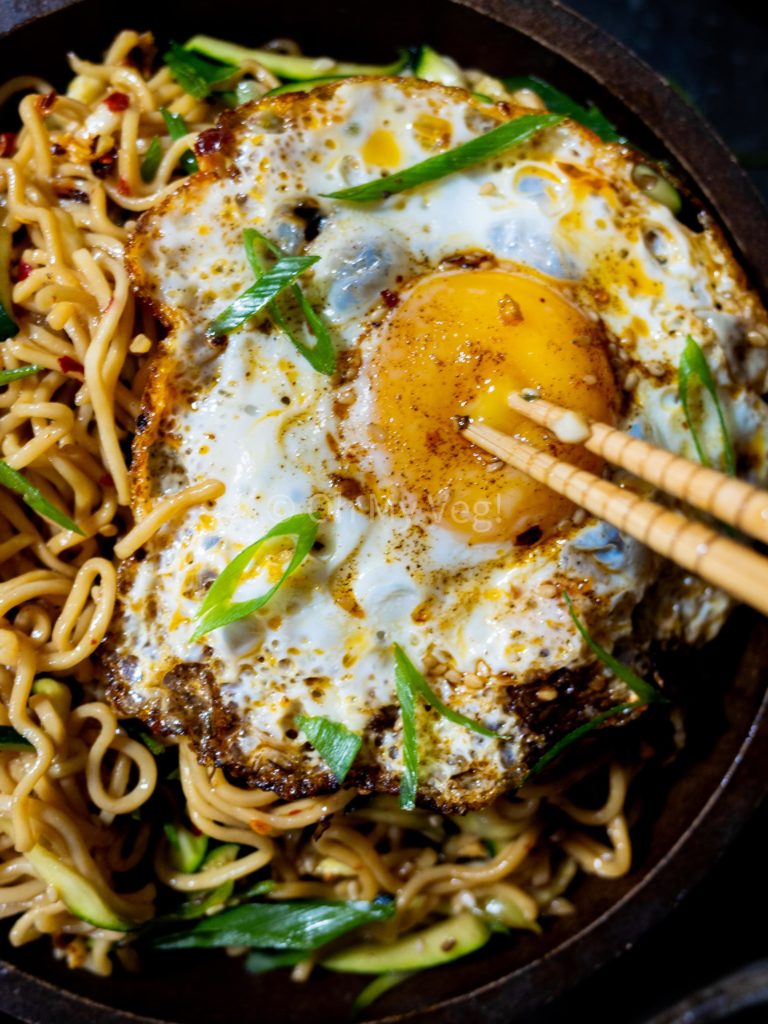 Is this Recipe Vegan, Gluten Free, Soy Free and Nut Free?
Garlic Chili Oil Noodles are Soy Free and Nut Free. They're also adaptable to become Vegan and Gluten Free if required!
To make your Garlic Chili Oil Noodles Vegan, simply omit the fried egg topping. You can replace it with a Vegan protein like tofu, tempeh or seitan – or just eat the noodles as they come. They're delicious either way! It's as simple as that.
To make the recipe Gluten Free, just replace the ramen noodles with a gluten free ramen noodles or rice noodles. Do be aware that soy sauce is usually not gluten free either – tamari is the perfect substitute.
What is Chili Oil?
A common Chinese condiment, chili oil is made by infusing chilli flakes, aromatics and spices in a neutral oil. Typically the ingredients will include neutral oil, chilli flakes, Sichuan peppercorns, bay leaf, cinnamon, star anise, garlic, and shallots.
The chili oil in this recipe is a little different. We'll only be making the amount required to use in the noodles, and as such we won't be infusing the ingredients. Instead, we'll be flash cooking it. That means that we'll leave out the aromatic spices (most of their flavour comes through infusion!), but also add a few extra ingredients. We'll be using neutral oil, chilli flakes, garlic, sesame seeds, dark soy sauce, black vinegar, salt, and a pinch of sugar. This will form our sauce.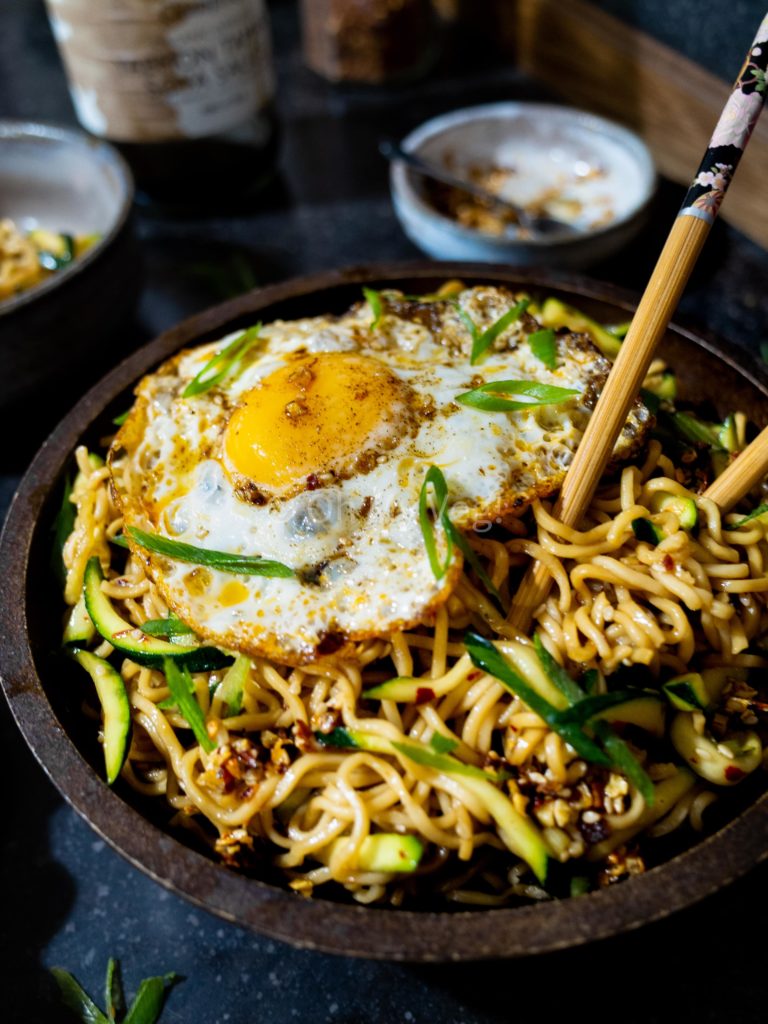 Ingredients for Garlic Chili Oil Noodles
Noodles: I use ramen noodles because they're quick, easy and cheap. However, rice noodles, egg noodles or even spaghetti would work here.
Neutral Oil: Any will do here – canola, vegetable, or sunflower are the most commonly available choices.
Garlic: Lots of it!
Chili Flakes: You can vary the amount used according to how spicy you want.
Sesame Seeds: This is optional, but they add a great crunch
Dark Soy Sauce: Substitute with Tamari for a Gluten Free option.
Black Vinegar: If you can't find this ingredient, feel free to substitute it with Balsamic Vinegar
Zucchini: Sliced very thin, the zucchini gets flashed cooked and therefore retains a little bite. It's refreshing and juicy, a perfect contrast to the spicy noodles.
Green Onions: The perfect touch of freshness for garnish. Substitute with cilantro (coriander) or garlic chives.
Sesame Oil: Just a little dash right at the end will elevate your garlic chili oil noodles to the next level!
Fried Egg: Optional, but the yolk adds an extra depth of richness.
Variations for Garlic Chili Oil Noodles:
One of the best things about this recipe is how truly adaptable it is. You can vary the ingredients in the chili oil, the toppings, the noodles!
Adjust the spice. These Garlic Chili Oil Noodles are spicy. But if you want the flavour without the heat, feel free to dial down the spiciness by cutting the quantity of chili flakes used in half (or even less!)
Make it Vegan. The only thing preventing this recipe from being vegan is the fried egg on top. Replace it with a Vegan friendly omelette or another topping.
Add toppings. Don't fancy zucchini with the noodles or the egg on top? No problem. Try tofu, seitan, tempeh, pak choy, broccoli, green beans, kale, carrots, mushrooms, or Chinese leaf instead.
Change up the garnish. Use coriander (cilantro), Thai basil or Garlic Chives in place of Scallions (Green/Spring Onions) for a different variation of flavour.
Switch out the noodles. I love using ramen because it's quick, easy, and cheap. But this dish will also work with rice noodles, egg noodles, or even spaghetti (shh!).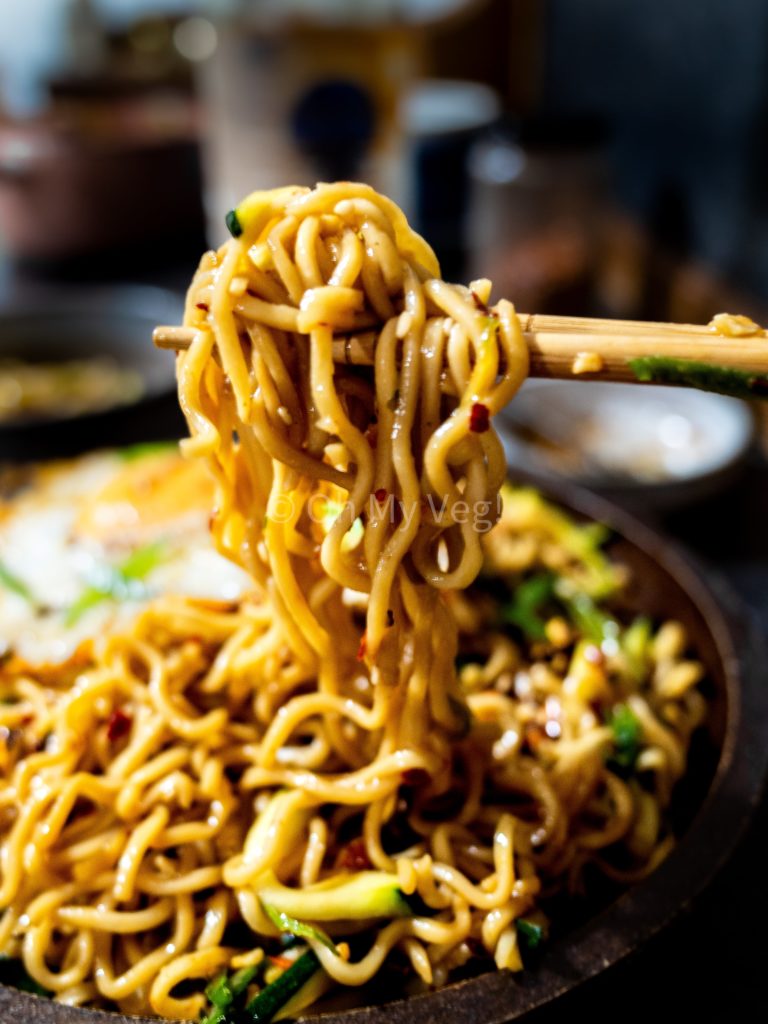 How to make the BEST Garlic Chili Oil Noodles
Use stock to cook your ramen. We won't be using the flavour packets that come with dried ramen, but I do like to cook my noodles in a little vegetable stock. This really increases the umami factor and adds an extra depth of flavour to eat bite. I add a Knorr Vegetable Stock cube to the boiling water and let it dissolve, then add my ramen and cook.
Prep everything while your ramen is cooking. The cooking of the Garlic Chili Oil sauce will happen very quickly, so it's imperative that you have the garlic prepped and all ingredients measured out beforehand.
Reserve a little Garlic Chilli Oil to cook your egg in. If you're topping with a fried egg, I like to take out about 1 tsp of the chili oil and use it to cook my egg. This is totally optional though.
Why you'll LOVE this Recipe:
Ready in 15 mins
Quick, easy, and great for beginners
Cheap and budget friendly
Vegetarian, Nut Free & Soy Free
Easily adaptable to be Vegan or Gluten Free
Can be served hot or cold
If you love this recipe, you may like: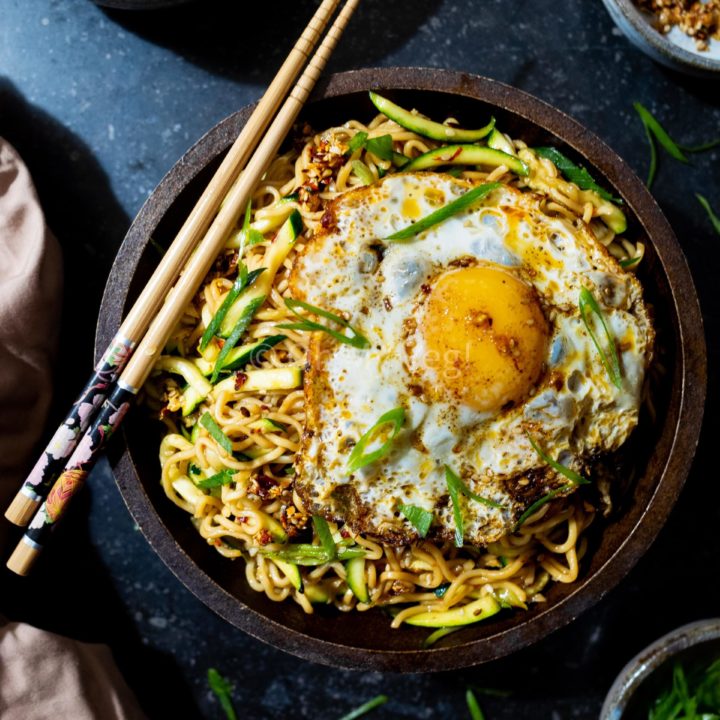 Garlic Chilli Oil & Zucchini Instant Ramen Noodles
Ready in 10 minutes, and so much better than instant ramen: these Garlic Chilli Oil Noodles are fiery, garlicky, rich and savoury.
Ingredients
1 litre Water, to cook the Noodles
3x 70g (210g) Dried Ramen Noodles
200g Zucchini, julienned *
2 Green Onions, finely chopped
For the Sauce
4 tbsp Neutral Oil
6 (17g) Garlic Cloves, finely minced
1 tbsp Chilli Flakes **
2 tsp Toasted Sesame Seeds
1.5 - 2 tbsp Soy Sauce
1 tsp Black Vinegar ***
1/2 tsp Salt, or to taste
1/2 tsp Sugar, or to taste
Drizzle Sesame Oil
For the Egg Topping (optional)
1-2 tsp Oil (you can reserve some chili oil)
2 Eggs
Instructions
Begin by cooking the ramen noodles. Add 1 litre water to a medium sized saucepan over medium heat. Once it comes to a boil, add the stock cube and stir to dissolve. Add the ramen noodles and cook to package instructions. Separate and stir occasionally with chopsticks.
Once the noodles have cooked, drain them and set aside.
Make the chilli oil. Add oil to a medium saucepan over low-medium heat. Once the oil is hot, add finely chopped garlic, chilli flakes, and sesame seeds. Cook gently until the garlic just starts to colour, and then immediately add the soy sauce, black vinegar, salt, and sugar. Stir well.
Next, add the zucchini to the saucepan. Cook it for a few seconds, and then add the cooked ramen noodles. Turn off the heat and toss everything together really well. Check for seasoning and adjust as necessary.
Optionally, cook your topping. If you want to top with an egg, add 1-2 tsp oil to a frying pan over high heat. Once the oil is hot, crack your eggs. While cooking, spoon some hot oil over the yolks.
Serve the Garlic Chili Oil Noodles hot or cold.
Notes
* To Julienne means to very finely slice.
** Adjust the quantity of chili flakes to your preference. This is spicy recipe, so if you have a low tolerance reduce the amount to your comfort level.
*** If you can't find black vinegar locally, I have included a link. However, feel free to substitute with the more commonly available Balsamic Vinegar instead.
Recommended Products
As an Amazon Associate and member of other affiliate programs, I earn from qualifying purchases.
Nutrition Information:
Yield:

2
Serving Size:

1
Amount Per Serving:
Calories:

668
Total Fat:

45g
Saturated Fat:

7g
Trans Fat:

0g
Unsaturated Fat:

36g
Cholesterol:

2mg
Sodium:

3110mg
Carbohydrates:

54g
Fiber:

5g
Sugar:

5g
Protein:

13g
Nutrition information isn't always accurate.