Pea and Wild Garlic Risotto with Cheddar Tuile
This post contains links to affiliate websites such as Amazon, and I receive a commission for any purchases you make using these links. I appreciate your continued support for Oh My Veg!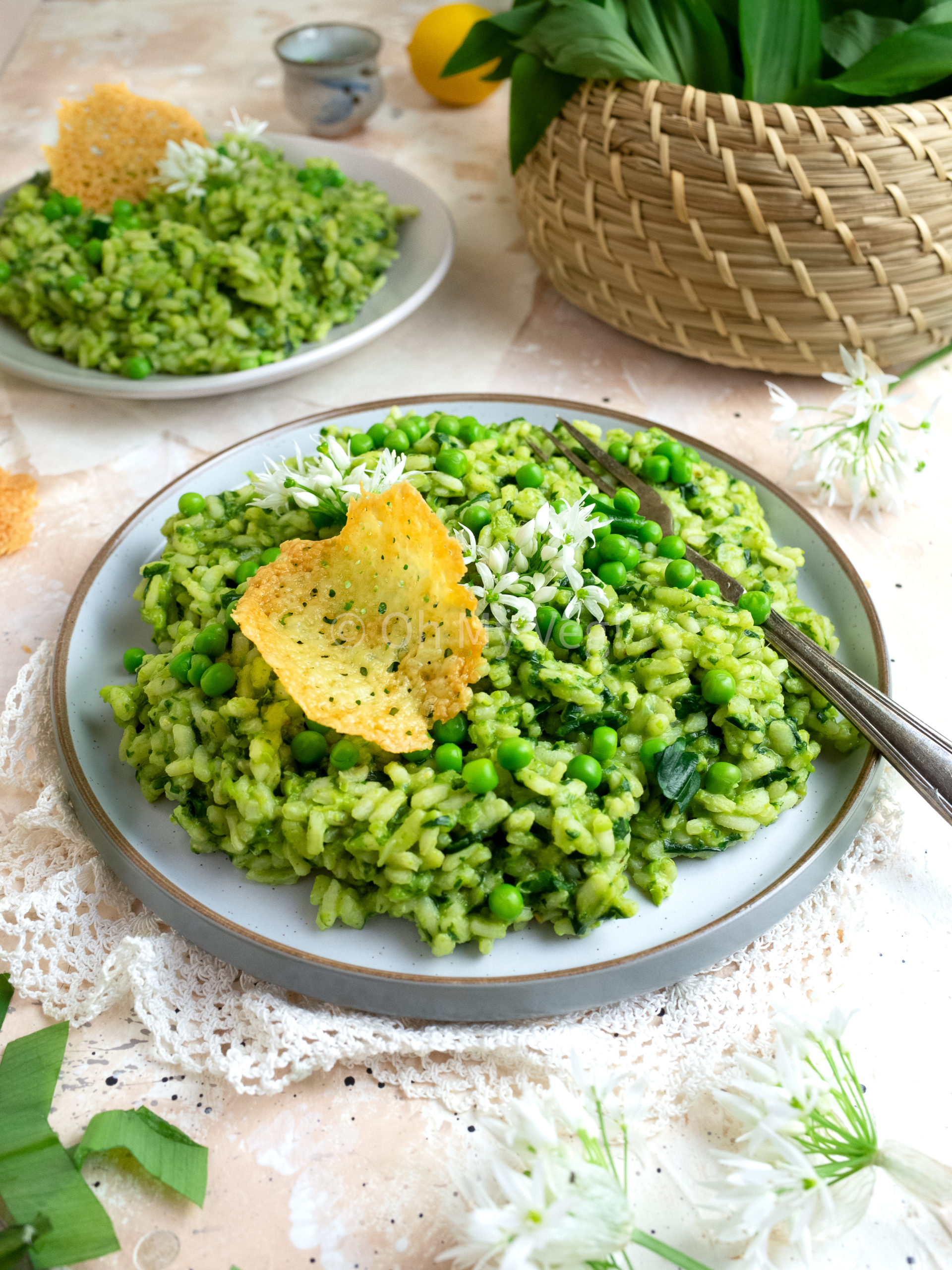 I'll never tire of eating risotto. The creamy, unctuous, flavor-packed sauce coating each grain of nutty rice is comforting in a way that few other dishes can boast. Looking back on my archive of recipes, I've posted an autumnal mushroom and leek risotto and a springtime lemony asparagus risotto, but there are so many more flavors to explore. In this case, it's the delicate garlicky flavor of ramsons combined with the sweetness of bright green peas, and the sharpness of the crispy cheddar cheese tuile.
Each season brings a breadth of foodie delights, yet I always look forward to Spring the most. The cherry blossoms are in full bloom, dandelions are still covering the grasslands (pick them for dandelion honey!), and wild garlic is covering the woodlands with a lush green, garlic-scented carpet. It's the perfect time to bring a basket and head to the countryside — although if you're lucky, your lawn might be just as bountiful — for some foraging. Farmer's markets and supermarkets alike are awash with fresh produce, too.
Vibrant green and full of fresh flavors, wild garlic and pea risotto is as bright in taste as it is in appearance.
Last year, although I couldn't find any wild garlic, I did make a gorgeous leek soup with three-cornered leek oil. This time, I was lucky enough to stumble across a swathe of wild garlic lining the riverbanks. My thoughts instantly turned to a meal I had at a romantic French restaurant in the heart of London recently. It was a wild garlic risotto with heritage burst cherry tomatoes and parmesan tuile; although beautiful, the wild garlic wasn't quite as distinctive as I had hoped and the cheese was a little overwhelming. Now was the perfect opportunity to make my version — and share it with my lovely readers.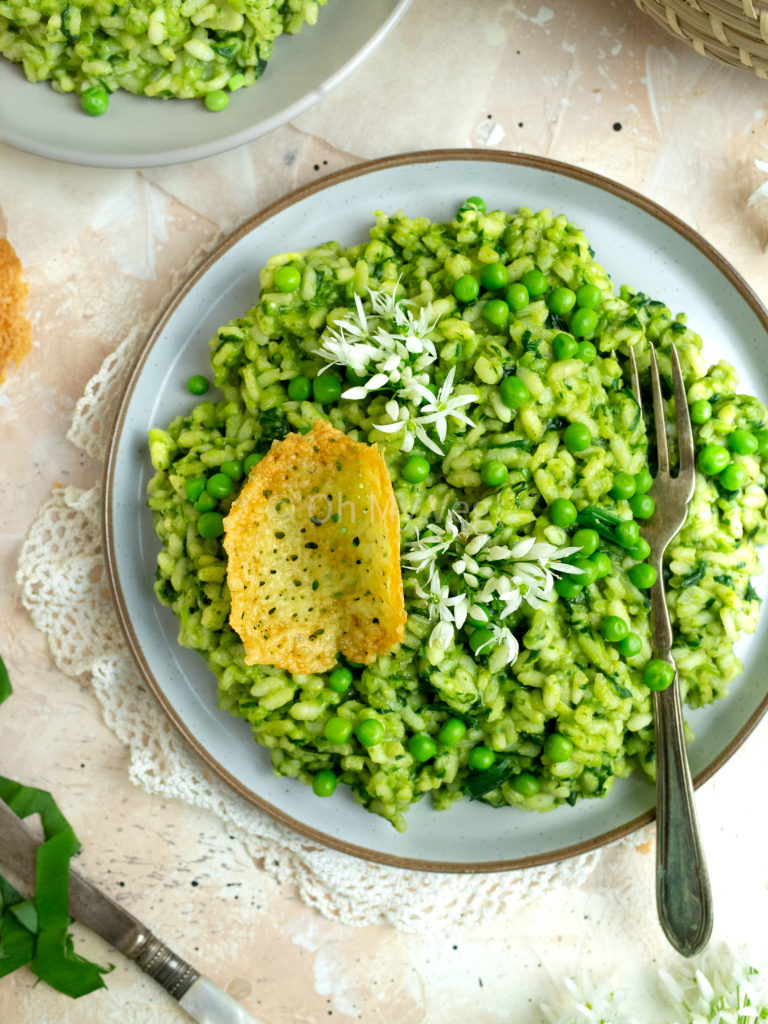 Is Pea and Wild Garlic Risotto Vegan, Gluten Free, and Nut Free?
Unlike my mushroom and leek risotto or lemony asparagus risotto, this recipe is not vegan, but it requires minimal adaptions to become vegan. Although not strictly necessary, stirring through a dollop of vegan butter (I love Miyoko's and Flora's Plant Butter) at the end increases the velvety richness and creaminess of the risotto. Furthermore, vegan cheese can be used to make the tuiles — I've enjoyed Applewood Smoked Cheese, Violife Mature Cheddar, Cathedral City, and Sheese Cheddar in the past. Make sure you buy a block rather than pre-shredded, as we need to grate it very finely to achieve that beautiful lacey appearance.
Because wild garlic and pea risotto use rice, it's also completely gluten-free. If you use vegan cheese, check the ingredients to make sure there is no gluten.
Similarly, this recipe is completely nut-free, but do bear in mind if you're swapping out dairy cheese for vegan cheese, that it may contain nuts.
How to Identify and Forage Wild Garlic
Wild garlic is often described as a great introduction to foraging — it's easy to identify, grows prolifically, and has so many versatile uses. However, it's still important to be safe and forage sustainably.
Wild garlic (Also known as Ramsons, Bear Leek, Wood Garlic, Cow's Leek, and many more monikers) can be easily identified by its appearance and characteristic smell. The bulbous plant has oval-shaped long leaves growing from its base and six-petaled delicate clusters of flowerings growing from long, thin stalks. All parts of the plant are edible, including the bulbs, leaves, flowers, stems, and seeds. Wild garlic has a strong scent which grows increasingly intense as the season develops. In late April to May, large crowds of the plant may overwhelm the area with the distinctive scent; to be sure, rub the leaves between your fingers to check for the potent aroma.
Lookalike plants such as Lily-of-the-valley, snowdrops, bluebells, and lords and ladies are poisonous and should be avoided. Before foraging, check pictures of each plant. When harvesting, pick one leaf at a time, paying close attention (so as to not pick the wrong thing accidentally!). Wild garlic is the only plant that smells, so enlist your nose as well as your eyes to distinguish the different plants. Sort through your harvest once you arrive home to double-check.
Finally, it's important to be conscious whilst foraging. Abide by the rule of thirds — only pick one-third of the plant, leaving at least two-thirds. As a rule of thumb, I like to pluck one or two leaves maximum from each plant. Never pull up the bulbs; this is actually illegal in the U.K., as it prevents the plant from regrowing.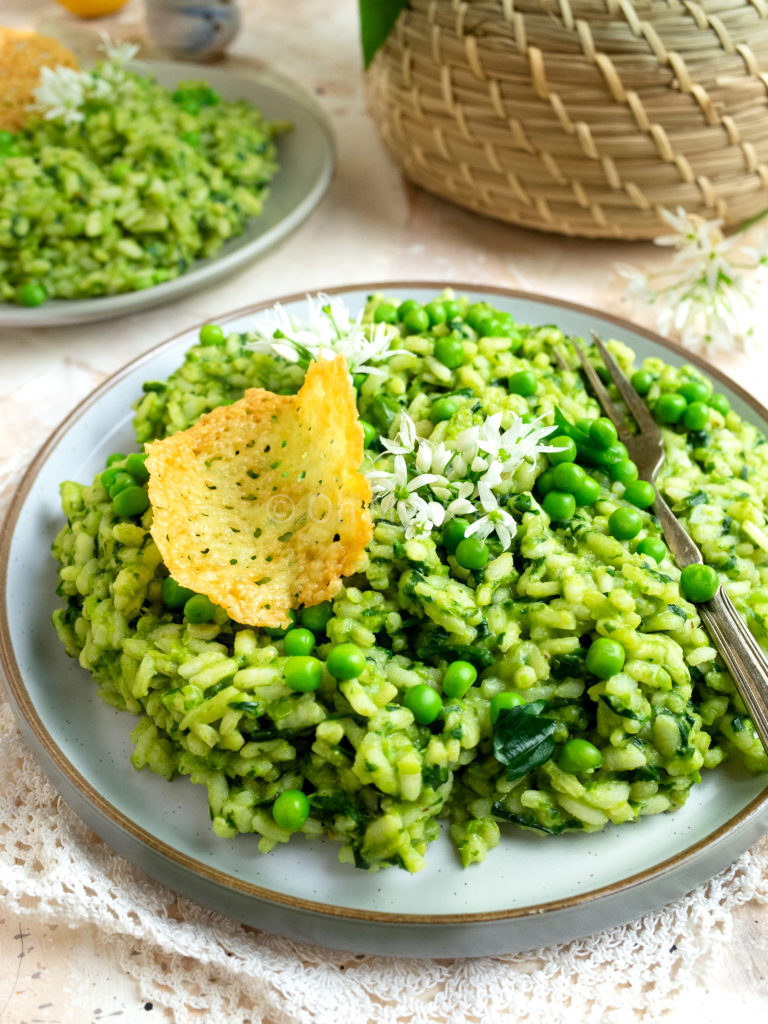 Where to Find Wild Garlic
Wild garlic is native to Europe and Asia. It grows abundantly across all areas of the U.K. bar the Northernmost areas of Scotland; my home counties of Devon and Cornwall are blessed with woodlands full of beautiful flowering plants come spring. The pungent plant can also be found in European countries with similar climates and is particularly popular in Germany and Sweden.
While wild garlic was once rampant across all of Asia, its growth is now confined to Central Asia (Kyrgyzstan, Tajikistan, Turkmenistan, and Uzbekistan).
Wild garlic is not native to North America, but its close relative, ramps (which confusingly, are also called wild garlic) grows abundantly. In all cases, wild garlic grows in damp woodland areas, usually close to bodies of water. It spreads easily, so can usually be found dominating large areas of land.
Tips to Cook the Best Pea and Wild Garlic Risotto
Use the right rice. Use Carnaroli Rice as your number one choice, otherwise opt for Arborio.
Toast the rice. Toasting the rice just slightly makes it lovely and nutty and amplifies the inherent flavor of rice. Don't overdo it though, or you'll lock in all the starches that make risotto gorgeously creamy.
Keep it simple. I love to keep my risotto straightforward and uncomplicated, with minimum ingredients. This lets the fresh wild garlic shine.
Stir that risotto! It's true – stirring the risotto makes it creamy. Don't skip this step!
Hot, flavorsome broth. I like to use a vegetable stock cube in all my risotto recipes. It adds an umami boost without any extra work. Make sure the broth is hot to cut down on the cooking time.
Garnish. Reserve some peas to garnish the risotto, and make sure to forage some wild garlic flowers to place on top. They look impressive and add a light peppery flavor.
Tuiles. When you make the crisp cheddar cheese tuile, use the smallest grater. Once grated, take a very small bowl and shape the cheese into circles. This makes them into even rounds, achieving a professional shape.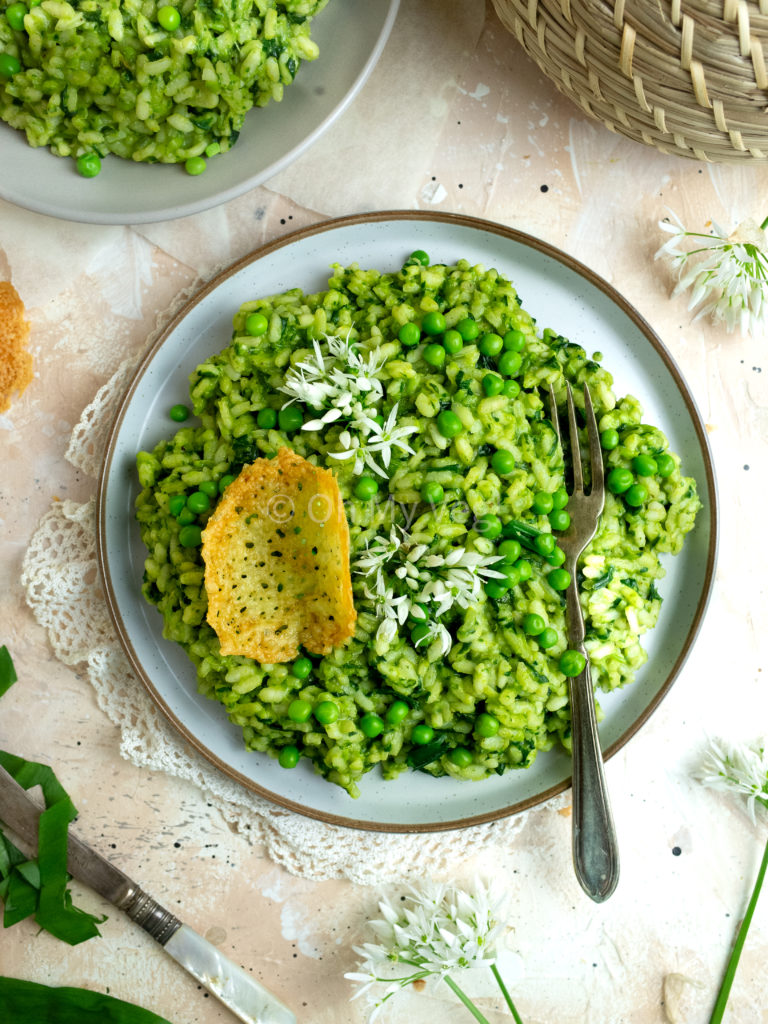 This Recipe Is …
Comforting and creamy
Vegetarian, Gluten-Free, Nut-Free, Alcohol-Free
Bright, vibrant, fresh, and garlicky
Sharp, rich flavors from crisp cheddar cheese tuile
Ready in 30 minutes
Easy and uncomplicated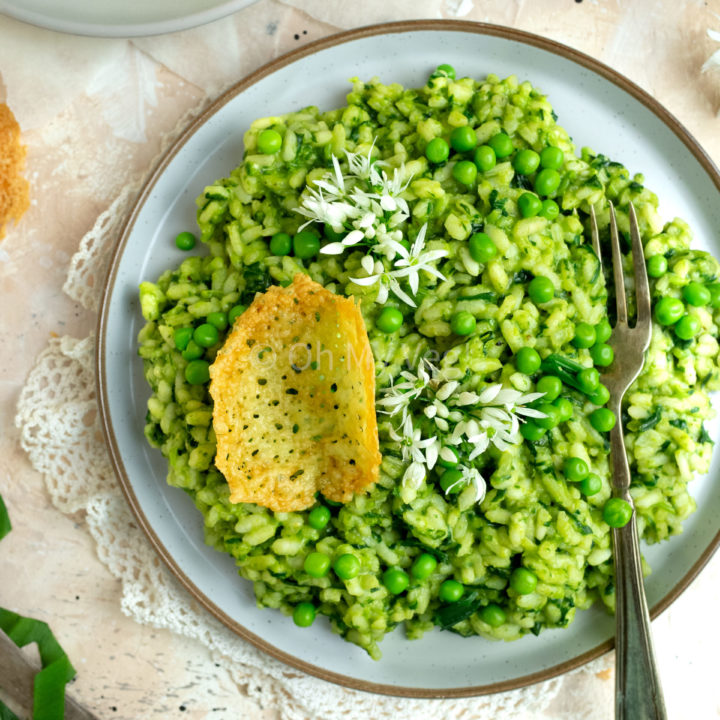 Wild Garlic and Pea Risotto with Cheddar Crisp Tuile
Foraged wild garlic and peas make a vibrant, fresh, and summery vegetarian risotto. Ready in 30 minutes, it's topped with a cheese tuile.
Ingredients
50g Shallot or White Onion, finely diced
2 Cloves Garlic, finely diced
500ml Water
60g Wild Garlic, roughly chopped
150g Frozen Petit Pois Peas
Ice cold water (for blanching)
150ml Water to blend
Lemon zest, to taste
For the Cheddar Crisp Tuile
Instructions
Make the stock. Heat 500ml water with a vegetable stock cube in a saucepan over low heat, and leave to simmer.
Blanch the wild garlic and peas. Add water to a saucepan over medium-high heat, and wait for it to come to a boil. Immediately add the wild garlic and peas to the pan, and cook for 1 minute. Immediately drain the wild garlic and peas, and place them into a bowl of ice-cold water. Once cooled, drain once more and add to a blender* with 150ml fresh water. Puree until mostly smooth (some texture is fine). Set aside.
To start cooking the risotto, add olive oil to a deep-sided non-stick frying pan over medium heat. Then add the shallot and garlic. Saute gently for a minute, then add the risotto rice. Cook while stirring for 1-2 minutes, until toasted.
Add the stock one ladle at a time, stirring continuously. Once all the stock has been absorbed, stir through the wild garlic and pea puree.
Add butter and increase the speed of stirring (the whipping motion will make the risotto creamy).
Season with salt and pepper to taste, and grate over fresh lemon zest before serving.
To make the cheddar crisp tuiles, preheat your oven to 220 degrees Celcius / 430 degrees Fahrenheit and line a baking tray with parchment/baking paper. Finely grate mature cheddar into three piles, spaced at least 1 inch from each other. Gently push the grated cheese into uniform circles or use an upturned bowl to manipulate them into shape. Once the oven is hot, bake for 5 minutes, then remove from the oven.
Once cooled, peel off the parchment paper and use them to garnish the risotto.
Notes
* If desired, you can reserve some whole peas for garnishing.
Recommended Products
As an Amazon Associate and member of other affiliate programs, I earn from qualifying purchases.
Nutrition Information:
Yield:

3
Serving Size:

1
Amount Per Serving:
Calories:

363
Total Fat:

16g
Saturated Fat:

5g
Trans Fat:

0g
Unsaturated Fat:

10g
Cholesterol:

18mg
Sodium:

517mg
Carbohydrates:

47g
Fiber:

5g
Sugar:

7g
Protein:

9g
Nutrition information isn't always accurate.
Frequently Asked Questions about Pea and Wild Garlic Risotto:
---
What can I use wild garlic for?
If you've foraged or bought some wild garlic, one of the best things you can make is this wild garlic and pea risotto with a cheddar crisp tuile. You can also make wild garlic and cheddar scones.


What flavor goes with wild garlic?
Wild garlic pairs particularly well with other spring ingredients, such as fresh peas, asparagus, lemon, mushrooms, and potatoes. Much like an onion, it also compliments the flavor of fresh cheese.


What to eat with garlic risotto?
I like to serve wild garlic and pea risotto alongside a fresh salad of arugula, or crispy fried mozzarella balls.


Can you eat wild garlic leaves?
Yes, you can eat wild garlic leaves! The entire plant is edible, but you always want to leave the roots to ensure they grow back the next year. However, if correctly identified, the leaves and flowers are edible (and delicious). Be sure to thoroughly inspect and identify the plant before picking any leaves, and then rigorously wash the leaves. Then you can easily make many recipes, including a wild garlic and pea risotto.