Dishoom Carnaby Review: Indian Restaurant in Soho, London
This post contains links to affiliate websites such as Amazon, and I receive a commission for any purchases you make using these links. I appreciate your continued support for Oh My Veg!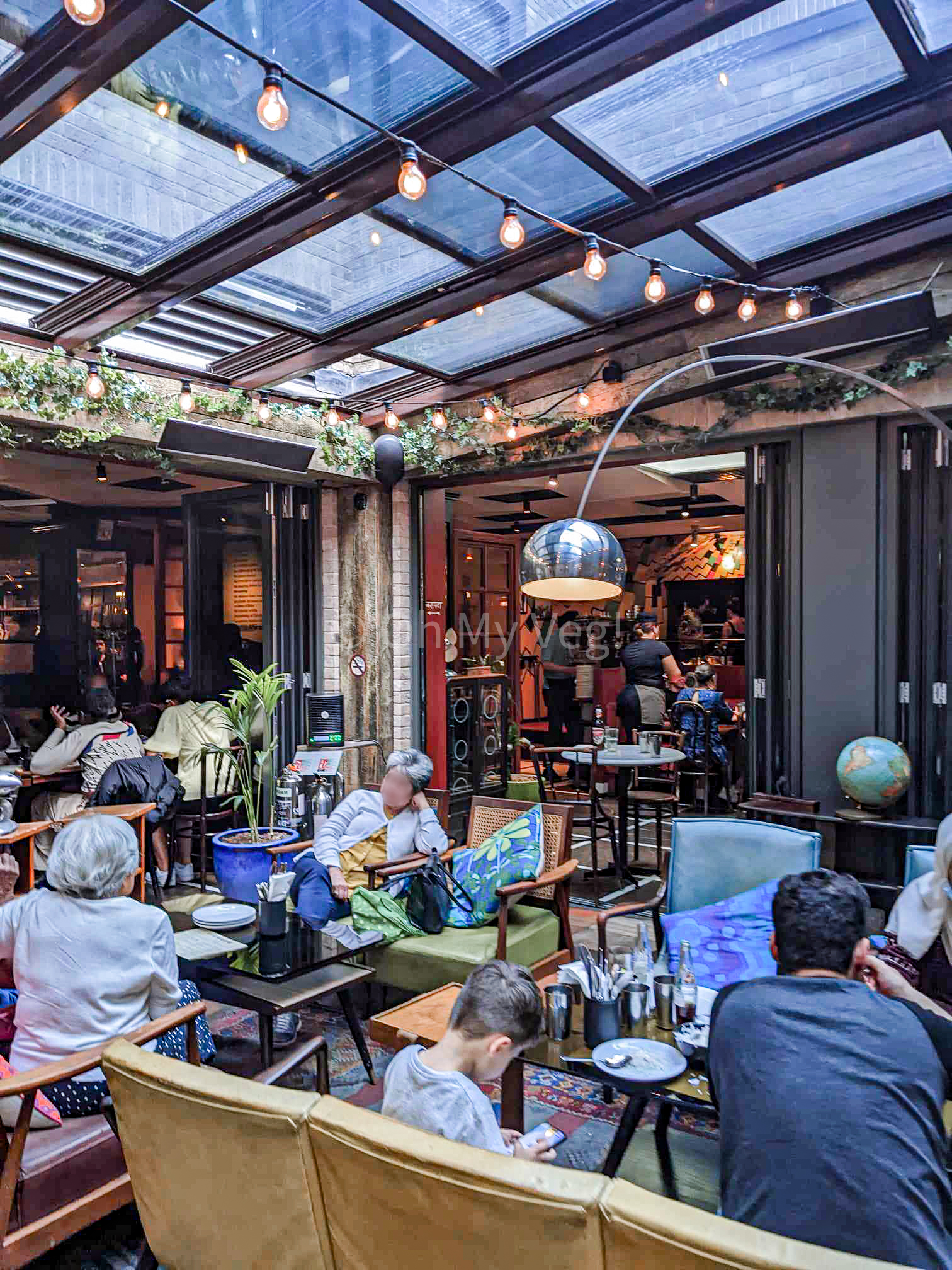 Dare I say it — but Dishoom stands unique amid the colorful culture of Indian restaurants in the U.K. Indian cuisine landed in the U.K. over a century ago, in 1810. Since then, the country has adopted chicken tikka as its national dish, and an Indian restaurant graces the streets of almost every city, town, and village. It's fair to say that the British people have a fascination and love for the robust, hearty flavors of Indian food.
Although there was tremendous demand for Indian food, the market was saturated with inauthentic curries. When Dishoom arrived on the scene in 2010, everything changed. At this point in time, the average person probably hadn't heard of dal makhani, which would soon become famous and re-branded as Dishoom's "house black dal." The company instantly made its mark with mid-century interior design elements devised to echo the old Iranian cafés of Bombay, even creating backstories for each of their restaurants. The food was — and still is — a mix of Parsi favorites (bun maska, anyone?) and Maharashtrian street food. It was unlike anything British people had experienced before, and we collectively fell in love with the storytelling (plus the food). Conversely, I've heard mixed reviews from Indian people amid online discourse; some say it's akin to proper Indian home cooking, while others disparage the brand, calling it "Indian food for foreigners."
Well, there's no pleasing everyone — but let's see if it impresses me! I first tried Dishoom in 2018 and routinely made my way back at least once every year. To date, the brand has nine locations, and this one, Dishoom Carnaby, was opened in 2015. I was staying nearby in Soho, so I absolutely had to pop by for a quick bite. Let's see what I thought …
Dishoom is a masterclass in branding, and luckily the food is delicious, too.
Dishoom Carnaby Review: The Ambiance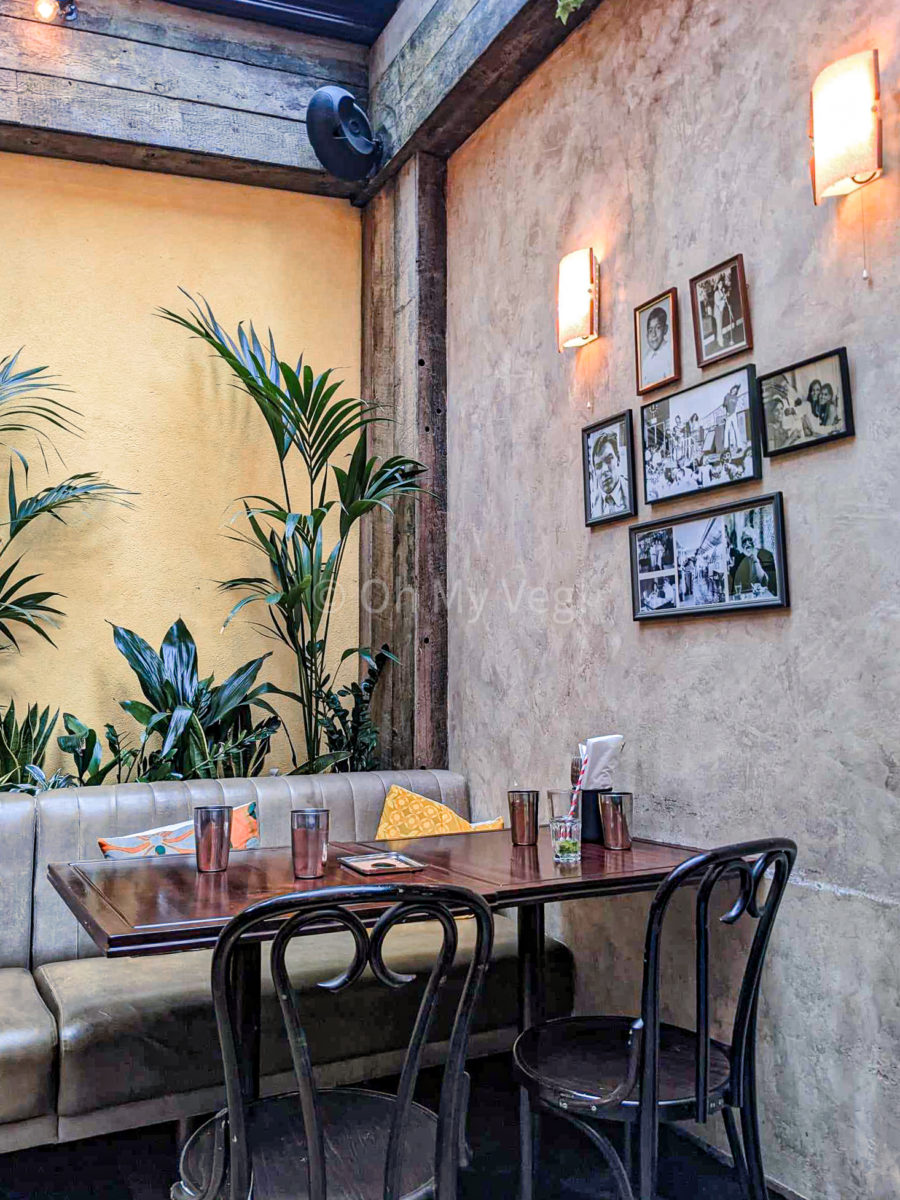 ---
It's fair to say that the team behind Dishoom's topmost success is its branding. Since 2010, they have successfully opened nine restaurants across the U.K. (so far), each meritoriously designed to fit the location while being distinctive "Dishoom." There's fabulous attention to detail, including the type font for the menu, created by expert Kalapi Gajjar-Bordawekar, vintage photos decorating the walls, and tongue-in-cheek Hindi-printed signs.
Dishoom's restaurants are always busy — no matter the time of day or location — so I didn't take many interior photos for privacy reasons. However, as soon as you step through the door, you're greeted by a Ganesha statue, a Hindu deity known as the "remover of obstacles," along with gently burning agarbatti (incense) wafting through the atrium. The permit room, a bar area, is almost midcentury modern, while the main dining area is warm, with rich burgundy seats and marble in-laid wooden tables. Further inwards is a glass-covered casual seating area with colorful blue and green mismatched couches. The back of the restaurant where I sat had lush plants and lime-washed walls. There was a mix of circular round tables and standard seating.
There's the soft buzz of chatter and a playlist of jazzy 1960s Bombay psychedelic rock mixed with swooning Bollywood icons in the air. You can listen to the same playlist on a physical CD or Vinyl, called "Slip-Disc – The Vinyl," or on Spotify. The experience transports you back in time and about 4500 miles away to vintage Mumbai cafés.
Dishoom Carnaby Review: The Service
Service was prompt, friendly, and attentive. From my understanding, Dishoom treats its employees well: From competitive pay to guided tours of Mumbai after five years of employment, there's a lot going for the business. Furthermore, it was awarded the 4th best company to work for in the U.K. and 1st in Hospitality and Leisure in 2021. A happy staff is likely to make for happy customers.
Dishoom Carnaby Review: The Food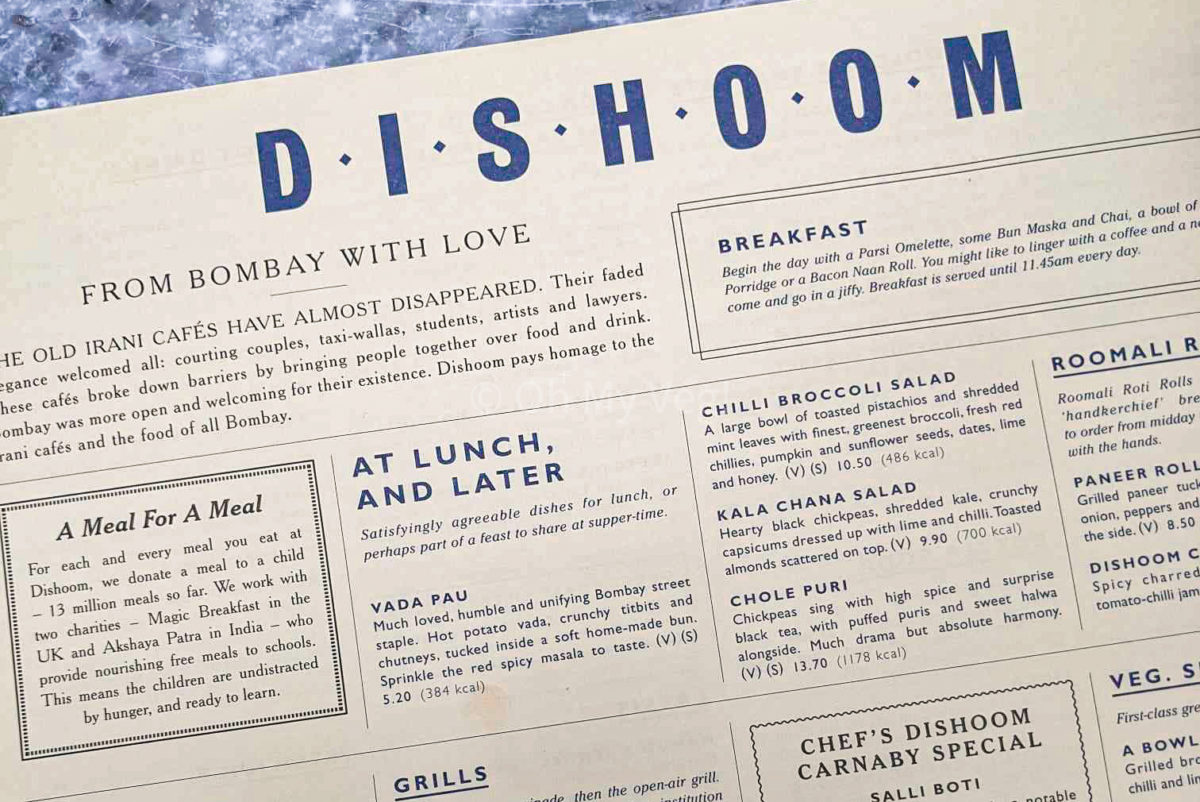 ---
Vegan, Vegetarian, and Gluten-Free Options
I did the calculations, and around 74% of Dishoom's "All Day" menu caters to vegetarians! This percentage shocked me. Although it included the rice, bread, and desserts, which will typically be vegetarian by standard, it also encompassed a significant ratio of the sides, mains, and grills.
The breakfast menu is slightly less vegetarian friendly, yet still adds up to a commendable 60% of the menu, excluding drinks. I'm honestly incredibly impressed, as the brand doesn't put out a lot of advertisements showcasing its diverse vegetarian-friendly plates.
Dishoom also provides a vegan menu, which replaces its traditional chai with a version made with oat milk, the Persian egg akuri with tofu, and vegan lassis. It also includes "chole chawal" (chickpea curry with rice), a menu exclusive. There's also great news for diners with gluten and dairy intolerances, as Dishoom provides separate menus. Admittedly, the gluten-free menu excludes bread products yet charges the same prices, which is disappointing.
Dishoom Paneer Roll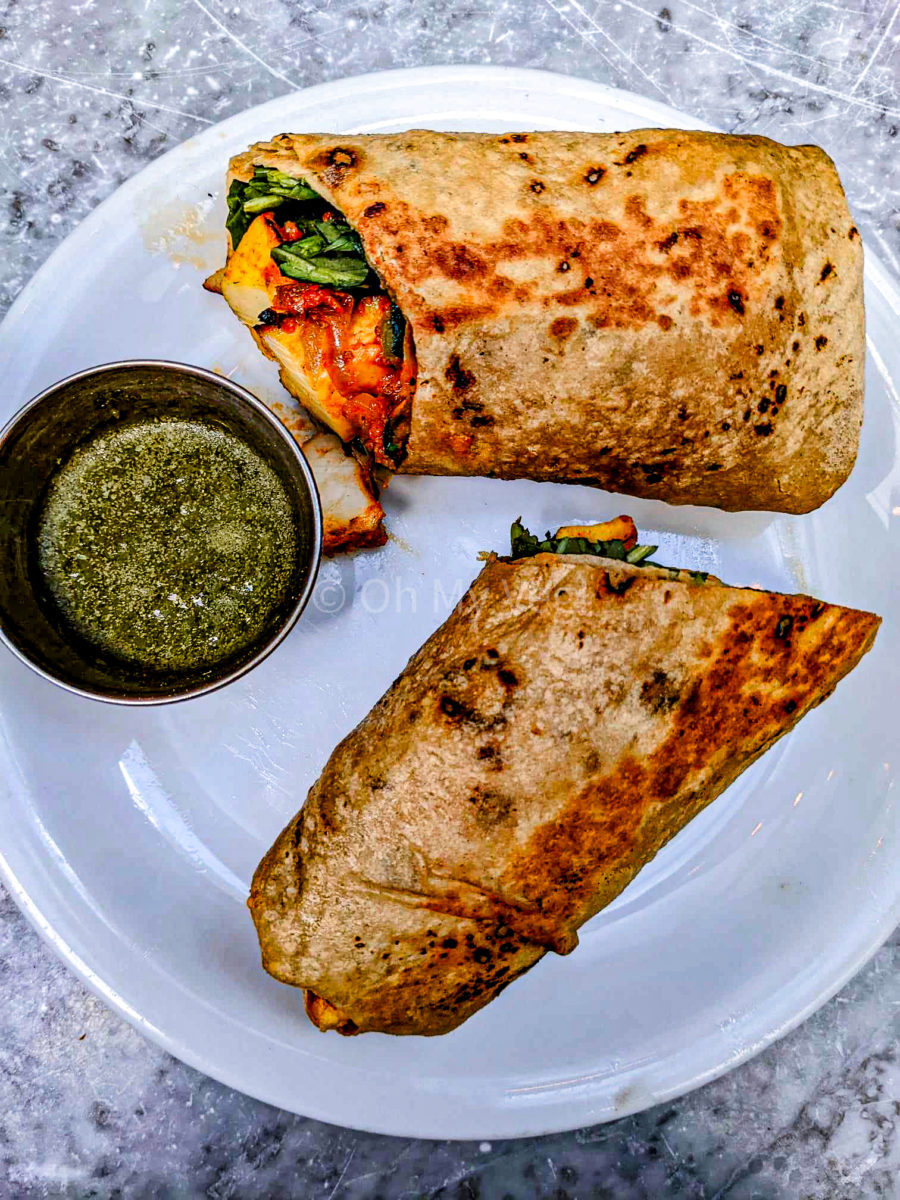 ---
An elevated lunch. That's how I'd describe Dishoom's paneer roll, a modern, fusion take on the traditional Indian kathi roll — or an Indianized version of meal deal wraps — whichever way you see it. Spread over the inside of the chapati is a thin layer of rich, buttery, and aromatic makhani sauce, topped with an ample handful of fresh green spinach and mixed with grilled peppers. The star of the show, the paneer, has been marinated with vibrant spices before being grilled and then added to the wrap. There's no skimping; the creamy, soft paneer is well packed into the roll, ensuring there's some in each bite.
Truthfully, there was nothing to fault about the paneer roll nor the small bowl of mint chutney that accompanied it. But there was nothing exceptional about it either. It's delicious, and I recommend the dish — nonetheless, it doesn't quite bring a wow factor like some of the later plates.
Making the Paneer Roll at Home:
---
Dishoom Vada Pav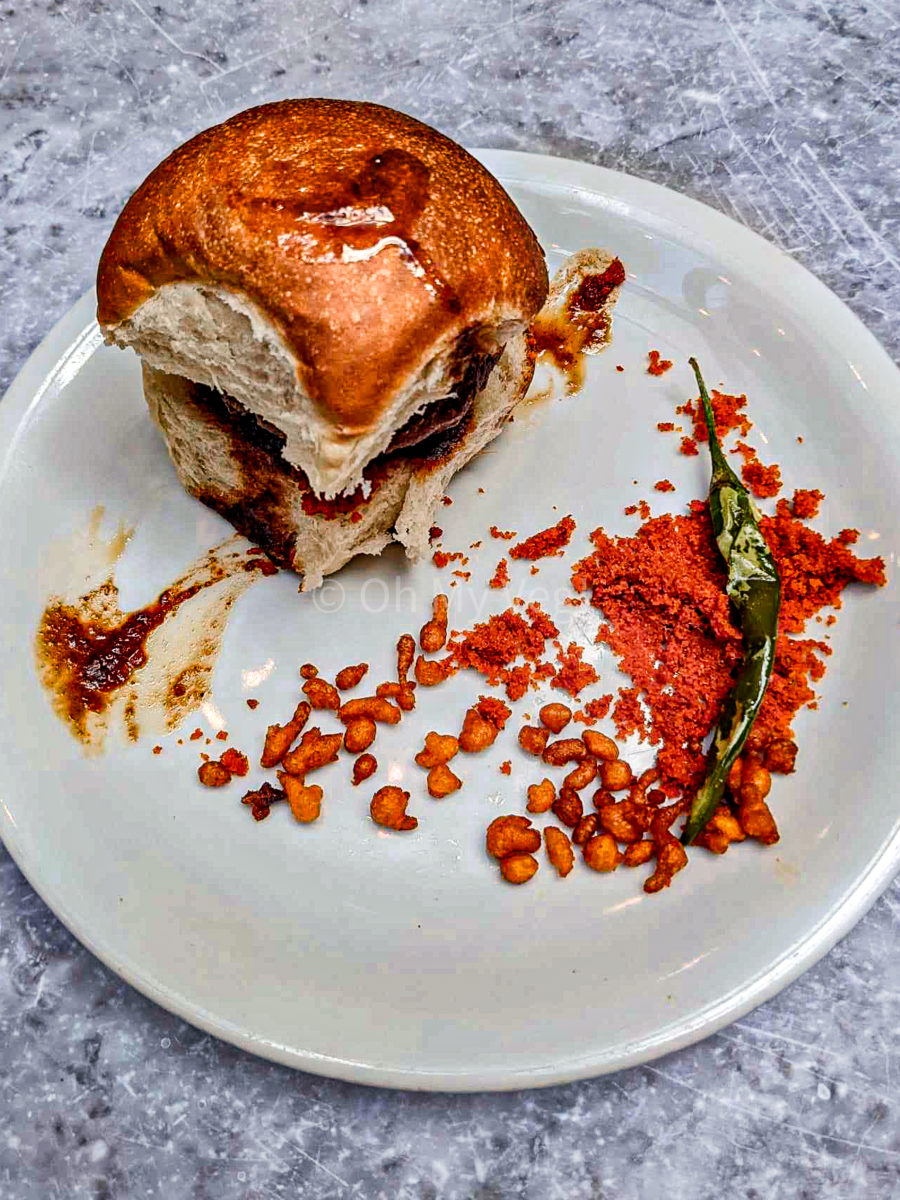 ---
Vada pav ties with misal pav as my favorite Indian street food — and that's saying something. Unfortunately, the U.K. seems to have a dearth of vada pav, so whenever I see it on the menu, I jump on the chance to have one. Dishoom's brand story focuses on Mumbai, and since vada pav is the quintessential Maharashtrian worker's lunch, I expect it to be fantastic.
Honestly, I had no complaints. The pav is soft, fluffy, and buttery. The aloo vada was gently spiced, peppered with mustard seeds, and colored with turmeric, with just the right amount of seasoning. The chickpea-flour-based batter was slightly overcooked, which made for unpleasant photos, but surprisingly, it didn't affect the taste. And the chutneys —tamarind, green chutney, and dry-garlic chutney — were sensational. The tamarind chutney was equally sweet and tangy, while the green chutney was full of bright herbs and zesty citrus. The dry garlic chutney was tinged bright red from chili and was incredibly flavorsome.
The whole dish wasn't as fiery as I would have liked; I wish they had given two salted and fried green chilis or added more dry garlic chutney. Having said that, I think it's probably the right spice level for the general British public. My plate looked messy, but since vada pav is inherently a street food, I didn't mind. In conclusion, though, I've taken away half a point for the presentation. Also, I think vada pav in India would surpass this one by a country mile. (Although that's more praise to Indian street vendors, than criticism of Dishoom.)
Making the Vada Pav at Home:
---
Dishoom Chole Puri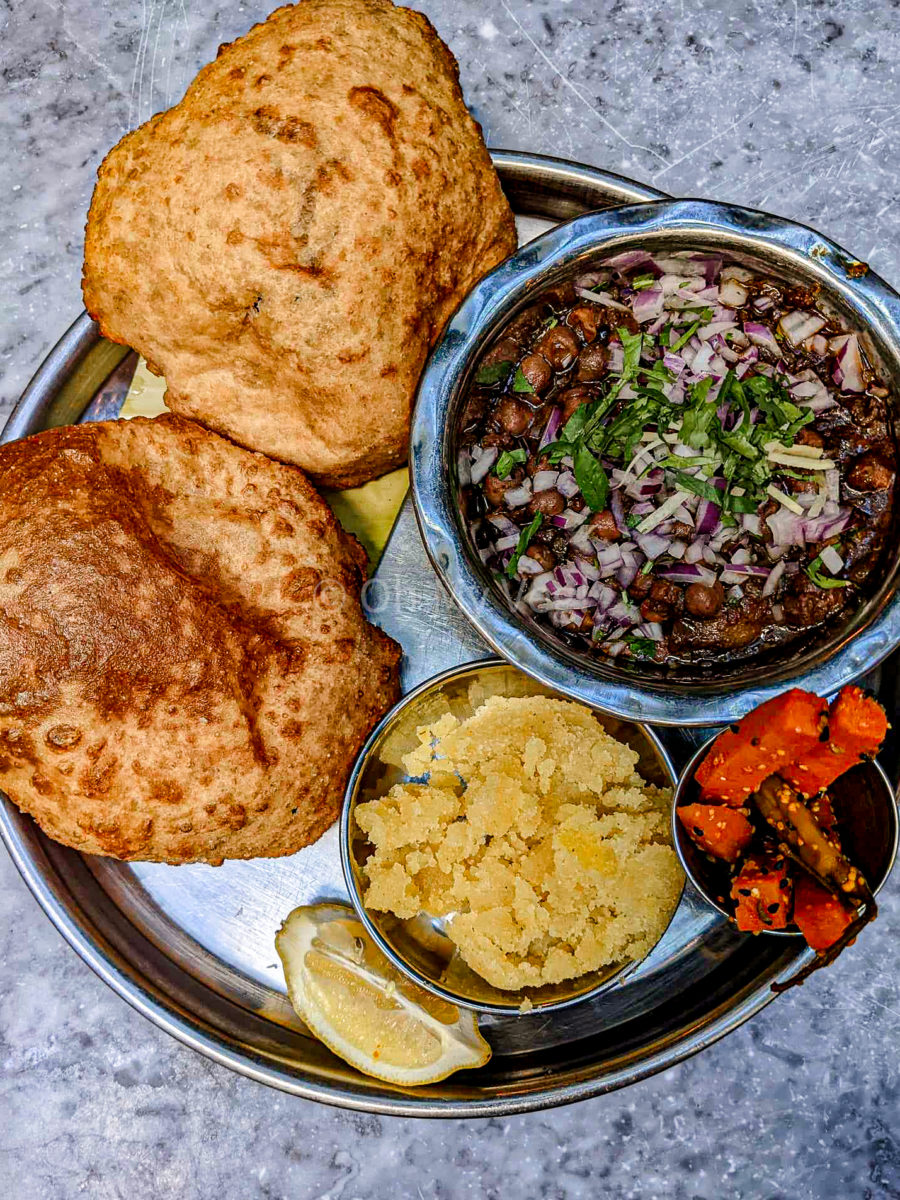 ---
This visit was not my first rodeo with Dishoom's chole puri. It's not even my second. It's fair to say that this dish is a firm favorite. In fact, the temptation to order it every time I step through the doors is almost compulsive.
When done correctly, North Indian chickpea curry — called chole — is one of the best vegetarian dishes to grace your tastebuds. Luckily, Dishoom's is perfect. The chickpeas are stained deep brown from the unique secret ingredient in any good chickpea curry — tea — and have just the right texture between soft and firm, with a slight bite. The depth of the sauce (known as gravy in India) is fantastic; loaded with aromatic spices, peppery floral notes from cardamom just peek through, along with the woodsy, sweet undertones of cinnamon. I can pick up hints of pomegranate and sour tamarind, which balances the spiciness — the perfect level, although there's a lemon slice to balance the heat if needed. I particularly appreciate the liberal scattering of red onion, a traditional Indian accompaniment. This dish especially benefits from the beautiful crunch and spiciness of raw onions.
The best thing by far about Dishoom's chole puri is it's not just chole puri. There's puri, which is crispy and soft on the inside, a small plate of delightfully sour lip-puckering carrot pickles, and sooji halwa, sweet semolina pudding scented with saffron and cardamom. It's soft and sugary, and just one bite makes it so easy to understand why the combination of chole, puri, and halwa has millions of Indians flocking to street food stalls for breakfast every day.
Making the Chole Puri at Home:
---
Dishoom Desserts and Drinks: N/A
I didn't opt for dessert, mostly because I was very full, and secondly, as I'd already had a complete serving of sooji halwa with the chole puri. The dessert menu does include favorites such as three flavors of kulfi, basmati kheer, and gola ice. I must try them another day!
Likewise, I'd already drunk far too much water (served in steel glasses) to make room for drinks, but the menu is extensive; it includes beloved Indian soda brands, Limca and Thums Up, as well as lassis (marijuana-laced traditional bhang lassis not excluded), a variety of chai (tea), coffee, and fresh juices. Again, for another time …
---
Dishoom Carnaby Review: The Price Range
Dishoom is not for budget-eating. That is to say, that's a middle-of-the-range Indian restaurant — neither cheap and cheery nor fine dining. As of 2023, the many side dishes hover around the £6 mark, while mains will set you back an average of £12. My total bill was £30.70, covering enough food for two adults. Expect to pay more if you include rice, bread, desserts, or drinks. For central London, this is reasonable.
Dishoom Carnaby Review: Location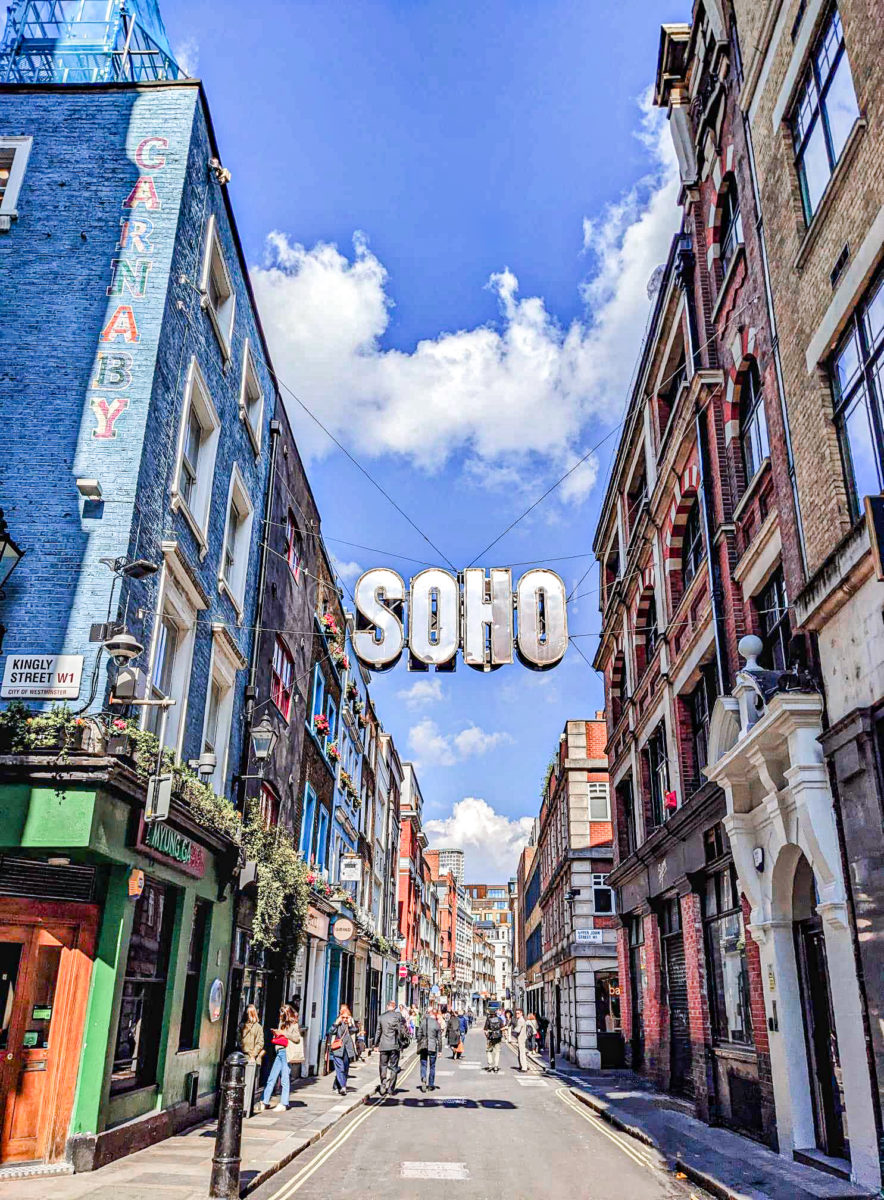 ---
Soho, an area in central London, borders the affluent Mayfair, St James, Covent Garden, Bloomsbury, and Fitzrovia. The zone was initially a playground for the aristocracy, transformed into a base for the sex industry in the 1800s, and is now one of the "coolest" London areas known for its independent shops, restaurants, and lively nightlife. The cultural center of Soho, Carnaby Street, is where you can find Dishoom. It's well worth a visit for tourists, mainly as it's within walking distance to landmarks such as Chinatown, Liberty London, Hamleys, The British Museum, Piccadilly Circus, Leicester Square, The National Gallery, Buckingham Palace, and Oxford Street.
Dishoom Carnaby Review: Final Rating
Visit Dishoom For: Brunch, work lunch, dinner with friends or family, dietary restrictions
Address: 22 Kingly St, Carnaby, Soho, London, U.K., W1B 5QP
Price range: ££
Frequently Asked Questions about Dishoom:
Does Dishoom have a Michelin Star?
No, Dishoom does not have a Michelin star, although the cuisine and service are of an extremely high standard. Indian restaurants with Michelin stars in London include Veeraswamy, Gymkhana, Quilon, Jamavar, Benares, and Amaya. The city is rich with incredible Indian fining options for any budget.


Who is the owner of Dishoom?
Dishoom is co-owned by Shamil and Kavi Thakrar, cousins. The family owns the famed rice brand, Tilda.


How many sites does Dishoom have?
As of 2023, Dishoom has nine locations across London, Edinburgh, Birmingham, and Manchester.


What is the original Dishoom site?
The first and original Dishoom opened in Covent Garden, London, in 2010.
Disclaimer: This review is not sponsored or paid for. All opinions are my own.