Creamy Black Lentils — Indian Dal Makhani
This post contains links to affiliate websites such as Amazon, and I receive a commission for any purchases you make using these links. I appreciate your continued support for Oh My Veg!
You've just found your new favorite dish. The lentil recipe you never knew you needed. Dal Makhani is, without a doubt, the quintessential North Indian celebration food. Makhani, a Hindi word meaning "butter," tells you everything you need to know: These creamy black lentils are cooked with copious amounts of rich butter, making it an indulgence that's too good to miss.
Lentils, or dal, as they are called in India, make up an important part of the daily Indian diet. Dal Tadka, one-pot Masoor Dal, and Palak Dal are common homely comfort foods. On the other hand, Dal Makhani served with a good fluffy naan is a celebratory dish reserved for special occasions, restaurant meals, and weddings. It's made with earthy sabut urad (Whole Black Lentils) which are slowly simmered for hours, drawing out their intensely rich flavor. Then onions, ginger, garlic, and tomatoes are sautéed in butter until softened and melted into a sauce. This gorgeously aromatic paste is mixed together with our cooked lentils, sprinkled with garam masala, and left to simmer for another hour. Finally, before serving, the pièce de résistance: extra butter and cream.
Interestingly, the only essential spices used in Dal Makhani are red chili powder (Kashmiri or Deggi Mirch is my preferred choice), and Garam Masala. The result is a mild dish, peppered with hints of garlic, laced with rich butter, heavy cream, and with a subtle undercurrent of aromatic spice.
Dal Makhani is a labour of love, but it's a very uninvolved dish that's easy to cook.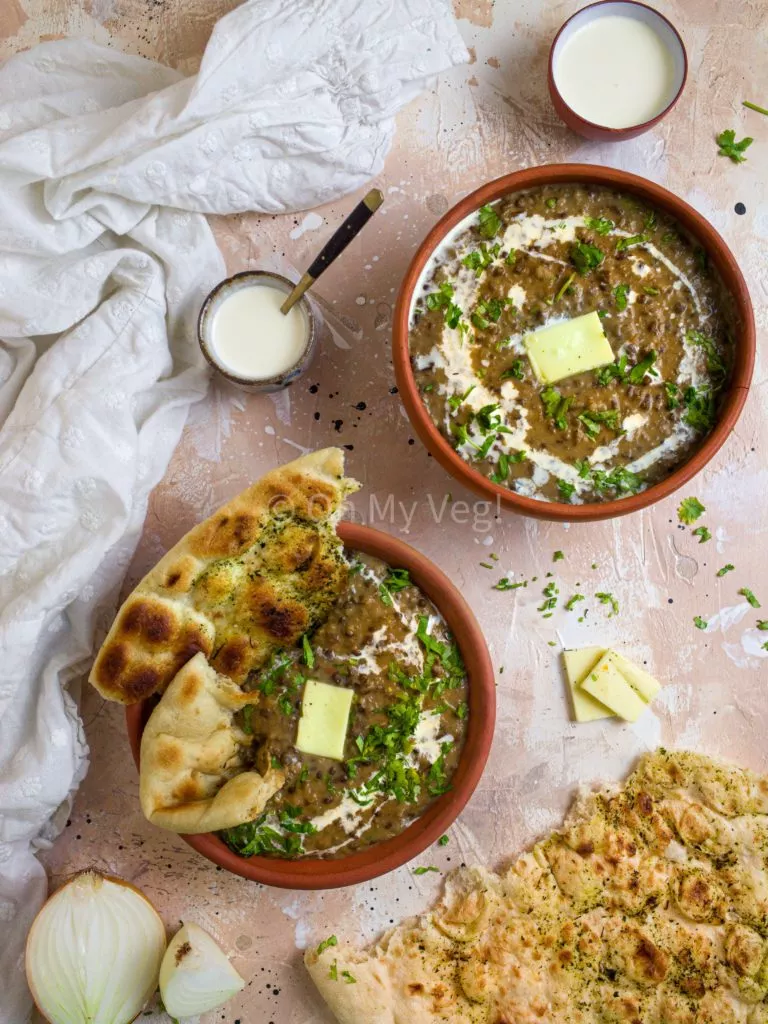 What do Creamy Black Lentils Taste Like?
Unlike other Indian lentil dishes where the spices contribute the majority of the flavor, Dal Makhani is all about the lentils. The rich, earthy, and lusciously creamy whole black lentils are the backbone of this dish, with gentle hints of aromatics from garam masala, heat from chili, and mellow sweet garlicky deliciousness shining through. Butter and cream both add to the mouth-wateringly silky texture of this recipe and the rich buttery aftertaste.
Can you imagine that there was once a time when I thought I didn't like Dal Makhani? How lost I was in those days! Thankfully, I put my fears aside, and to my surprise, I actually loved Dal Makhani. Honestly, I'm not quite sure why I was worried I wouldn't like it. However, I know that there are a lot of people who are reticent about trying dishes made with lentils. All I can suggest is that you give it a go – this recipe really is something special. Hopefully, you'll end up loving it, just like me.
Are Creamy Black Lentils Vegan, Gluten Free, Nut Free and Soy Free?
Dal Makhani is indeed gluten-free, nut-free, and soy-free. This makes it a great dish for anyone who has special dietary requirements.
Although butter and cream play a very important role in this recipe, it's surprisingly easy to make Dal Makhani vegan. Simply replace dairy butter with your favorite Vegan variety, and use soya, coconut, or cashew cream instead of dairy cream. If you'd prefer a nut-free option, why not try an alternative like Elmlea Plant?
Which Dal is Creamy Black Lentils made from?
If you've read my guide to Indian lentils and pulses, you'll know that there are so many different varieties of lentils that can be used in cooking. Dal Makhani is made with whole Black Lentils, which are known as either sabut urad dal or kali dal in Hindi. You'll find a lot of recipes that use Rajma or Kidney Beans in their recipes, but I follow the likes of Dishoom's famous House Black Dal and opt to just use creamy black lentils.
Whole black lentils are particularly rich and earthy in flavor, which lends itself really well to this recipe. Slow cooking over several hours not only draws out their beautiful flavor but also develops a beautiful thick and creamy texture to your dal. You'll need to soak them overnight and then precook them for at least an hour until they fully break down and soften.
Tips to make the BEST Creamy Black Lentils
Soak the Sabut Urad Dal / Black Lentils overnight. This is a vital step! Don't skip it. You'll need to soak the lentils in plenty of water overnight to soften them and cut the cooking time down. Simply wash the lentils thoroughly, then cover completely with 1.5 inches water. Cover, and leave on the counter to soak overnight.
Cook low and slow. Dal Makhani isn't just creamy because of the cream. Cooking the lentils low and slow for at least an hour really helps to break the lentils down to become thick and velvety. It's the key to a really good Dal Makhani and doesn't really require any attention.
Make your ginger garlic paste at home. Premade jars of ginger-garlic paste can sometimes be overpoweringly acidic, which we want to avoid. I have a recipe for homemade ginger garlic paste – essentially all you need to do is blitz equal amounts of ginger and garlic with a little oil. You can add fresh coriander too, if you like.
Use lots of salted butter. You'll get that perfect restaurant taste. My preference is salted butter, but if you use unsalted, add extra salt to the recipe.
Top with more butter and cream. It just takes it to a whole new level.
Serve with Naan. It goes without saying that Dal Makhani should be served with Naan (or maybe Chapati or Paratha). Dal Makhani and Naan go together like Gulab Jamun and Ice Cream. Or Burgers with Fries. Trust me, you're going to love it.
Is Dal Makhani Healthy?
This recipe is packed full of protein, good carbohydrates, iron, and calcium thanks to the amazing nutritional profile of whole black lentils.
However, I recommend that for the best results, you don't skimp on the butter and cream. That means that this recipe also has a high-fat content. Nonetheless, making this recipe vegan by using soya, cashew or coconut cream will definitely make it a little healthier.
Variations to try for this recipe
Add Rajma / Kidney Beans. Kidney beans are a popular addition to this recipe. They add a generous dose of extra protein and fiber and have a meaty texture and sweet flavor. Simply soak them overnight alongside the whole black lentils.
Add extra whole spices. It's my personal preference to keep Dal Makhani ultra simple. Having said that, you can fry some whole spices in the oil before you add your onions and ginger garlic paste. For example, try spices like cinnamon, cardamom, cloves, and star anise.
Temper the dal. This is an Indian method of cooking called tadka. Heat oil in a small tadka pan and add your spices. Once they cook, pour the hot mixture over your cooked dal and stir through. You could consider using cumin seeds along with extra garlic or ginger at this stage.
Veganise it. Swap dairy butter for your favorite vegan butter alternative, and exchange dairy cream for either soya, cashew, or coconut cream. It'll add a slightly different flavor whilst still being really delicious.
This Recipe Is …
Rich, creamy & velvety
Hearty and comforting
Gluten-Free, Soy Free, and Nut Free
Easy to Veganise
Authentic
Easy to cook for beginners
Simple, with minimal ingredients
If you love this recipe, you may like:
Restuarant-Style Creamy Black Lentils — Indian Dal Makhani
This easy Dal Makhani recipe is creamy, buttery, rich and aromatic - perfect with naan. It tastes even better than an Indian restaurant!
Ingredients
To soak and cook the Lentils
Water, to soak the lentils
750ml Water, to pre-cook the lentils
To Cook the Dal Makhani
1 Medium White Onion, blended into a paste
2 Tomatoes, blended to a paste
200ml Water, to further cook the lentils
25ml Double Cream
To Garnish the Dal Makhani
Cream to taste, to pour on top
Finely chopped fresh coriander, to taste
Instructions
Soak the lentils. Wash the lentils thoroughly, then add them to a large bowl. Cover with plenty of water - add enough water so they completely cover the lentils with at least 1.5 inches of additional water on top of the lentils. Soak overnight, or up to 24 hrs.
Once the lentils have been soaked, discard the water and wash thoroughly again.
Cook the lentils. Add the soaked lentils along with 750ml water to a large pot. Cover and cook on low heat for 1 hr. Once the lentils have cooked, they should be creamy inside when squashed. Mash them slightly to thicken the Dal.
Make the Dal Makhani. Add butter to a large heavy-bottomed saucepan over low heat. Once melted, add the blended white onions. Sauté gently for one minute, then add your ginger garlic paste. Mix well and sauté for another minute, before adding your blended tomatoes, salt to taste, and red chili powder.
Continue to cook on low heat, stirring occasionally, until the mixture has thickened. Once this happens, add your cooked lentils along with an additional 200ml water and 1/2 tsp Garam Masala.
Cover and cook on low heat for an additional hour (or 30 mins if you're short on time).
Finally, stir through salted butter and double cream. Whisk well. Adjust salt to taste.
Garnish with extra cream, butter, and plenty of fresh coriander.
Serving Suggestion: Plate alongside Fluffy Naan, and either Shahi Paneer, Bhindi Masala (Indian Spiced Okra), or Kurkuri Bhindi (Indian Okra Fries)
Notes
When reheating the Dal Makhani, you'll need to add more water and cream to adjust the consistency. The Dal gets thick if it's left to sit.
Recommended Products
As an Amazon Associate and member of other affiliate programs, I earn from qualifying purchases.
Nutrition Information:
Yield:

4
Serving Size:

1
Amount Per Serving:
Calories:

466
Total Fat:

26g
Saturated Fat:

13g
Trans Fat:

1g
Unsaturated Fat:

11g
Cholesterol:

54mg
Sodium:

418mg
Carbohydrates:

44g
Fiber:

16g
Sugar:

7g
Protein:

18g
Nutrition information isn't always accurate.
Frequently Asked Questions about Creamy Black Lentils
Are black lentils good for you?
Yes, creamy black lentils are an excellent source of affordable protein and vital nutrients such as polyphenols, which help to combat diseases. Black lentils are also low in calories and saturated fats, so it's the perfect health food to add to your diet.


What are black lentils called?
In Hindi, black lentils are called urad sabut or kali dal, whereas, in Tamil, they are called muzhu ulundhu.



Is black dal the same as black lentils?
Yes. In Hindi, "dal" translates to "lentils." Dal is a translation for lentils — or pulses — and for a lentil-based dish like dal tadka or this creamy dal makhani.


Are black lentils the same as caviar lentils?
Caviar lentils, or beluga lentils as they are also known, are sometimes called black lentils. However, caviar lentils are distinctive from Indian urad sabut. Although they look similar, caviar lentils are spherical in shape whereas urad sabut are oblong with a small white mark on their sides.


Can you leave Dal out overnight?
I don't recommend leaving cooked dal out overnight. Ideally, it should be covered and kept in the fridge, or it can ferment or go sour. However, some uncooked varieties of dal, including black lentils/urad sabut, require overnight soaking in order to soften enough for cooking.


What to serve with Dal Makhani?
Dal makhani tastes gorgeous when served with garlic coriander naan or flaky parathas. Alternatively, creamy black lentils also complement the taste of rich and buttery shahi paneer and fluffy steamed rice.


What is Dal Makhani made of?
Dal makhani is made by cooking soaked black lentils/urad sabut, kidney beans, butter, onions, ginger, garlic, tomatoes, red chili powder, garam masala, and thick cream together. The result is a deliciously rich and buttery creamy black lentil dish that's aromatic and full of flavor.