Maray Manchester Review: Middle-Eastern Hidden Gem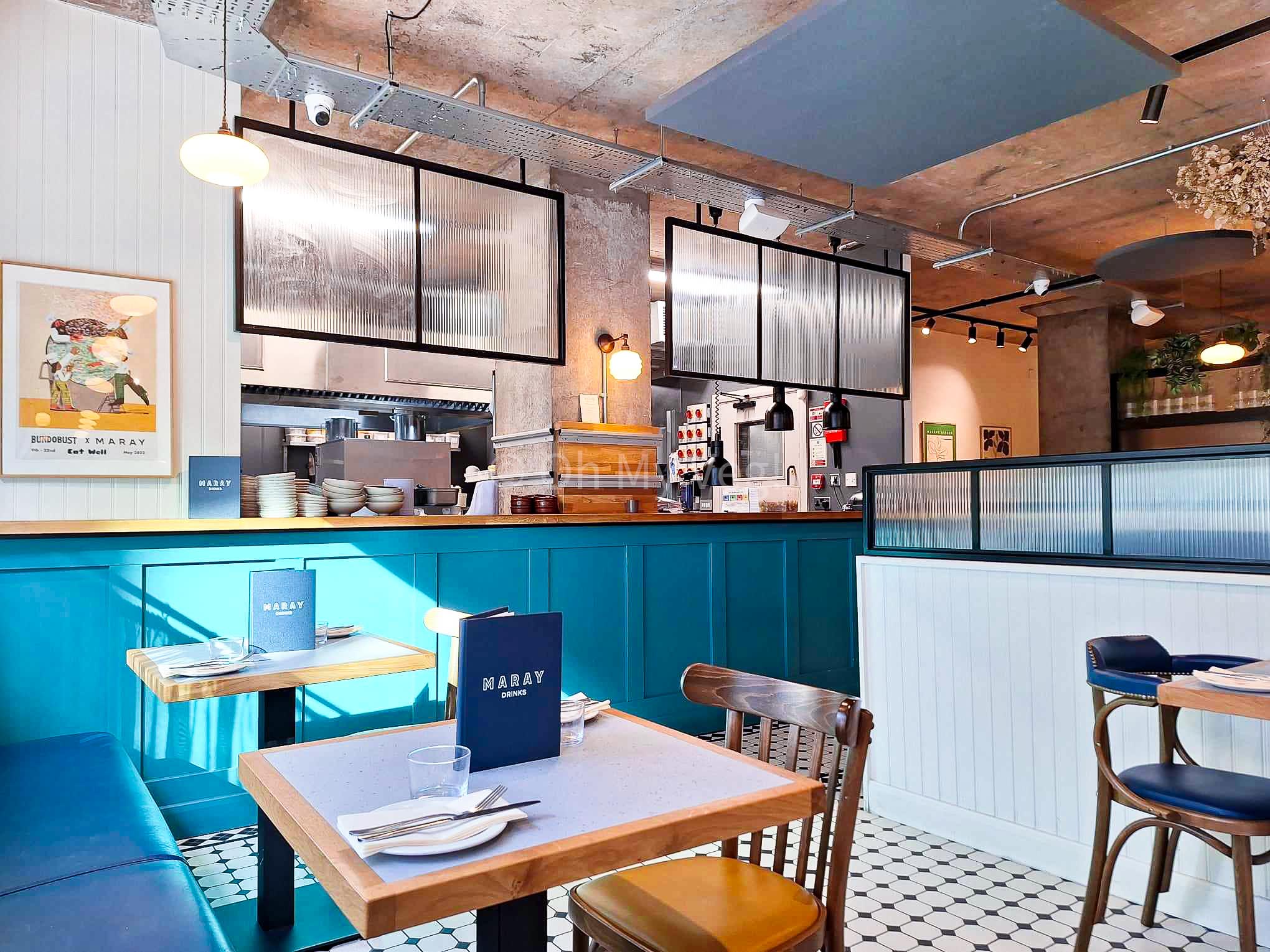 Maray Manchester celebrated its first year of business in 2023. The branch is the brand's second, with the flagship joint in the neighboring port city (and football rival!), Liverpool, having garnered reviews from countless food critics.
The Manchester restaurant scene has exploded in the past decade. A new era of regeneration, modernization, and robust economic growth has embraced the city. More people are moving away from the capital, London, to explore the vibrant streets of Manchester, the largest city in the North West. To meet the demand, more restaurants appear every week. And with more restaurants, there's more food for me to try!
The cuisine at Maray is hard to pinpoint. The restaurant claims inspiration from the hip, multicultural area of Le Marais in Paris, known for its quaint cobbled streets, Jewish residents, and historic kosher eateries. It hovers somewhere between Middle Eastern with its spicing, modern American fusion with its execution, and Mediterranean with its heavy focus on fresh vegetables and seafood.
If you're anything like me, you're already excited. Middle Eastern and Mediterranean foods are known for being vegetarian-friendly, and this review is going to get your taste buds tingling. Read on, and let's find out if I recommend a trip to Maray Manchester …
Maray Manchester Review: The Ambiance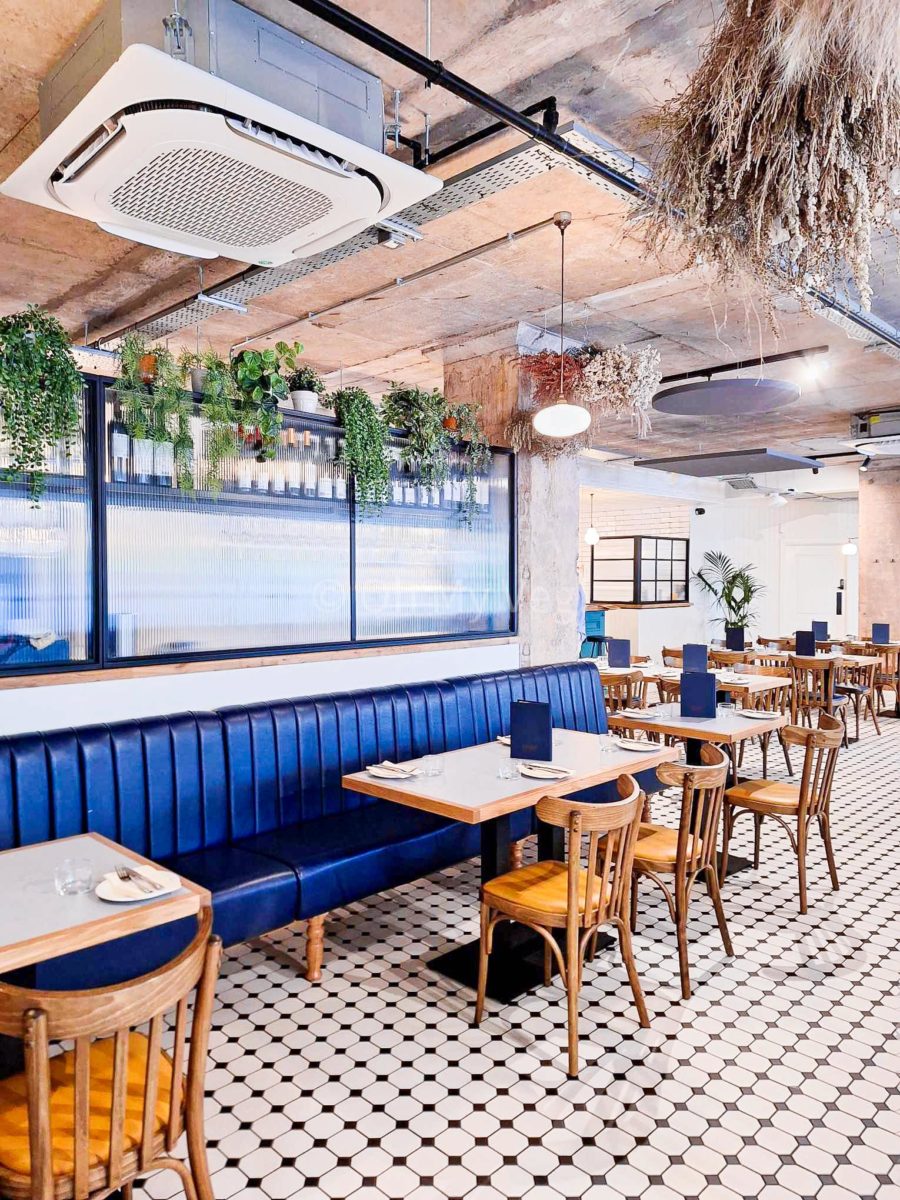 Maray Manchester's branch strikes a perfect balance between elegance and trendy aesthetics. Its exposed ceiling, featuring sizable metal pipes and beige lime-washed support posts, carries an industrial vibe that harmonizes beautifully with Manchester's rich history as the birthplace of the Industrial Revolution.
Conversely, the dried grains hanging from the ceiling, plush blue couches, minimal art prints, large potted plants, and tiled floors create an ambiance that evokes the Mediterranean. Soft tunes float through the air while natural light floods through the windows, and the joint is almost empty during a quiet Friday late-lunch period.
There's space outside to sit, too, in a quiet square away from the hustle and bustle of the busy city center. On a sunny day, the al fresco dining would be perfectly suited to the menu here at Maray Manchester.
Maray Manchester Review: The Service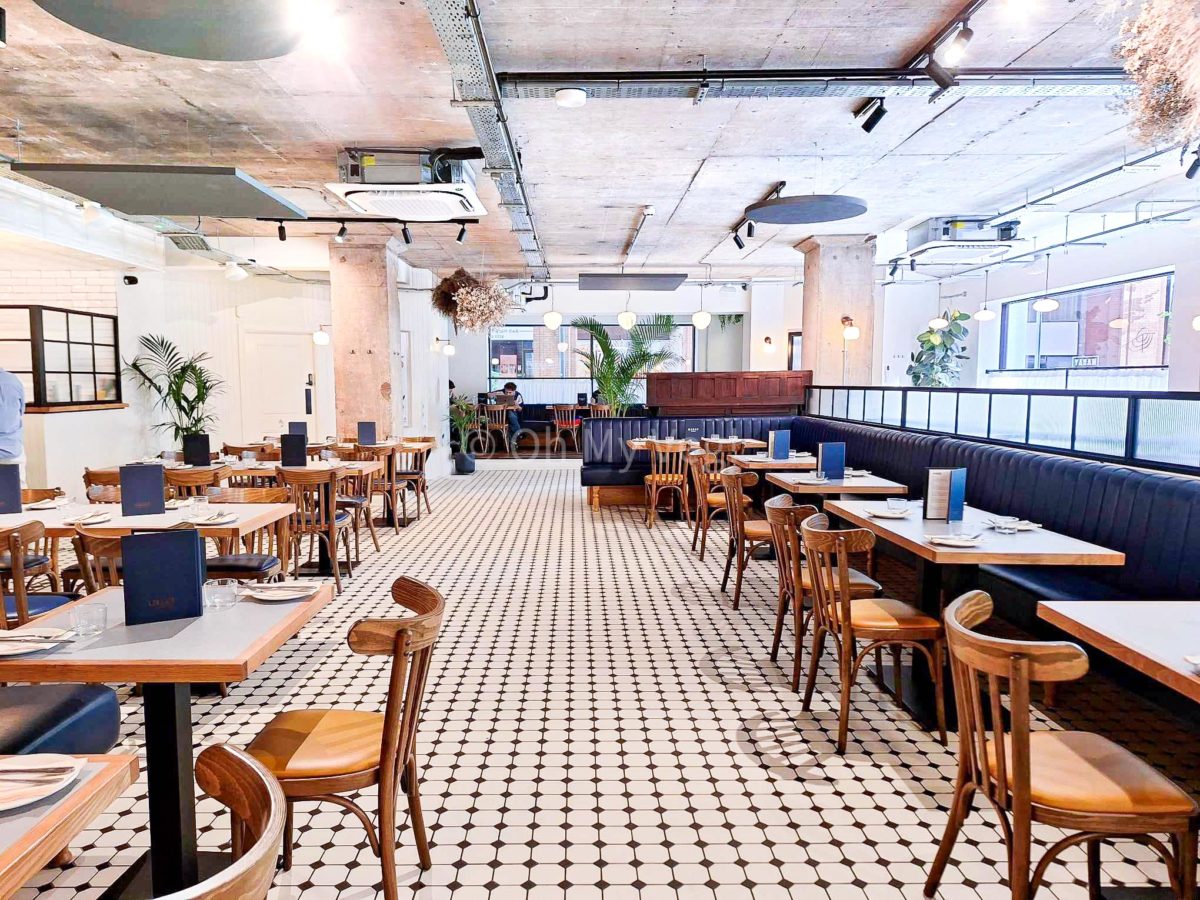 When I visited Maray Manchester, the restaurant was nearly empty, with only one other occupied table. Perhaps I was fortunate in terms of service, but there was nothing to fault. Both servers were friendly, attentive, and efficient. Additionally, they asked if I had visited previously, and were both informed and helpful about the menu, food, and allergins.
There is an optional service charge added to your bill. This is non-compulsory, handled electronically, and is becoming commonplace in the U.K. (where we don't have a tipping culture). Maray assures us that the service charge goes directly to the wait staff.
Maray Manchester Review: The Food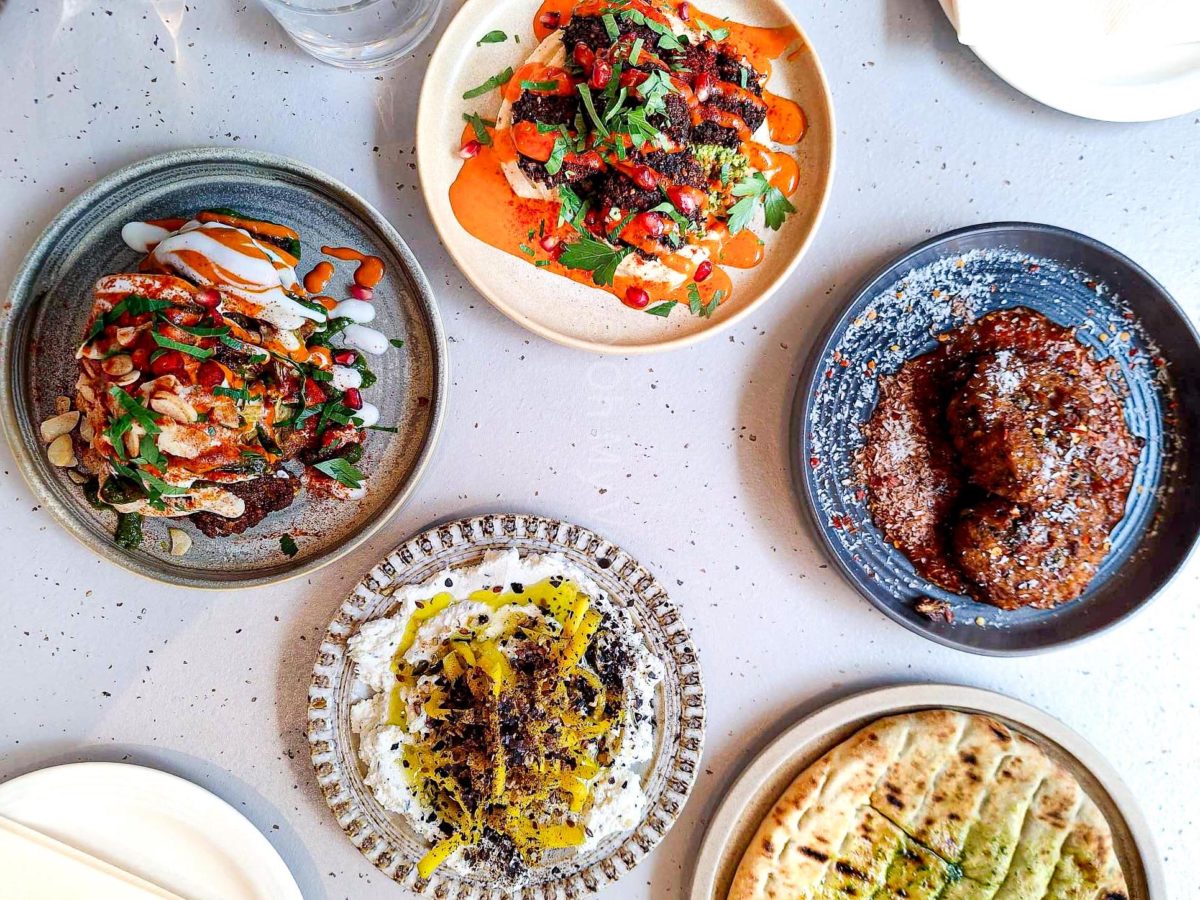 Vegan, Vegetarian, and Gluten-Free Options
Maray Manchester excels in its vegetarian and vegan offerings, aligning with Mediterranean cuisine. The menu predominantly features vegetarian options, prominently showcased under "veg plates." Additionally, all mezze dishes, bar one, are inherently vegetarian.
For vegans, a dedicated menu provides a wide selection of dishes. It incorporates most items from the main menu and modifies certain vegetarian dishes, mainly by excluding yogurt.
Although there's no specific gluten-free menu, Maray Manchester does have a frequently updated chart listing information on which of their dishes contains any of the 14 major allergines. The servers are also friendly and knowledgable about dietary preferences and requirements.
Cauliflower Bhajis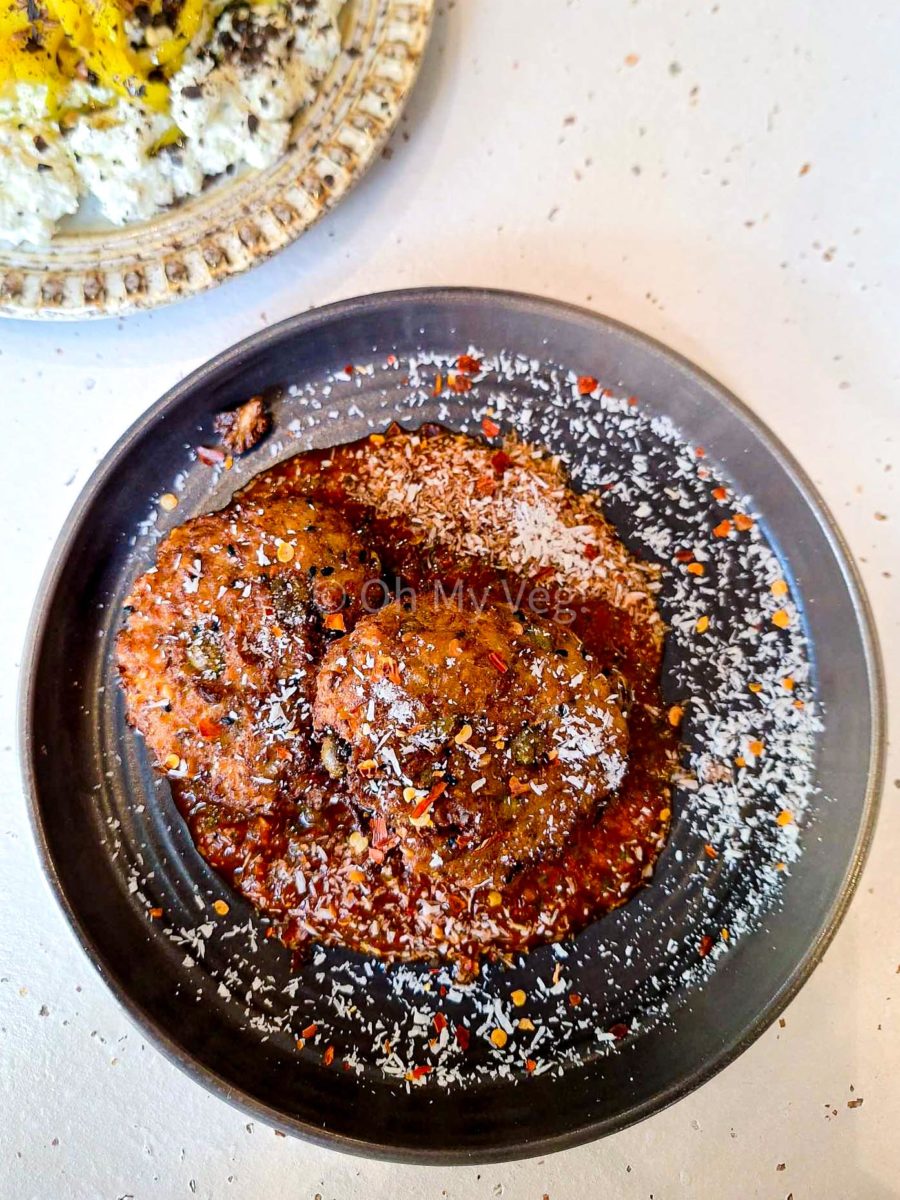 As a lover of vegetarian Indian recipes, I couldn't resist trying this fusion dish as my mezze. The Maray cauliflower bhaji, as described by the restaurant, is served with red pepper dip, coconut, and chili. The sauce is robust, hearty, chunky, and surprisingly spicy. It's the warming kind of spice, not the mouth-numbing variety, but it's the hottest thing I eat during the visit.
The cauliflower bhajis at Maray lack that audible crunch that Indian bhajis do so well — and it cost them an extra half star. I'm not particularly fond of peas either (as a certified pea hater, they often sneak into vegan meals uninvited), but I can't deny that the flavor is delightful. Inside the cauliflower bhaji, the subtle spices create a tender, almost melting texture in the mouth. The coconut flavor isn't overwhelming; instead, it adds a layer of complexity with nutty undertones, harmonizing well with the other flavors. That's the main takeaway: balance and harmony of seasoning.
All in all, I wouldn't write home about the Maray cauliflower bhaji, but for what it was — a mezze — it was satisfying. And the ability to elevate a vegetable like cauliflower is worth noting, especially when compared to other, nameless yet countless restaurants are content to serve unseasoned steamed vegetables.
Whipped Goats Cheese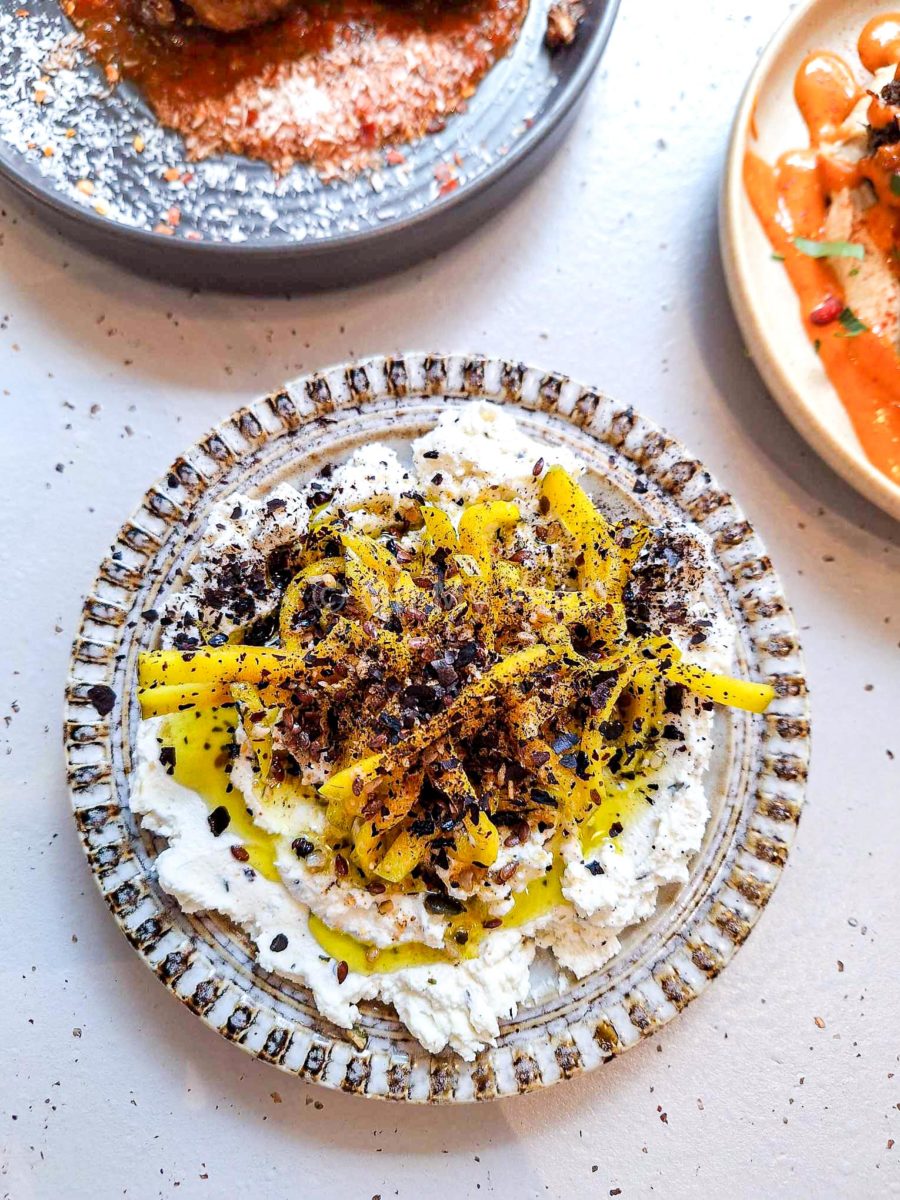 The Maray whipped goat's cheese features a topping of pickled apples and a generous dusting of dukkah spice. The goat's cheese is incredibly thick and creamy, with an intensely tangy, sharp, and tart flavor. Surprisingly, the cheese almost tastes sweet on the palate, and the dukkah heightens this with a blend of earthy, sweet, and zesty seasonings.
The pickled apples are a delight, lip-puckeringly sour and crunchy. They contrast nicely with the sweet and soft goat's cheese, and while I would have never thought to pair pickled apples with cheese, it makes perfect sense. Cleverly, the combination merges flavors from a classic cheeseboard with the Middle-Eastern penchant for serving sour pickled vegetables alongside meals.
As a stand-alone dish, I would struggle to finish the plate. However, the Maray whipped goat's cheese shines when eaten alongside the other dishes. The flavors and textures balance the spicier notes of additional dishes, creating an exciting array of flavors not offered elsewhere on the menu.
Warm Flatbread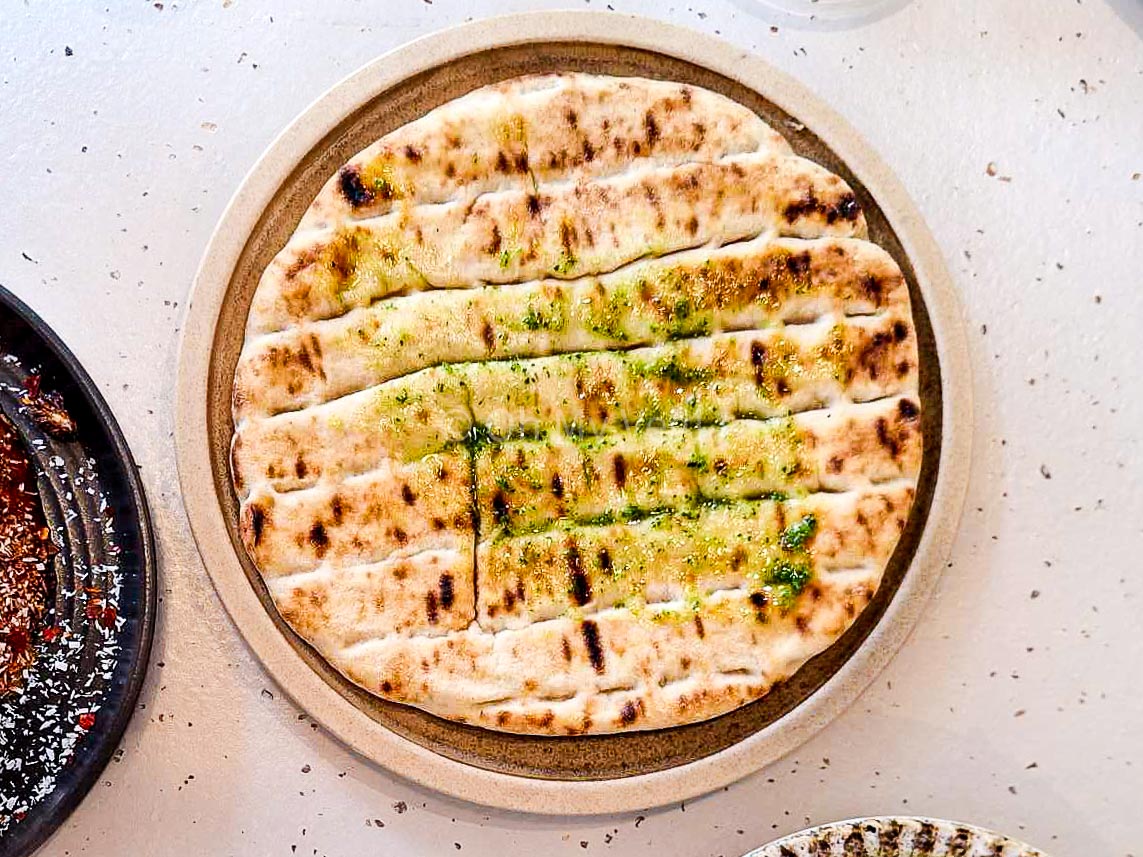 Maray flatbread isn't the typical pita bread you'd buy from the supermarket — there are no pockets here. It's not quite like fluffy naan, either. The bread is soft, pillowy, and light, with a mild taste and a slightly smoky, charred aroma. Plus, it's brushed with herb butter, and as we all know, herb butter makes everything better.
The bread isn't part of the Maray lunch deal, and at the time of writing (2023), it costs an extra £1.75. The portion isn't huge and, on reflection, it probably wasn't needed, as the dishes taste delicious without rice or bread (Usually I can't do without one or the other!). However, I don't regret it one bit. It was particularly good with the whipped goat's cheese dip.
Disco Cauliflower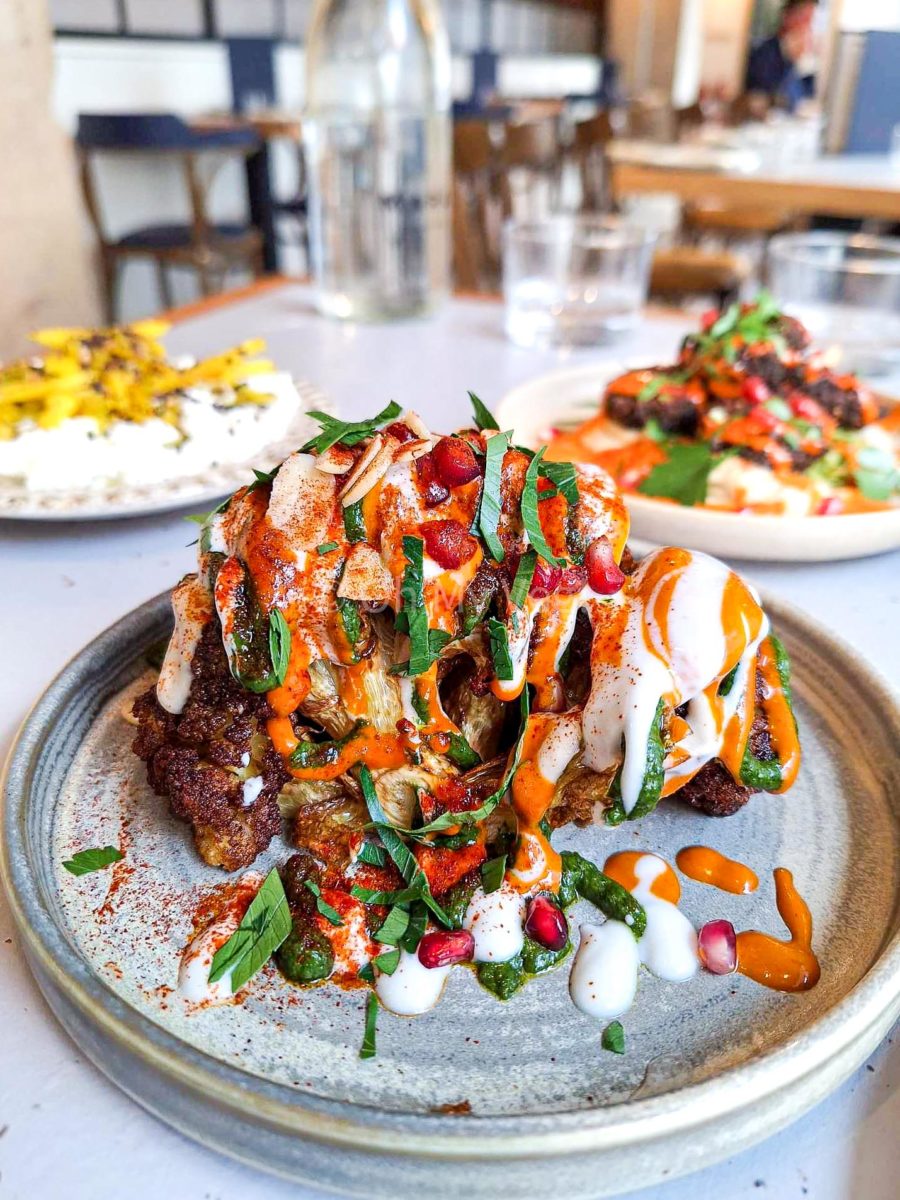 If you only try one dish at Maray Manchester, it has to be the disco cauliflower.
This dish is truly outstanding, and it's tempting me to revisit Maray Manchester. I highly recommend all my readers to give it a try. Not only is it incredibly delicious, but it's also incredibly photogenic and Instagrammable (I mean, just take a look!).
The cauliflower — such a bland vegetable when mistreated — is possibly the best I've tasted. Its texture is tender, the knife cuts through it like butter, and the vegetable is equal amounts nutty and sweet. However, without a doubt, the sauces are the true stars of the show. Fresh, zesty, and bright chermoula loaded with fresh herbs, garlic, and warm spices; harissa, which is not fiery but smoky, earthy, and intensely peppery; fresh yogurt, to amplify the creaminess of the cauliflower, and subtly bitter and nutty tahini.
Fresh parsley, the thinnest slivers of almonds, and bursts of juicy pomegranate complete the dish, rounding out the flavors and providing vibrancy in every mouthful. Who knew that drenching cauliflower in dressing could be so delicious?
The best thing about Maray's Disco Cauliflower is the sheer size of it — you're served a whole head of cauliflower, and if you're lucky, you might get to savor the meal twice because it was too much to finish at the restaurant itself …
Falafel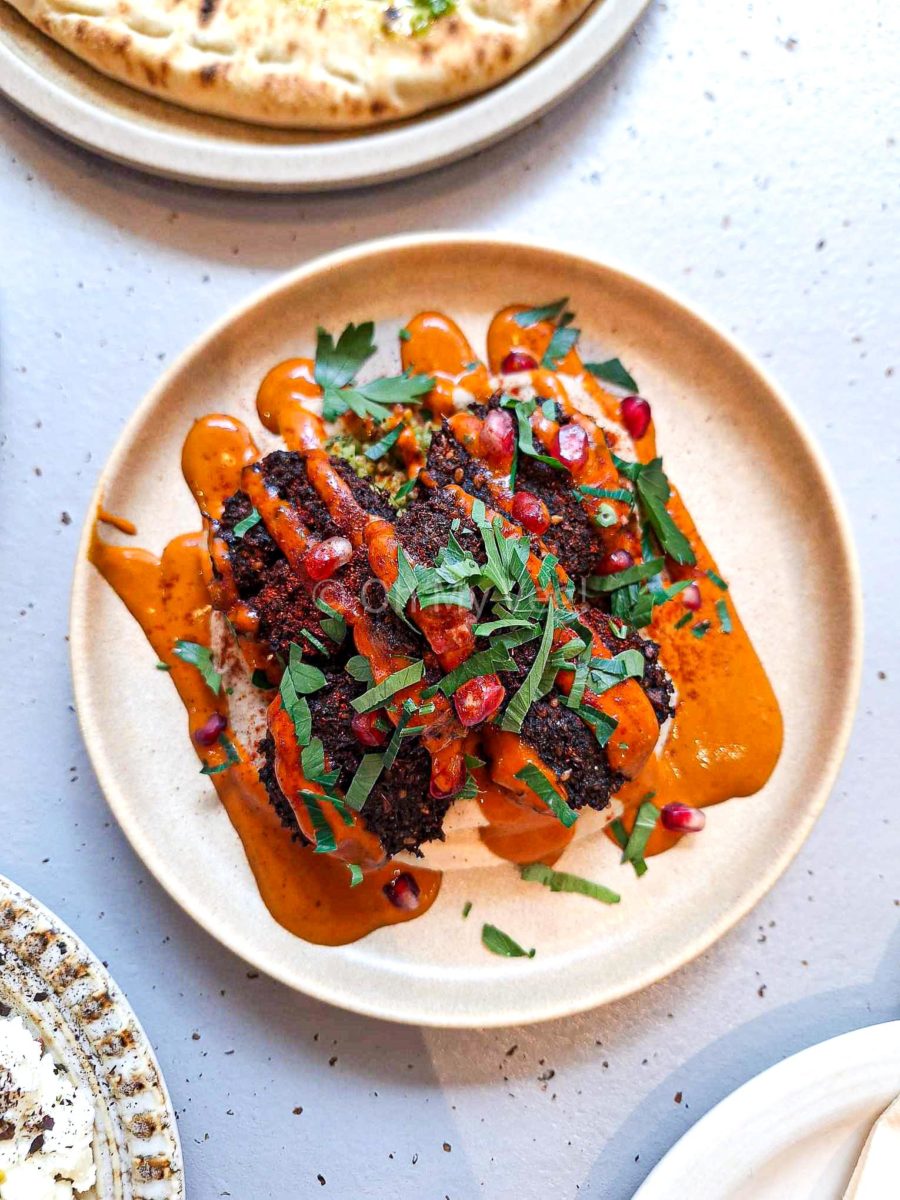 Unfortunately, the falafel at Maray Manchester, which is served with hummus, tabouleh, and harissa, didn't impress me. Especially not compared to that Disco Cauliflower! While the dish looked spectacular, and the falafels actually tasted delicious, boasting the ideal texture … the accompaniments fell short.
The hummus was thick and creamy, which sounds like a positive, but the texture was a little too much clogging for my tastes. A slightly looser texture, with more tahini and olive oil, would have helped. However, the real issue was with the tabouleh, which had an unpleasantly overpowering bitterness not usually present in the dish. If I'm being fussy, there was too much harissa sauce too — I wish the flavors of the falafel were allowed to shine more, without the other elements battling for dominance. Unfortunately, it overrode the flavors of the falafels. I ended up wishing I'd selected a different plate.
Maray Manchester Review: The Price Range
If you want cheap eats, Maray Manchester probably isn't the best place for you. On average, a plate here falls in the range of £7 to £8, making it reasonably priced but not the most economical option.
However, since the ambiance, service, and food are all exceptionally good, I think the price range is entirely justifiable. Certain dishes have great value, particularly the disco cauliflower, while other portions are average-sized.
Expect to pay, on average, upwards of £15 for a mezze and a main plate; upwards of £20 for a mezze, main, and dessert; and around £30 for a drink, mezze, main, and dessert. These estimates fall within the standard price range for a central Manchester joint.
Alternatively, like me, take advantage of the lunch menu (10-4 p.m., Mon – Fri) where you can choose one mezze and two plates for just £17.50.
Maray Manchester Review: Location
Maray Manchester sits on Brazennose Street, positioned between the upscale areas of Spinningfields and Peter's Fields. Despite being in central Manchester, the area is usually quiet, offering a pleasant inner-city escape from the bustling neighboring streets.
The restaurant is within ten minutes walking distance from all major transport hubs in Manchester, including Piccadilly Station, Victoria Station, Salford Central, Oxford Road, Deansgate, and Shudehill Coach and Bus Station.
It's also well located to explore some Manchester sites, including an Abraham Lincoln Statue directly outside, Manchester Opera House, The Royal Exchange Theatre, Albert Square, St Peters Square, Manchester Central Library, Manchester Art Gallery, and John Rylands Library, among others. Phew! That's enough things to cover a whole weekend's worth of exploration!
Expert tip!
There's a hidden church next to Maray Manchester called "St Mary's RC Church (The Hidden Gem)" that has a beautiful main altar. It's accessible from a small, old series of passages on John Dalton Street that will take you straight out onto Mulberry Street. If you're a tourist or spiritually inclined, it's worth popping in before or after your meal. Visiting is free and the church is often empty.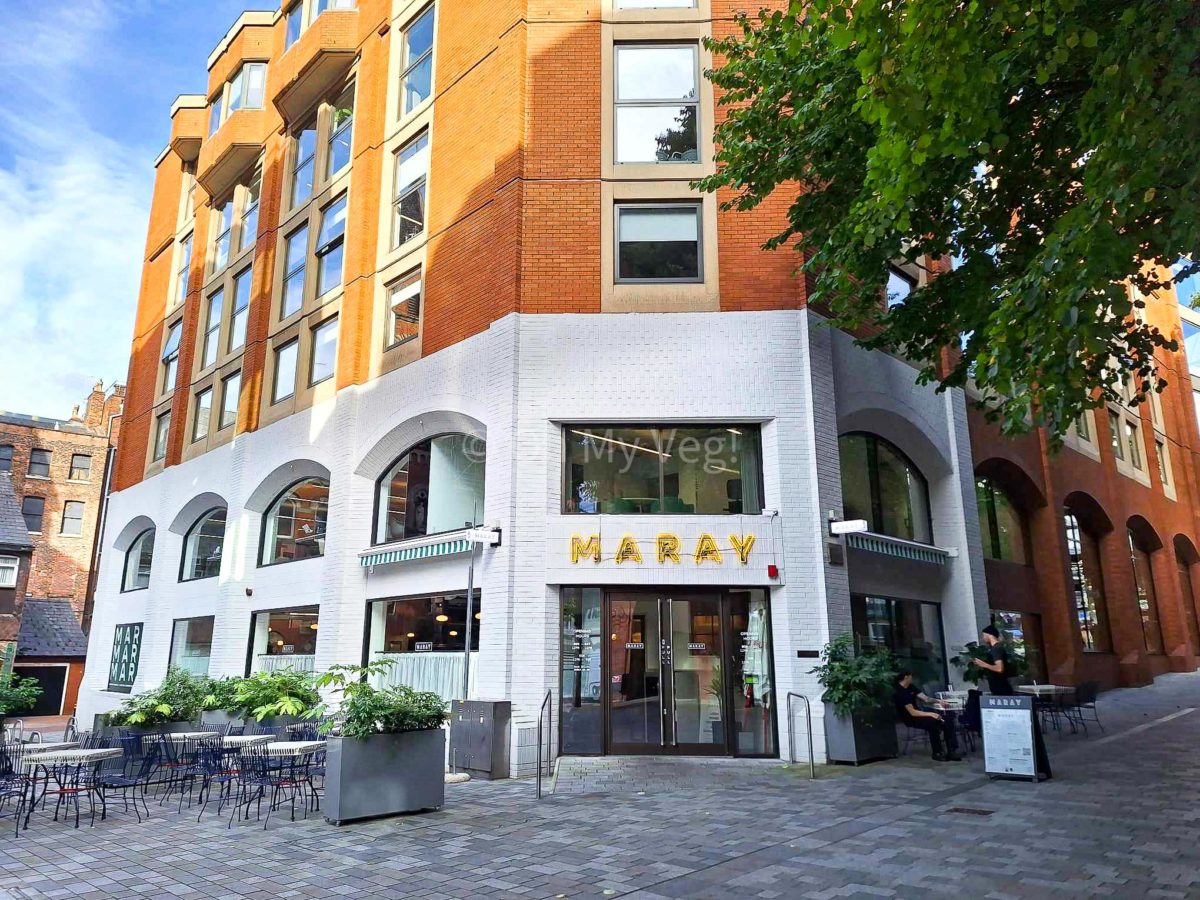 Maray Manchester Review: Final Rating
Visit Maray Manchester for Big parties, Casual Eats, Date Nights, Brunch
Location: 14 Brazennose St, Manchester M2 6LW
The Price Range: ££ (£11 – £30 average)
Disclaimer: This review is not sponsored or paid for. All opinions are my own.