Flower Batata Rassa: Maharashtrian Aloo Gobi Curry
This post contains links to affiliate websites such as Amazon, and I receive a commission for any purchases you make using these links. I appreciate your continued support for Oh My Veg!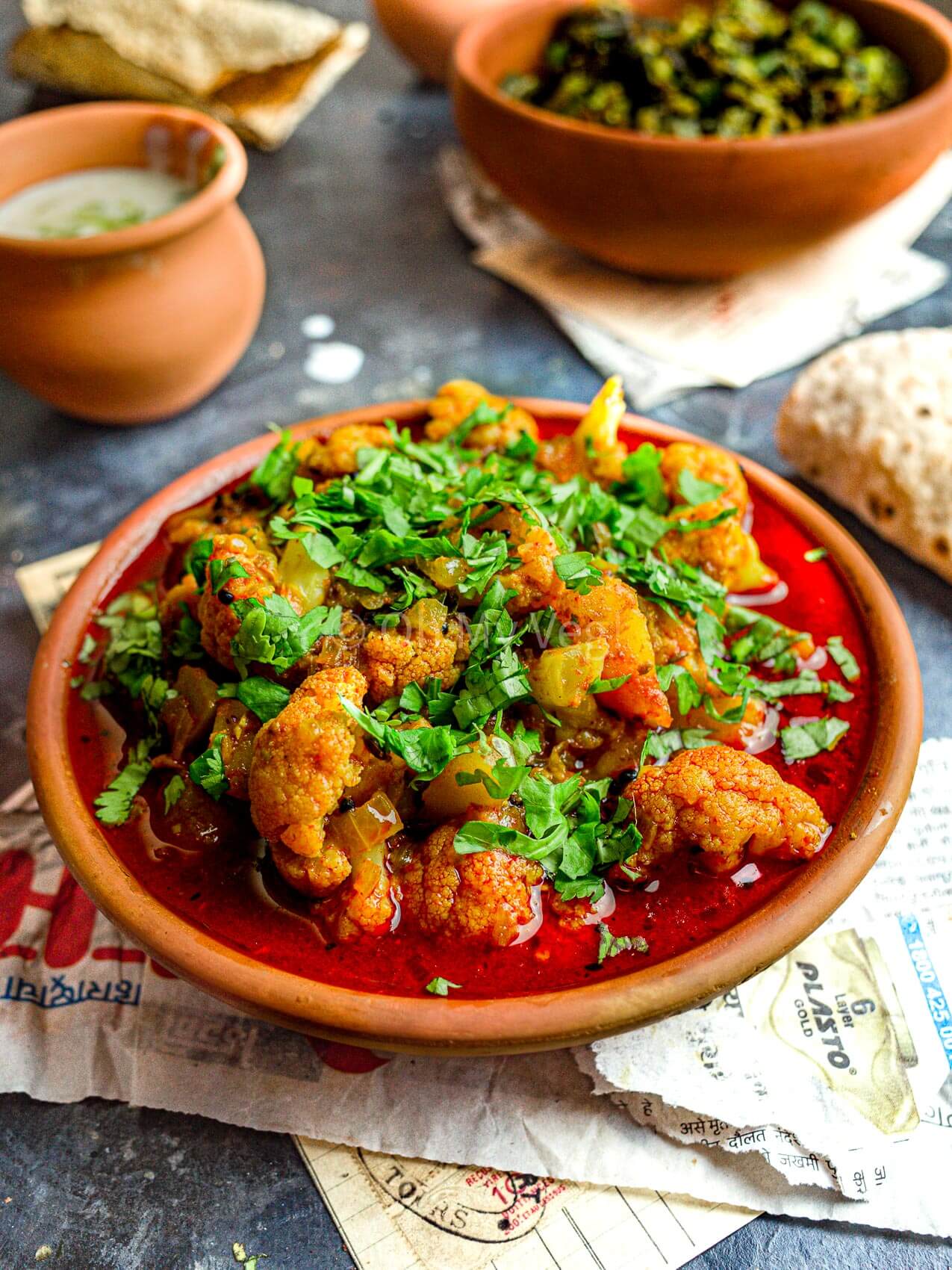 I can't wait to share the recipe for one of my all-time favorite Indian side dishes: Maharashtrian flower batata rassa. This recipe is reminiscent of the global phenomenon, aloo gobi (potato and cauliflower curry), except instead of being a dry curry dish, it's a vibrant, fiery, and thin "rassa," perfect for serving with freshly steamed rice.
Maharashtrian dishes are known for being straightforward and uncomplicated yet still layering many complex flavors. This dish is exactly that — it's ready in 30 minutes, and anyone can successfully make a gorgeous dish. It doesn't matter if you're a native Marathi cook or a beginner to Indian cuisine. I'll walk you through achieving that authentic, homely taste achieved in Maharashtrian family kitchens.
The dish is similar to my reader favorite, batata rassa bhaji. But while batata rassa only features potatoes, this dish has florets of tender, buttery cauliflower on top of the soft, earthy potatoes. The vegetables are cooked in a thin sauce seasoned with nutty coconut, sweet onions, tangy tomatoes, and layers of bright, zesty, and pungent spices. The smoky heat from ground red chili powder is addictive, and the sweet notes from Maharashtrian goda masala are the finishing touch.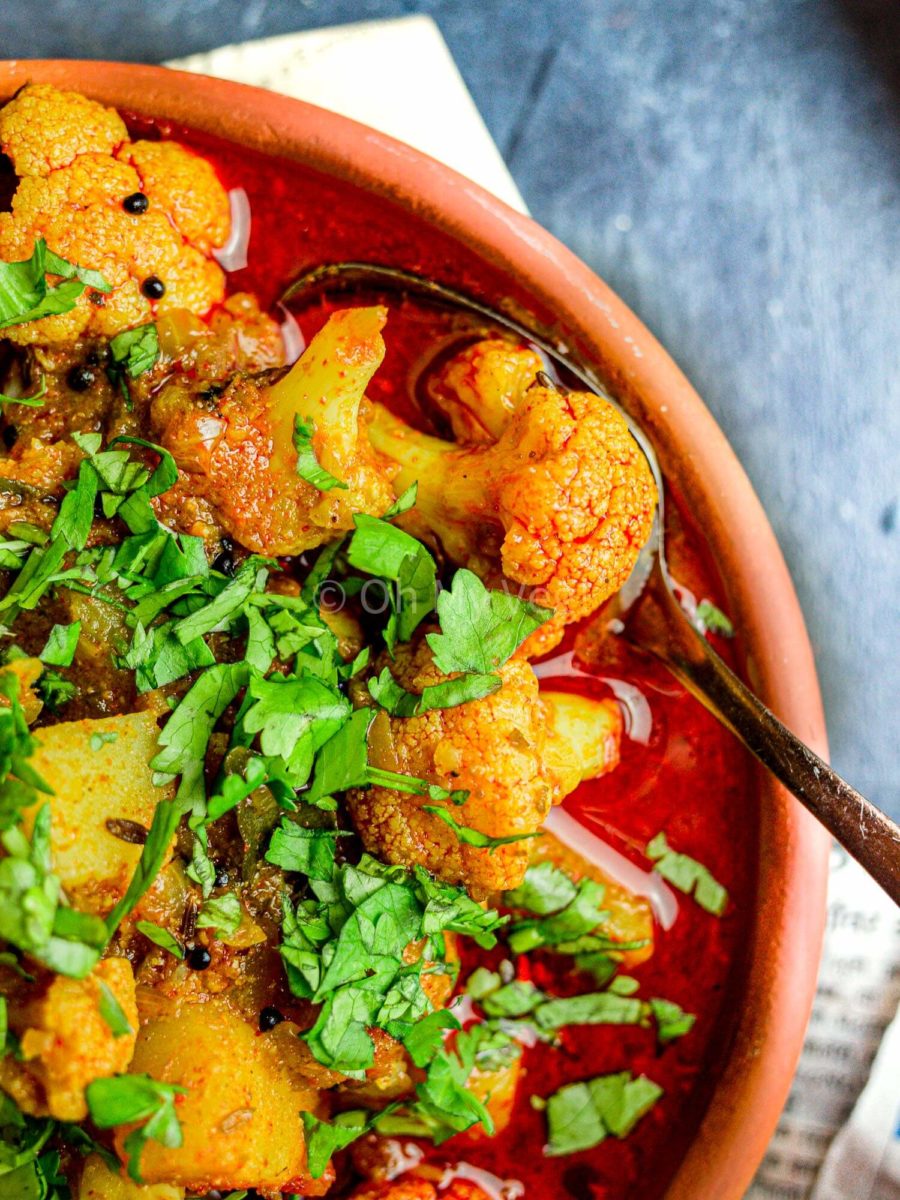 Is Flower Batata Rassa Vegan, Gluten-Free, Nut-Free, and Soy-Free?
It's hard to believe that such a mouthwatering and flavorsome recipe serves most major dietary needs, but it's true! This traditional Maharashtrian dish, flower batata rassa, is naturally vegan, gluten-free, nut-free, and soy-free.
Note! Some brands of asafoetida mix the spice with gluten, so please read the ingredients beforehand. Pure asafoetida will be 100% gluten-free, but you may have to do your research.
What Are the Must-Have Ingredients for Flower Batata Rassa?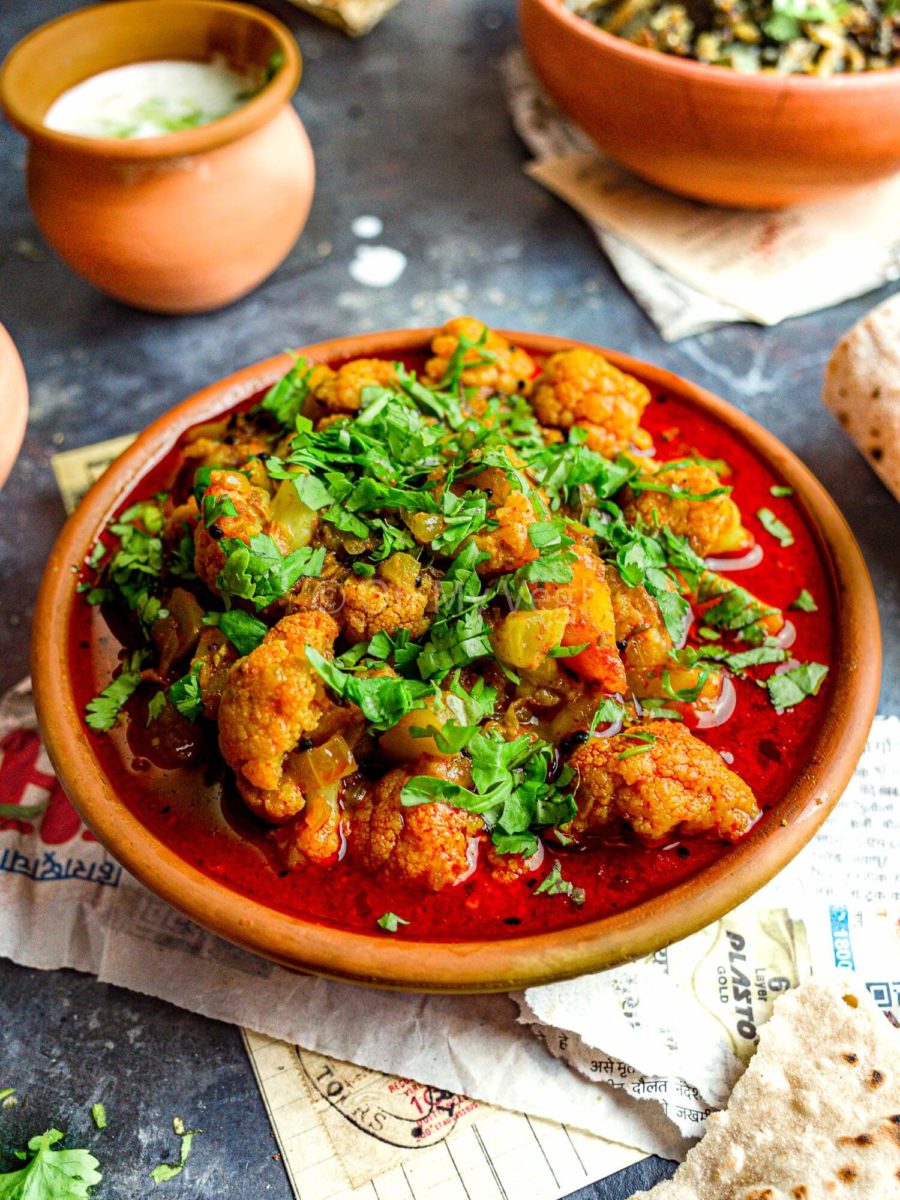 How to Make Maharashtrian Aloo Gobi Curry at Home
This flower batata rassa is such a straightforward recipe! Here are the basics, but scroll down to the recipe card for more detailed instructions with ingredient quantities.
Blanch the vegetables in boiling water with salt and turmeric powder. Drain the vegetables and set aside.
Cook the curry base by heating oil, then add the whole spices, aromatics, coconut, tomato, and ground spices. Cook, stirring regularly, until the mixture thickens and the oil separates.
Finish the curry by adding the vegetables back into the pan, along with the hot water. Cook until the vegetables are soft, season with goda masala, and serve with fresh herbs.
Tips to Make the BEST Spicy Flower Batata Curry
Don't skip blanching the vegetables! We don't get insects in our cauliflower in the U.K., but blanching your vegetables in salted water is a great way to draw out any unwanted creepy crawlies. That's not the only reason, though — you'll get a better final texture if you blanch the vegetables first, plus a lovely flavor from the turmeric.
Cut the potatoes smaller. Compared to potatoes, cauliflower takes less time to cook. To ensure even cooking, I cut the potatoes smaller than the cauliflower florets, as they're added to the dish simultaneously.
Take your time to cook the onion-tomato mixture. The key to an astounding Maharashtrian "rassa" is oil separation, achieved through slow cooking. Instead of rushing things along and adding water too early, be patient, keep stirring, and cook the onion-tomato mixture for at least five minutes. When you mix the sauce, the ingredients should stick together like thick jam, and oil should visibly leave the sides. This step is crucial, so don't rush it!
Use a mix of chili powders. This Indian potato cauliflower curry is designed to be pretty spicy! However, I like to mix two different chili powders to get the ideal balance of flavor, spiciness, and vibrant color.
Finish with goda masala. This Marathi spice blend is smoky, subtly sweet, and highly aromatic. Added right at the end of cooking elevates this flower batata rassa to a whole new level.
Don't forget the garnish. It's just not the same without a sprinkle of citrusy, lemony, fresh coriander (cilantro). Unless you're one of those people who think it tastes like soap … In which case it goes without saying that you should skip this advice!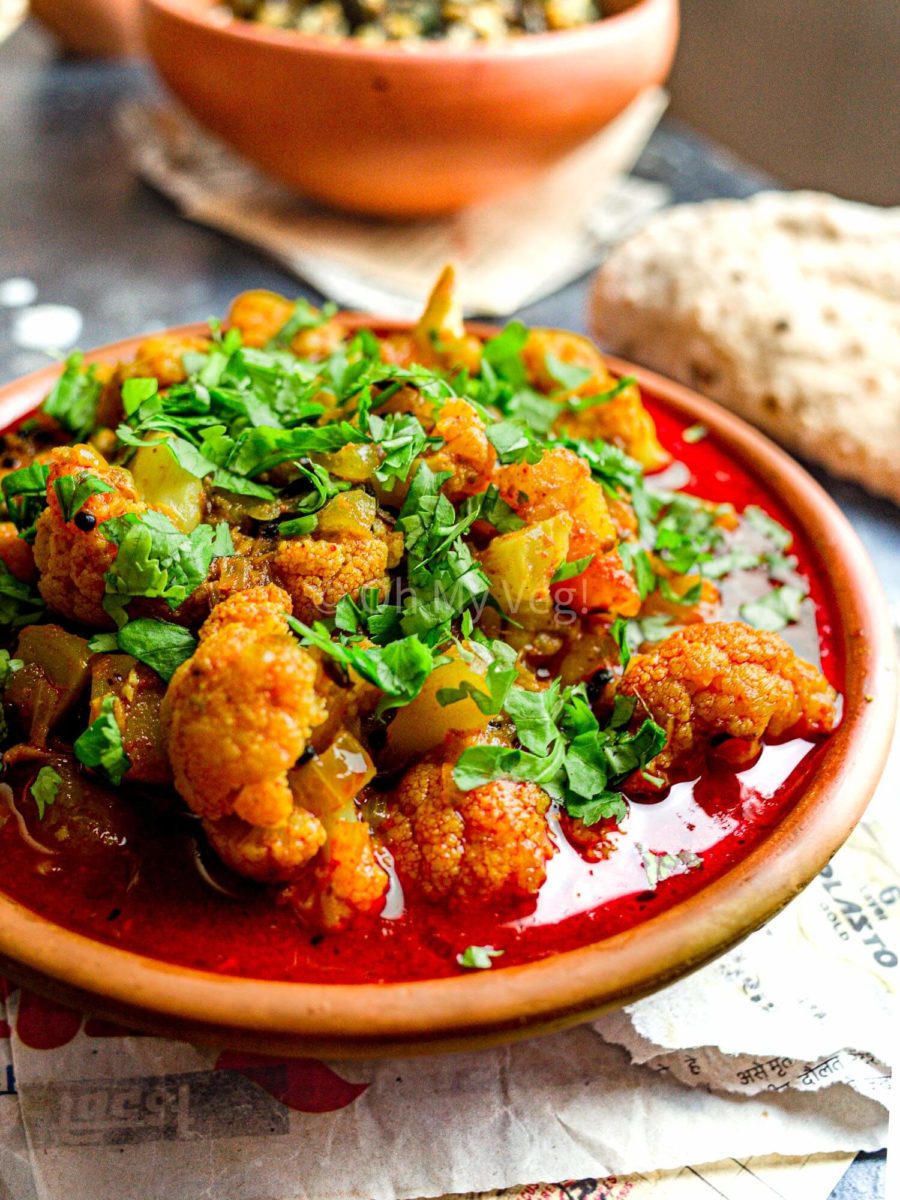 How Spicy Is Maharashtrian Aloo Gobi Curry?
Maharashtrian food tends to be quite highly spiced compared to North Indian dishes. The latter features more aromatic spices, while Maharashtrian food is famous for being slightly more simplistic in method and firey hot.
That's not to say that Maharashtrian food lacks flavor. There's a common misconception that spicy food is otherwise lacking in complex flavor. This potato and cauliflower curry recipe does have 4 tsp of chili powder, which adds fruity and smoky notes, yet it also boasts the nuanced flavors of citrus, earthy spices, nutty coconut, tangy tomatoes, and sweet onions. It's far from "just spicy."
However, put simply, the dish is hot — especially for people who aren't used to eating Indian food regularly. If you love dishes with a kick, this one is for you. If not, you may have to do some quick modifications to the recipe — read below to find out how.
Can I Make a Mild Version of Maharashtrian Curry?
Of course, you can! While traditional Maharashtrian aloo gobi with authentic flavors is extremely hot and spicy, the beauty of homemade food is that you can adapt it to fit your tastes.
Not everybody has a high spice tolerance, and that's okay! There are some Indian meals that are naturally mild and creamy, like shahi paneer and vegetarian butter chicken, or with minimal spice at all, like curd rice or medu vada.
However, you can also adjust the spiciness of this flower batata rassa, making it milder. I recommend cutting down the 4 tsp chili powder to 1 tsp of a subtle yet highly flavored variety like deggi mirch chili powder, or Kashmiri chili powder. You can also use 1/2 tsp black mustard seeds, compared to the recipe's recommendation of 1 tsp.
Variations and Ingredient Swaps for Maharashtrian Flower Batata Rassa
Add green peas to make Maharashtrian flower vatana rassa. The peas add an extra burst of juicy sweetness to the dish. Traditionally, people add peas to replace the potato, but you can use all three!
Use less chili for a milder, toned-down version of this spicy potato cauliflower curry recipe. Also, opt for gentler chili powder, like deggi mirch or Kashmiri chili powder.
Use less water to make a dry curry rather than a liquid rassa. This adaptation is called "sukhi bhaji."
If you can't find curry leaves, add a dash of fresh lemon juice to the curry right at the end.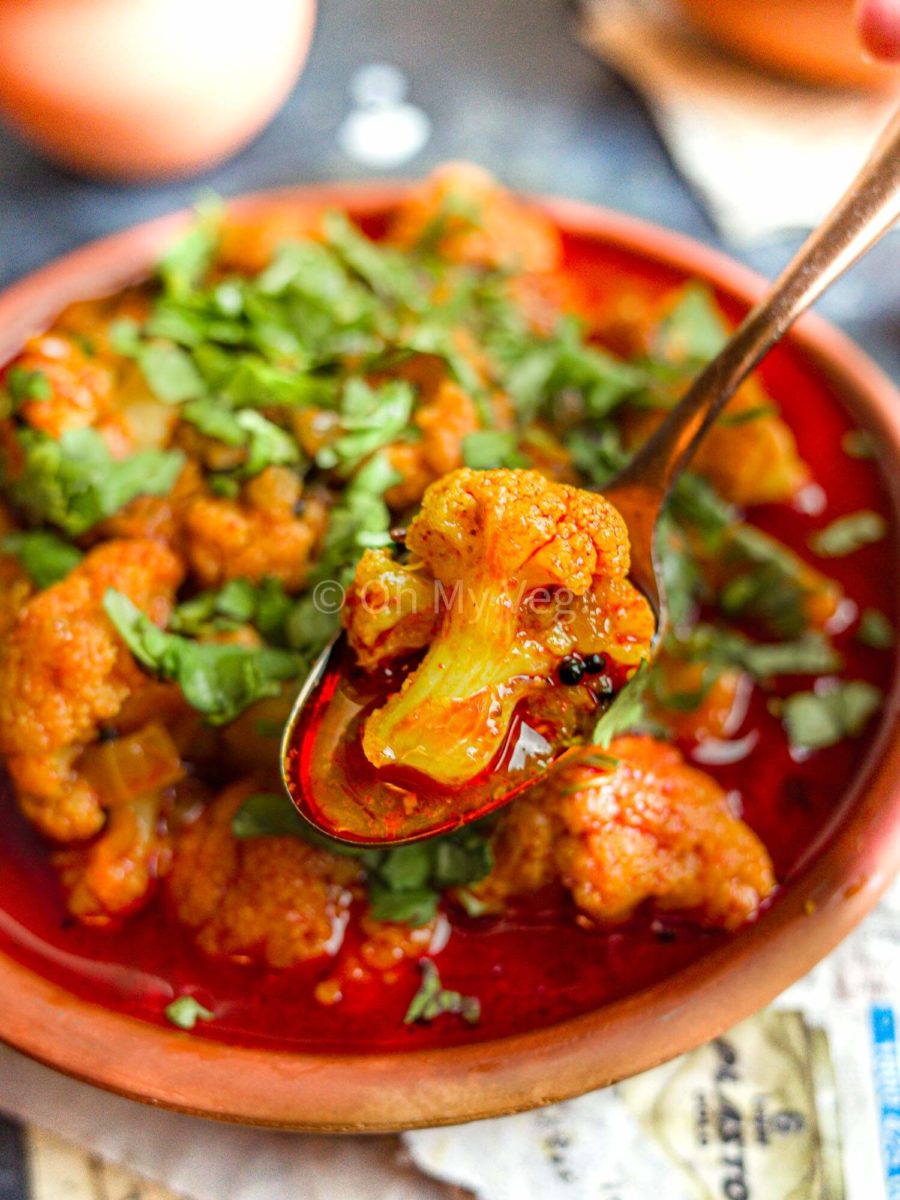 What's the Best Way to Serve Flower Batata Rassa?
I love serving this vegetarian Indian curry in a traditional Maharashtrian thali alongside other popular Marathi dishes like kothimbir vadi, sabudana vada, varan, bhindi masala, puri, and seviyan kheer.
However, if you don't have enough time to make a full thali, simply garnish your plates with plenty of fresh coriander, a slice of onion on the side (raw onion is incredible with Indian dishes!), a spoonful of loncha (pickle), and either rice or chapatis. You can pick and choose from any of the dishes below to make a full meal:
What Are Some Common Side Dishes for Aloo Gobi?
Bhindi masala is one of my favorite Indian recipes! This dry okra curry pairs really well with the more saucy, spicy potato and cauliflower dish.
Chana masala is a classic pairing with Indian potato curry, and this is no exception.
Dal Tadka is the ultimate Indian side dish, as this lentil recipe complements everything. I mean everything!
Kurkuri Bhindi is crispy and crunchy, the perfect contrast to this tender and soft Maharashtrian potato and cauliflower curry.
Palak Puri is a great way to sneak more spinach into your diet, and just like the simpler batata rassa bhaji, it's mouthwateringly good when paired with this meal.
Seviyan Kheer is the perfect dessert for flower batata rassa, especially with plain puffy puri.
Chapati tastes excellent paired with any Indian curry.
Garlic Naan will elevate this homely dish to restaurant standards.
Fluffy Rice is one of the best options, as the rice will soak up all that delicious spicy gravy.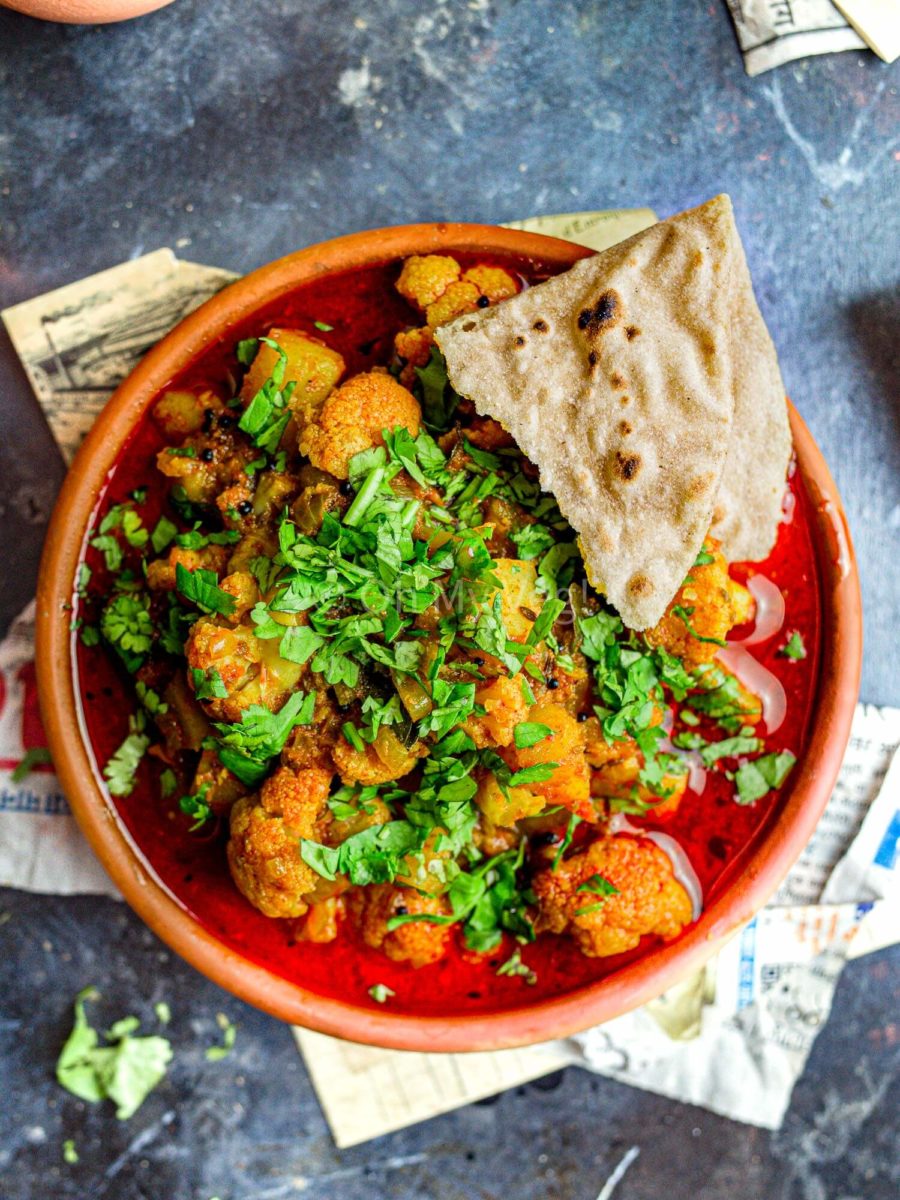 How to Store, Freeze, and Reheat Flower Batata Rassa
If you have leftovers, store this homemade Indian curry in an airtight container for up to four days in the refrigerator. You can also make it ahead of time and store it in the refrigerator.
I don't recommend freezing flower batata rassa for two reasons: the vegetables lose their texture, and since the curry is quite watery, it's susceptible to ice crystals. However, since the dish is ready in about 30 minutes, it's easy to whip up a new fresh portion!
To reheat the dish, simmer over low heat on your stovetop for a few minutes, or microwave (covered).
This Recipe Is …
An authentic and traditional Maharashtrian recipe
Quick, ready in about 30 minutes
Lip-smackingly spicy
Vegan, gluten-free, soy-free, and nut-free
Easily adaptable
Perfect for beginners
Amazing served with rice, puri, or poli (chapati)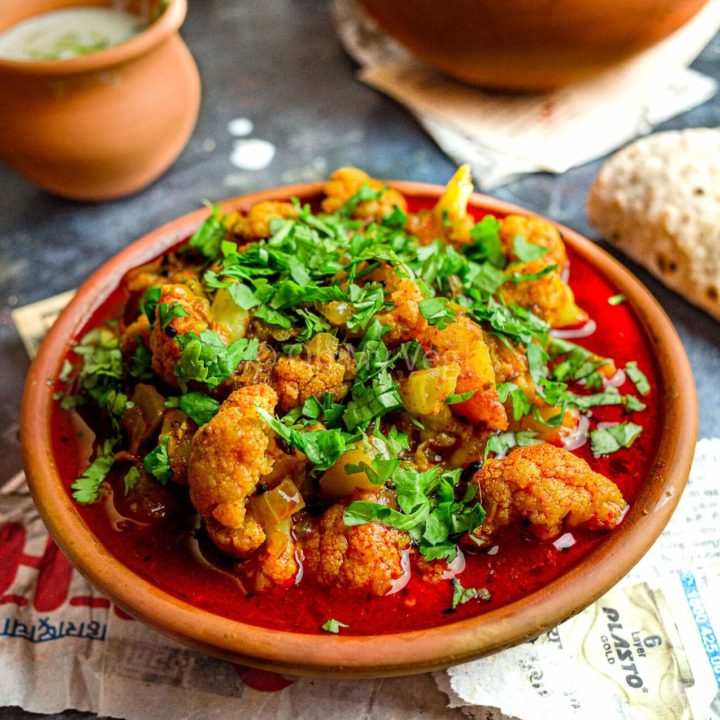 Flower Batata Rassa: Maharashtrian Aloo Gobi Curry
This authentic Maharashtrian flower batata rassa recipe is layered with spice, perfectly complementing the potato and cauliflower curry.
Ingredients
For Blanching the Vegetables
For the Bhaji
Instructions
First, blanch the vegetables. Heat water in a large saucepan over high heat until boiling. Once boiling, add salt and turmeric powder. Add the cauliflower and potato, and cook for 1-2 minutes. Once done, drain the vegetables.
Start cooking the bhaji. Heat oil in a kadai or deep frying pan over medium heat. Once the oil is hot, add the mustard seeds and wait for them to pop. Immediately add the cumin seeds, asafoetida, curry leaves, and onion. Saute the mixture for a few minutes, until the onion softens, then add grated coconut and tomato. Cook for 2 minutes, then add salt and ground spices (coriander powder, and chili powder). Continue to cook, stirring regularly, until the mixture gets thick and jammy, and oil leaves the sides.
Add the potatoes and cauliflower back into the pan, along with 300ml hot water. Cook until the vegetables are soft (around 5 minutes), and the oil rises to the surface. Add goda masala and turn off the heat.
Garnish with fresh coriander and serve hot with steamed rice, puri, or poli.
Recommended Products
As an Amazon Associate and member of other affiliate programs, I earn from qualifying purchases.
Nutrition Information:
Yield:

2
Serving Size:

1
Amount Per Serving:
Calories:

339
Total Fat:

24g
Saturated Fat:

2g
Trans Fat:

0g
Unsaturated Fat:

20g
Cholesterol:

0mg
Sodium:

1071mg
Carbohydrates:

30g
Fiber:

8g
Sugar:

7g
Protein:

6g
Nutrition information isn't always accurate.
If You Like This Recipe, You May Like: