Vegan Noodle Salad & Sesame Crusted Tofu (Gluten Free)
This post contains links to affiliate websites such as Amazon, and I receive a commission for any purchases you make using these links. I appreciate your continued support for Oh My Veg!
Light, zesty, fragrant: Vegan Noodle Salad is made with rice vermicelli noodles, thinly shredded raw vegetables, and a tangy Vietnamese dressing sauce. It's the quintessential summer meal – perfect served cold, minimal cooking, and beautiful light flavours.
Not only is Vegan Noodle Salad quick & easy (ready in less than 30 minutes!), it's also Gluten Free and Vegan. Thin and slightly chewy rice noodles are mixed with finely shredded crunchy carrots, fresh beansprouts, sweet leeks, and crisp, buttery cabbage. Once mixed with a dressing sauce that has umami, spicy, nutty and tangy notes, the resulting flavour is divine.
To add a crisp texture and extra protein, I love serving tofu on the side. Cut into thin slabs, dredged in cornflour and coated in white & black sesame seeds, the tofu becomes equal amounts nutty, crisp, and crunchy. Although it only takes 10 minutes, this is the only part of the meal that actually needs cooking. Skip if you prefer!
If I could use one word to describe this meal, it would be "fresh".
This Noodle Salad & Sesame Tofu is Vegan & Gluten Free.
Completely free of any animal products, this Vietnamese noodle dish is both Vegan and Vegetarian. It utilises simple plant based ingredients such as fresh vegetables, lime, tofu, and sesame seeds. If you'd like to take the dish up a notch, you could even prepare your own fresh tofu!
This recipe is also completely gluten free. The main ingredient of the dish, rice vermicelli noodles, are completely free from wheat and therefore gluten free. Likewise, the tofu is coated in cornflour (corn starch) as opposed to wheat flour. Make sure you use Tamari or a good gluten free Soy Sauce in the dressing.
Finally, you can also adapt this recipe to be raw-food friendly. If you want to limit your soy intake, replace the tofu for another protein of your choice – seitan (not gluten free) or pumfu (tofu made of pumpkin seeds) are good options, although the dish will not be completely soy free without replacing the soy sauce too. Leaving the tofu or other cooked protein off completely will mean your dish is raw-food friendly.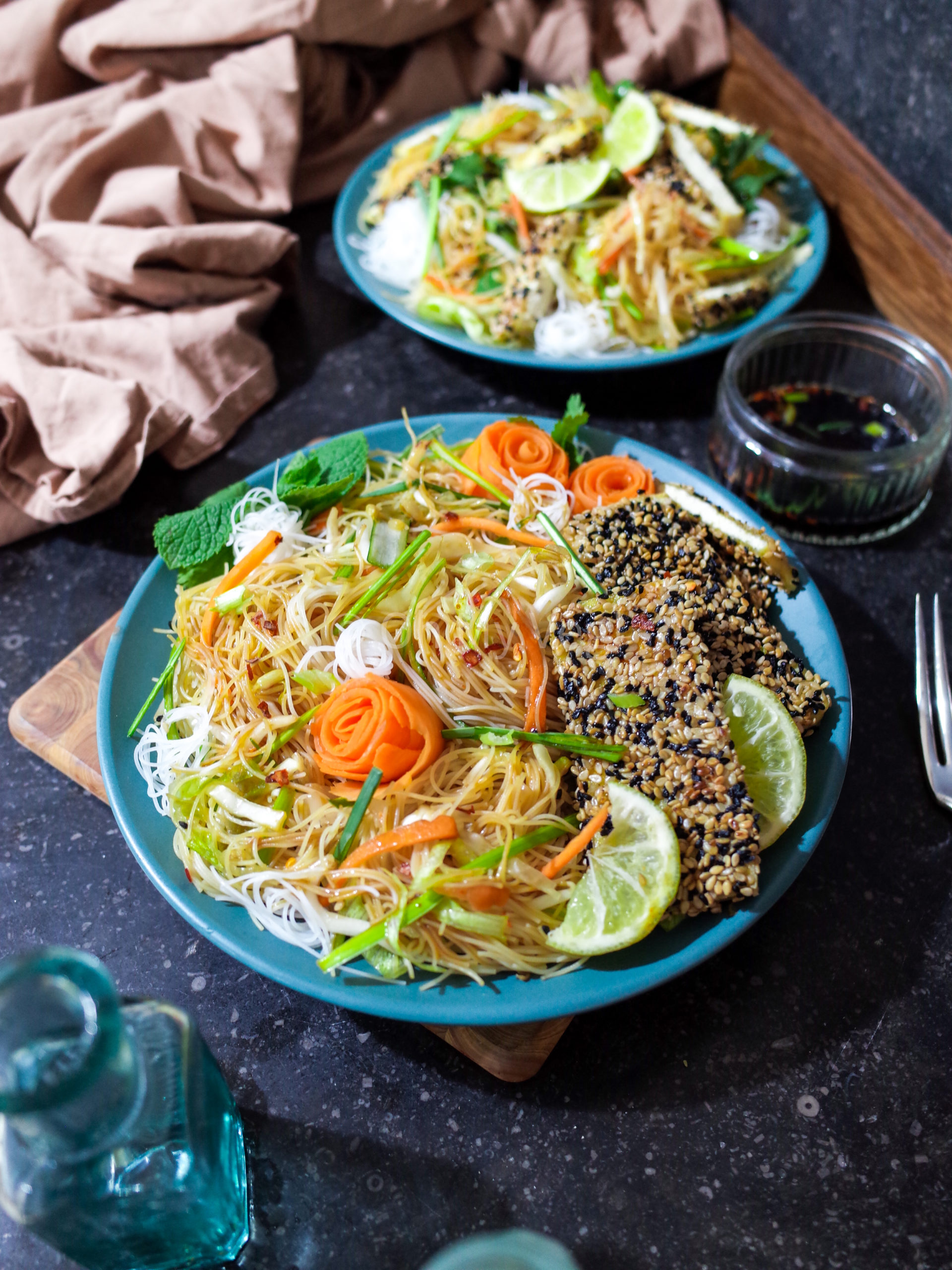 It's all in the prep!
Noodle salad may be the easiest thing you cook all year. That is to say, it requires no cooking at all, besides the tofu! Instead, all the work is in prepping the vegetables. They should be cut as thin and fine as possible, so as to m ix well with the noodles and be easy to eat with chopsticks. What's more, they look extremely appealing!
To make light work of things, consider using a mandolin. The speed of which you can finely slice your vegetables (even better if the mandolin has a shredding attachment!) makes it beloved by both proficient home cooks and expert chefs alike. This option is particularly wonderful if you are not confident with your knife skills or simply short on time.
Alternatively, sharpen your knives and start by cutting carrots into thin slices. Then cut each slice into thin strips – the thinner the better. Leeks can be halved and then shredded, while cabbage should be finely shredded and then cut to size in length.
Picking the right rice noodles
This recipe requires thin vermicelli rice noodles (otherwise known as bun gao). One of the most common mistakes is buying moong bean noodles (otherwise known as cellophane noodles or glass noodles) instead. While they look similar dried, rice noodles will become white when cooked while moong bean noodles will become clear/transparent.
The easiest way thing to do if you are unsure is to locate the ingredient list. The noodles you want will have the ingredients of Rice Flour, Salt and Water.
If you can't find thin vermicelli rice noodles, then you can opt for a slightly thicker rice noodle. Just make sure you soak it in boiling water for longer to account for this.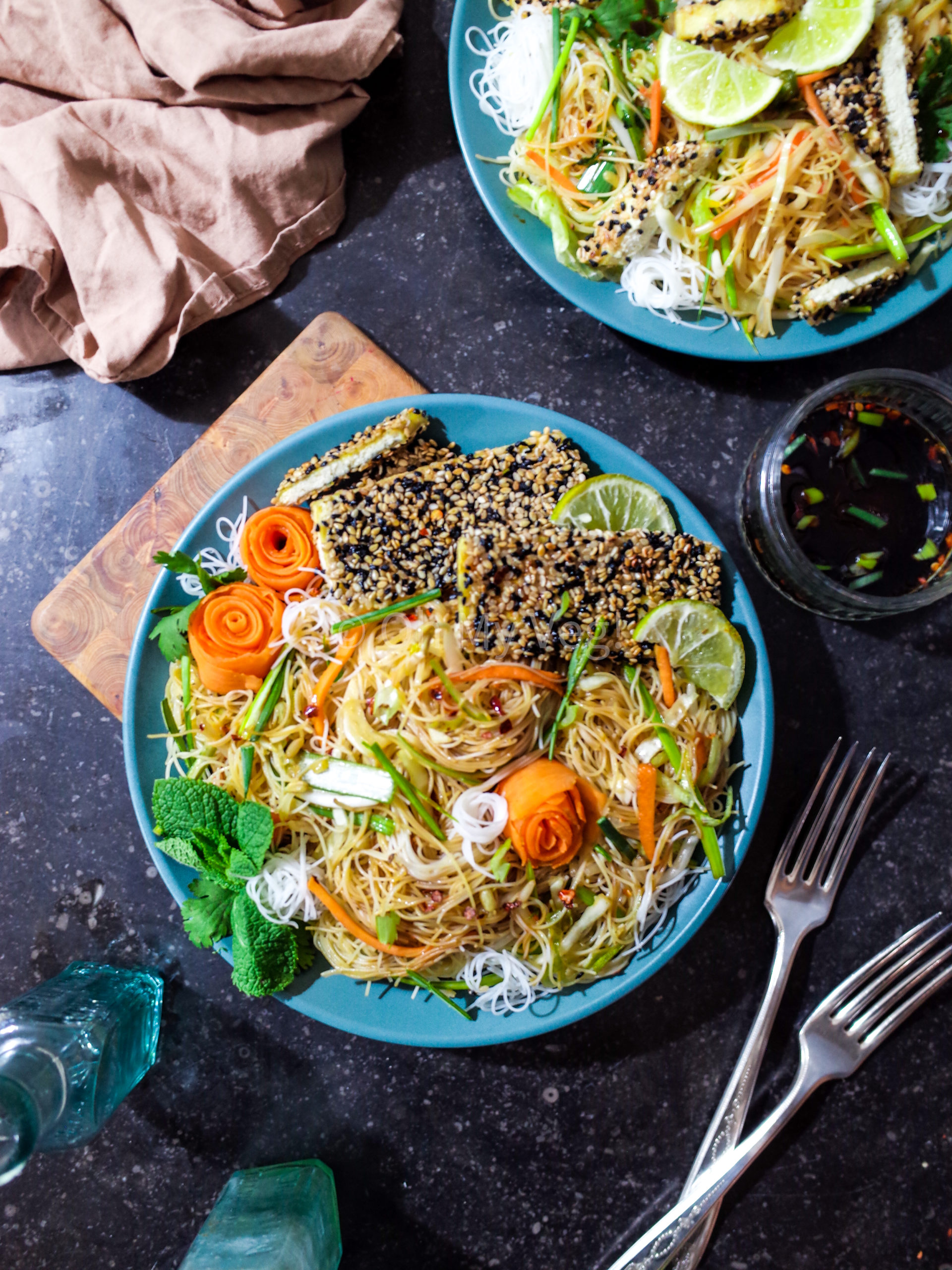 Variations on Vegan Noodle Salad & Sesame Crusted Tofu:
Protein: Instead of tofu, you can consider other protein options. My favourite choices include Seitan (think chick'n strips!), Pumfu (cooked in the same way as tofu), or tempeh (marinated and fried).
Noodles: The best type of noodle to use is rice vermicelli. Not only are they gluten free, but because they are so thin they only require a minute of soaking – making the whole dish extremely time effective. You can use thicker rice noodles, just allow for extra soaking time.
Vegetables: I love adding baby corn, green beans, bell peppers (capsicum), and even courgettes (zucchini).
Herbs: My favourite herb to include in noodle salad is coriander – in-fact in our household it's considered obligatory! If you're not a fan of coriander or want a little extra, you can consider adding some fragrant Thai Basil or sweet Mint. Each herb contributes something special to the final dish.
Spiciness: Increase the heat level by adding finely chopped green or red chillis, which will offer isolated bursts of heat and flavour. Alternatively, serve a hot sauce on the side (or mixed with the dressing). You can also add more dried chilli flakes. To decrease the spice level, simply reduce the quantity of dried chilli flakes to 1/2 tsp.
This Recipe Is:
Vegan, Vegetarian, Gluten Free, Nut Free
Easily adaptable to be Raw Diet friendly
Quick & Easy to prepare
Healthy: full of vitamins nutrients and proteins
Spicy, sour salty, full of umami
Crisp and fresh
Rice Noodle Salad & Sesame Crusted Tofu (Gluten Free)
This Gluten Free and Vegan Noodle Salad is vibrant, fresh, zesty and spicy. Topped with sesame crusted tofu for an protein.
Ingredients
For the Tofu
~140g Firm Tofu, cut into strips
25 - 35ml Water
1/2 tsp Salt
1/4 tsp Black Pepper
For the Noodle Salad
50g Leek, shredded
60g Beansprouts
60g Carrot, shredded
40g Lettuce, shredded
40g Cabbage, shredded
1 bunch fresh Coriander
60g Cucumber
For the sauce
1/2 tsp Sugar
1 tsp Salt, or to taste
Tofu Marinade
200g Extra Firm Tofu
1 tbsp Hot Sauce
1 tsp Soy Sauce
1 tbsp Rice Vinegar
1 tbsp Brown Sugar
Pinch of Salt
3 tsp Cornflour
Tofu Coating
20g Breadcrumbs
1 tbsp Sesame Seeds
3 tsp Flour, for coating
Instructions
To make the sesame crusted tofu:
Prepare the ingredients for coating. Mix the white & black sesame seeds together in a flat plate. In a separate bowl (a wide bottomed with high sides is best), whisk together the cornflour, water, salt, and black pepper until thick and smooth.
Heat a pan. Add your choice of neutral flavoured oil to a frying pan and set to medium heat. While it's heating, coat your tofu.
Coat the tofu. First, dip your tofu into the cornflour batter. Next, lay in the battered tofu onto the sesame seeds. Sprinkle more on top or turn over to coat fully. Repeat with all tofu.
Cook the tofu. Once the oil is hot and the tofu is coated, arrange it in the pan to cook. Coat each side for around 4 minutes (or until crispy and golden) before turning. Once cooked, remove and drain on paper towels.

To make the noodle salad:
Prep the vegetables. The first and most important step is cutting all the vegetables. Cut them into fine strips - as small as you can manage. Ensure that they are all in even sizes.
Soak the noodles. Cook the noodles according to package directions - I usually place in a deep container, pour boiling water over them, leave to soak for 1 minute and then drain and rinse. However, brands may vary.
Toss the salad. Add the drained noodles to a large bowl along with the prepped vegetables. Pour the dressing over the top and toss to combine. At this stage you can also slice the sesame crusted tofu and toss it in with the salad, or serve on top.

Serving suggestions below.
Recommended Products
As an Amazon Associate and member of other affiliate programs, I earn from qualifying purchases.
Nutrition Information:
Yield:

3
Serving Size:

1
Amount Per Serving:
Calories:

229
Total Fat:

18g
Saturated Fat:

3g
Trans Fat:

0g
Unsaturated Fat:

14g
Cholesterol:

0mg
Sodium:

552mg
Carbohydrates:

12g
Fiber:

5g
Sugar:

3g
Protein:

9g
Nutrition information isn't always accurate.
How to store Vegan Noodle Salad & Sesame Crusted Tofu
Fully dressed and mixed salad stores well refrigerated in an airtight container. It's best to keep the sesame crusted sesame separate, as the salad-dressing will make the coating slightly soggy otherwise.
If you wish, you can also make the recipe ahead of time and store each component separately.
How to serve this recipe
I love to see this Vegan Noodle Salad as a main dish for either lunch or dinner. Although it's so light and refreshing, the tofu makes it filling. However, if you'd like to serve something else alongside it, why not consider crispy vegetable spring rolls (also vegan), spinach potstickers, or a vegetable Red Thai Curry?
If you'd like to do something different with this noodle salad, you can use it as a stuffing inside fresh summer rolls or crispy spring rolls!