Fried Mac and Cheese Bites — Crispy Vegetarian Snacks
This post contains links to affiliate websites such as Amazon, and I receive a commission for any purchases you make using these links. I appreciate your continued support for Oh My Veg!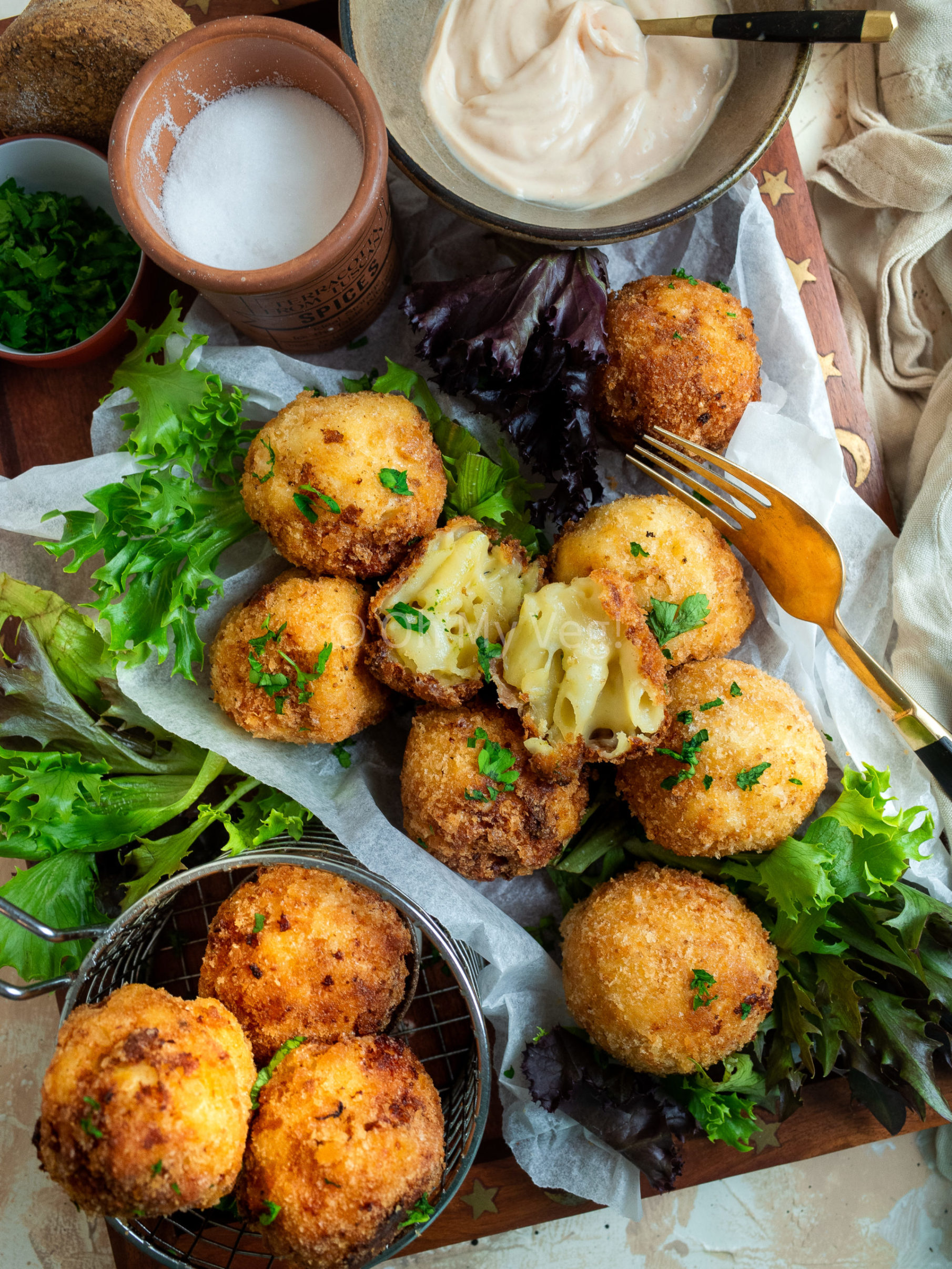 For most Americans, mac and cheese might be the ultimate comfort food. Who can blame them — after all, the famous dish combines pasta and cheese, two of the most delicious ingredients known to man. Although packaged sauces are convenient, I'm a huge advocate for making a homemade béchamel sauce (white sauce) and stirring through freshly grated cheese. It delivers that gooey, melty, and velvety texture like nothing else can — and to add textural contrast, sometimes I add Indian sev (I know it's weird — but trust me, it's also delicious!) or golden-brown toasted breadcrumbs on top. For a long time, I thought it wasn't possible to improve my mac and cheese recipe. I was wrong.
How was I wrong? Well, just look at that photo: Crispy mac and cheese bites are everything.
The combination of soft macaroni pasta, creamy, gooey, stringy, sharp cheese sauce, and a crispy breaded exterior … equals heaven. It's everything that baked mac and cheese offers — but in snackable, bite-sized form. I'd go as far as to say that these mac and cheese bites are top-tier cheesy appetizers, even ranking above nachos and mozzarella sticks. Controversial, but I'll stand by it!
Plus, if there's one appetizer that's guaranteed to be a crowd-pleaser, it's definitely crispy mac and cheese bites. This dish is the perfect game-night snack, after-school treat (It's a great way to use up leftover mac and cheese), or side dish alongside homemade pizza. Honestly, Pizza Hut, Papa John's, and Domino's side dishes don't have a leg to stand on against these moreish bites.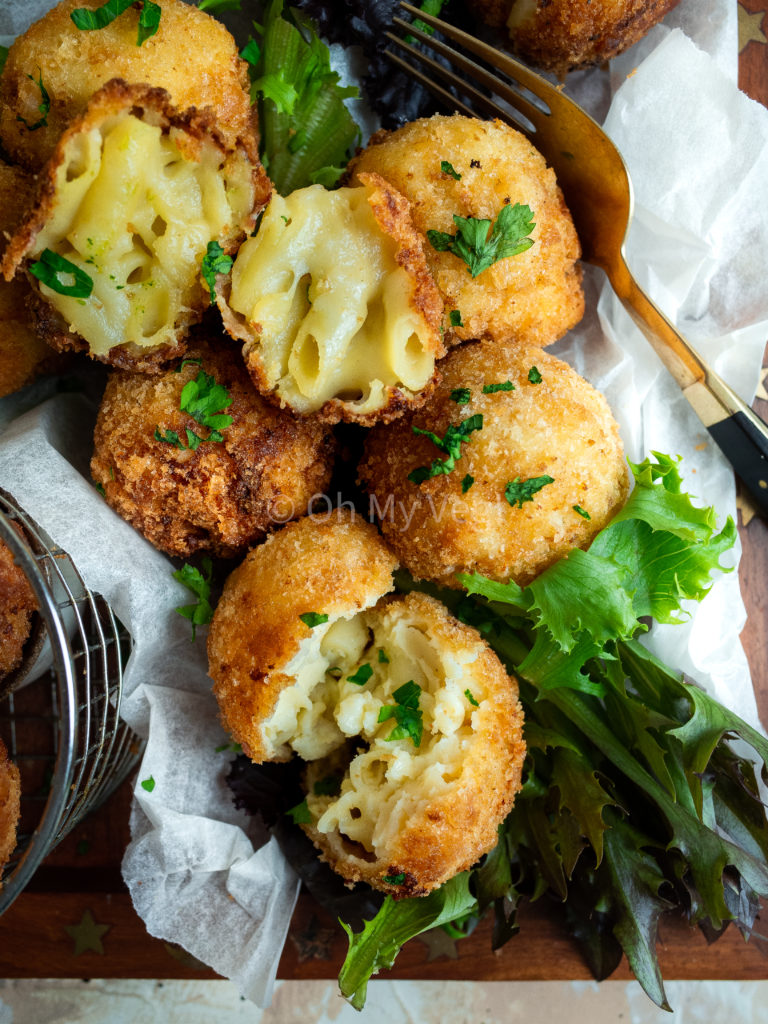 How do you make Mac and Cheese Bites?
While I'm not averse to a complicated recipe — sometimes it's really, really, worth it — this one is surprisingly simple. It doesn't require any fancy ingredients and has an incredibly simple method.
Cook the pasta. Cook your chosen pasta to package instructions or slightly al dente.
Whip up the cheese sauce. This starts with a basic béchamel made from whisking butter, flour, and milk together, and then incorporates cheese at the end. I like to add mustard and sometimes a dash of nutmeg, too.
Mix the pasta and the cheese sauce. The cheese sauce is a bit thicker than usual for these bites because we want it to just coat the pasta. Mix them all up together until the pasta is completely coated. You can also add extra cheese at this point.
Chill it. Chilling the pasta and cheese sauce mixture makes forming the bites a breeze.
Shape the balls. Take a scoop of the pasta and carefully form it into a rough ball shape.
Bread the bites. Whisk up an egg, roll the bites in the slurry, then coat in fresh breadcrumbs (or you can use panko).
Fry! Fry in batches until golden brown.
Which Pasta is Best for Mac and Cheese Bites?
It's not often that I say I'm a traditionalist, but I might make an exception here. Traditional macaroni pasta, otherwise known as elbow pasta, is undoubtedly the best option. Macaroni pasta is small enough to shape into balls and has enough "nooks and crannies" for the cheese sauce to sink into. In the U.K., we get straight and slightly curved macaroni — either is fine, so use whichever you can get your hands on.
My second choice is cavatappi, also known as spirali pasta in the U.K., named for its distinctive corkscrew shape. Similarly to macaroni, the cheese sauce coats the pasta perfectly. The final option is ditalini — very small tubes comparable in size to a kernel of corn.
Avoid longer pasta like spaghetti, linguine, tagliatelle, etc. These varieties are best reserved for pasta aglio e olio.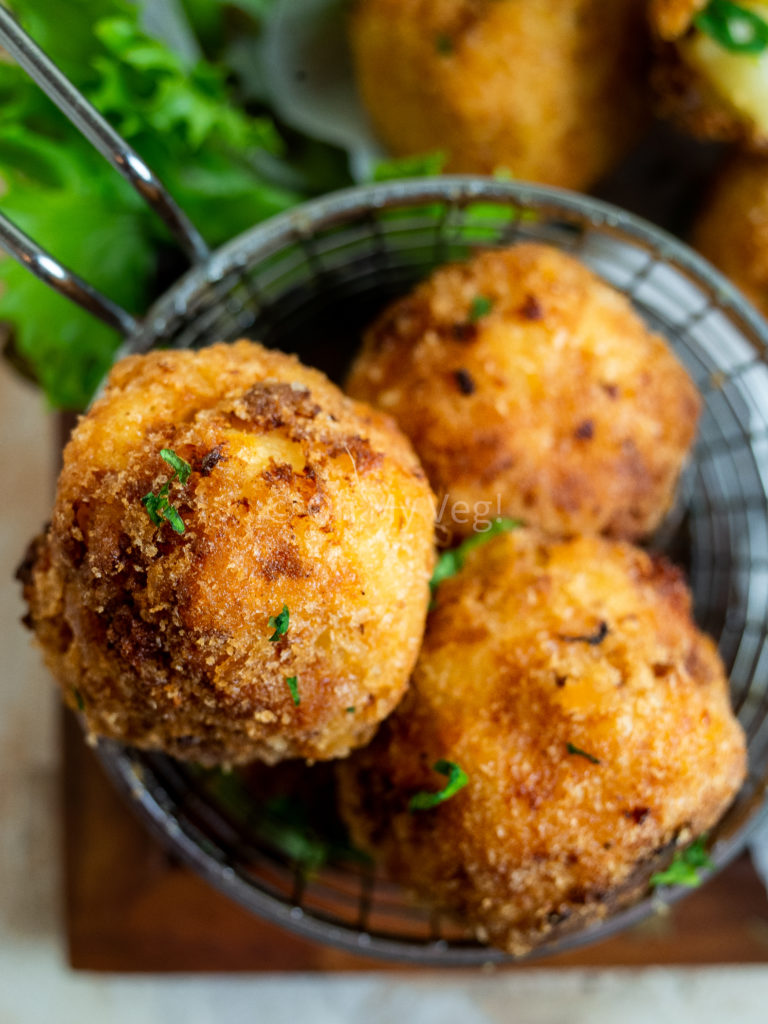 Tips to make the BEST Mac and Cheese Bites
Choose the right type of pasta. It makes a huge difference! You want the glorious cheese sauce to coat every side of the pasta. Plus, if your pasta isn't the right size, you won't be able to shape the bites.
Cook the pasta until al dente. You'll essentially be cooking the pasta three times; once when you boil it, again when you add it to your cheese sauce, and finally when you deep fry the mac and cheese bites. Although the last two times are more comparable to heating than cooking, it's still important not to overcook at first.
Use the best cheese you can find. I admit it — I'm an ardent hater of Velveeta. None of that here, please. We only want to use the best West Country cheddar.
When making the cheese sauce, stir, stir, and stir some more. Patience is key to making a cheese sauce. Don't rush the process, add the milk gradually, and keep stirring continuously to make a lusciously thick, velvety, and silky sauce.
Add some extras to the cheese sauce. I absolutely adore adding a small spoon of wholegrain French mustard to my cheese sauce — it boosts it to a whole new level. Others prefer to add a dash of nutmeg; sometimes I combine both.
Cool in the fridge. You can't shape the mac and cheese bites while the pasta and cheese sauce is still hot. Cooling in the fridge is an essential step to achieving the results you desire.
Use fine breadcrumbs. I always like to make fresh breadcrumbs from whatever bread I have on hand, but you can use panko too. Make sure the breadcrumbs you use are small, so they'll adhere to the crispy bites more easily.
Fry in batches. Don't overcrowd the fryer; cooking small batches at a time will allow the bites to cook evenly.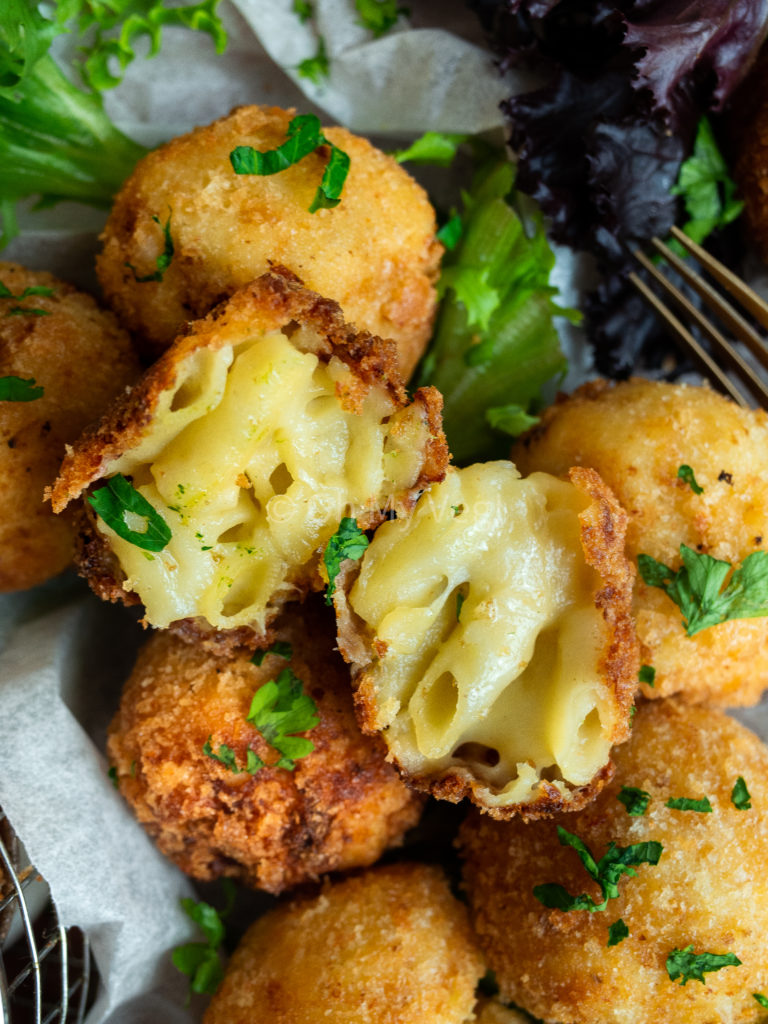 Which Cheese melts best for Mac and Cheese?
For the best mac and cheese, you want to select a cheese that provides the perfect balance between flavor, melting, and texture. Our favorite choice (which is backed up by experts around the world!), without a doubt, is cheddar cheese — preferably a mature smoked cheddar variety to really maximize the flavor, but sharp/mature cheddar also works well. Characteristically, cheddar boasts an ideal smooth texture, superior meltability, and robust flavor which makes it the number one choice for chefs around the world. I recommend purchasing a block of West Country cheddar, as the milk from this region is vital for the full-bodied flavor we all know and love. Additionally, it's important to buy a block and grate your own cheese fresh; pre-shredded cheese contains additional ingredients that will negatively impact the texture.
You can combine gouda, gruyère, and mozzarella with cheddar if you have extra cheeses to use up. Just be aware that some of these cheeses are traditionally made with animal rennet, and are therefore not vegetarian. While many brands in the U.K. opt to use vegetarian rennet instead, it's always worth checking the label.
This Recipe Is …
Perfect for sharing
Ideal to use up leftover mac and cheese
Adaptable to suit your cooking preferences
Oozing with creamy, mild, smooth cheese sauce
Crispy (and we mean crispy), without being greasy
Easy to make!
If you love this recipe, you may like: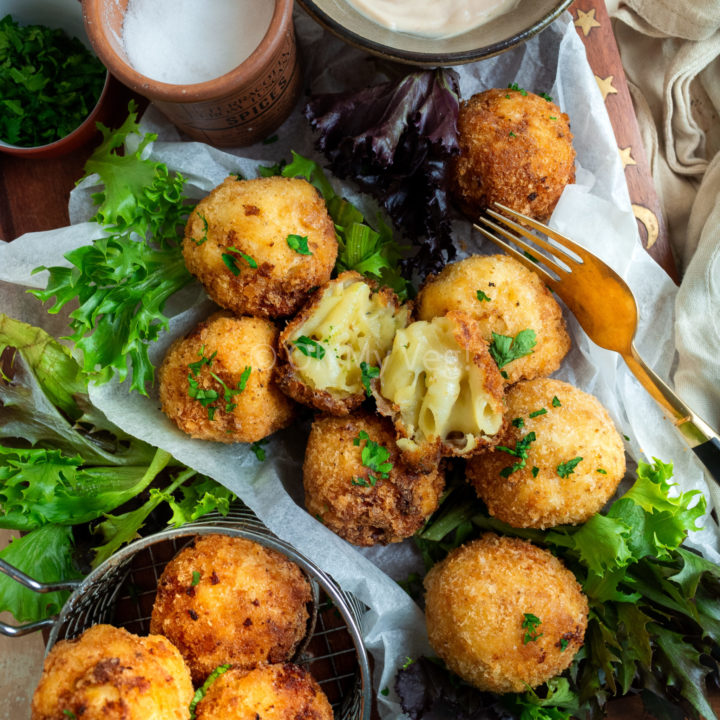 Fried Mac and Cheese Bites
Additional Time:
30 minutes
Perfect for sharing, these mac and cheese bites have everything that baked mac and cheese does — but in snackable, bite-sized form.
Ingredients
For the Mac and Cheese
3 tbsp Plain Flour (All Purpose)
300ml Full Fat Milk
Salt and Pepper, to taste
For the Breading
50g Breadcrumbs
1 Egg, beaten
For Deep Frying
Sunflower Oil (or neutral oil of choice)
Instructions
Begin by making the cheese sauce. Add butter to a nonstick frying pan (a nonstick saucepan will do too) over low heat and wait for it to melt. Once melted add the flour. Stir continuously until the mixture resembles fine sand and the flour smells nutty.
Gradually add all the milk, stirring continuously, until a thick, smooth consistency is achieved. Add the grated cheese, mustard, salt, and pepper. Stir until the cheese melts then turn off the heat.
Cook the pasta according to package instructions. Eer on the side of al dente (slightly undercooked) instead of overcooked.
Mix the pasta into the cheese sauce until the pasta is completely coated. Then spread the mixture over a baking tray or plate, and chill in the fridge for 20-30 minutes.
Shape the mac and cheese bites. Remove the pasta from the fridge and scoop small portions of the pasta (About 2 tbsp - an ice cream scoop works well here) up. Using greased hands, shape them into rough balls. Remove with all the pasta.
Bread the bites. Whisk an egg in a shallow bowl. In another bowl, place breadcrumbs. Season these if you like. To bread the mac and cheese bites, first, dip them in the egg and then roll in the breadcrumbs. Set aside and repeat for each bite.
Fry the mac and cheese bites. Once the bites are breaded, preheat your deep-fat fryer to 180 C (360 F), and carefully fry the bites in batches. Once golden brown, use a slotted spoon to remove the bites from the oil and drain on a kitchen towel.
Serve the hot crispy mac and cheese bites with your favorite condiments!
Recommended Products
As an Amazon Associate and member of other affiliate programs, I earn from qualifying purchases.
Nutrition Information:
Yield:

14
Serving Size:

1
Amount Per Serving:
Calories:

102
Total Fat:

6g
Saturated Fat:

3g
Trans Fat:

0g
Unsaturated Fat:

3g
Cholesterol:

27mg
Sodium:

131mg
Carbohydrates:

7g
Fiber:

0g
Sugar:

1g
Protein:

4g
Nutrition information isn't always accurate.
Frequently Asked Questions about Mac and Cheese Bites
How to fancy up mac and cheese?
To fancy up mac and cheese, you can add a dash of French wholegrain mustard, which provides a wonderful full-bodied flavor. Also, upgrade your cheese — I'm a fan of smoked West Country cheddar, and it really makes all the difference. Finally, if you want to serve mac and cheese for a party, consider making crispy fried mac and cheese bites instead.


What are mac and cheese bites made of?
Mac and cheese bites are made of oozing, gooey, and cheesy homemade mac and cheese pasta coated in seasoned breadcrumbs.


How many calories are in 3 mac and cheese bites?
This recipe has 102 calories per mac and cheese bite, meaning 3 mac and cheese bites have a total of 306 calories. Calorie count ultimately depends on the ingredients and recipes.


What allergines are in mac and cheese bites?
Most mac and cheese bites contain wheat, milk, and egg allergines, including this recipe. Allergines depend on the ingredients, so may vary.


What to dip mac and cheese bites in?
Fried mac and cheese bites taste amazing dipped in homemade ketchup, sweet chili sauce, mayonnaise, spicy ranch, or honey mustard. The cheesy pasta pairs with almost anything, so you can really use your favorite condiments on the side!


How long to air fry mac and cheese bites?
If you want to air-fry these mac and cheese bites, preheat your air fryer to 200 degrees Celsius / 392 degrees Fahrenheit, coat the air fryer basket with oil, and cook in batches for around 8-10 minutes, turning halfway through.