Shahi Paneer – Creamy Indian Restaurant Style Curry
This post contains links to affiliate websites such as Amazon, and I receive a commission for any purchases you make using these links. I appreciate your continued support for Oh My Veg!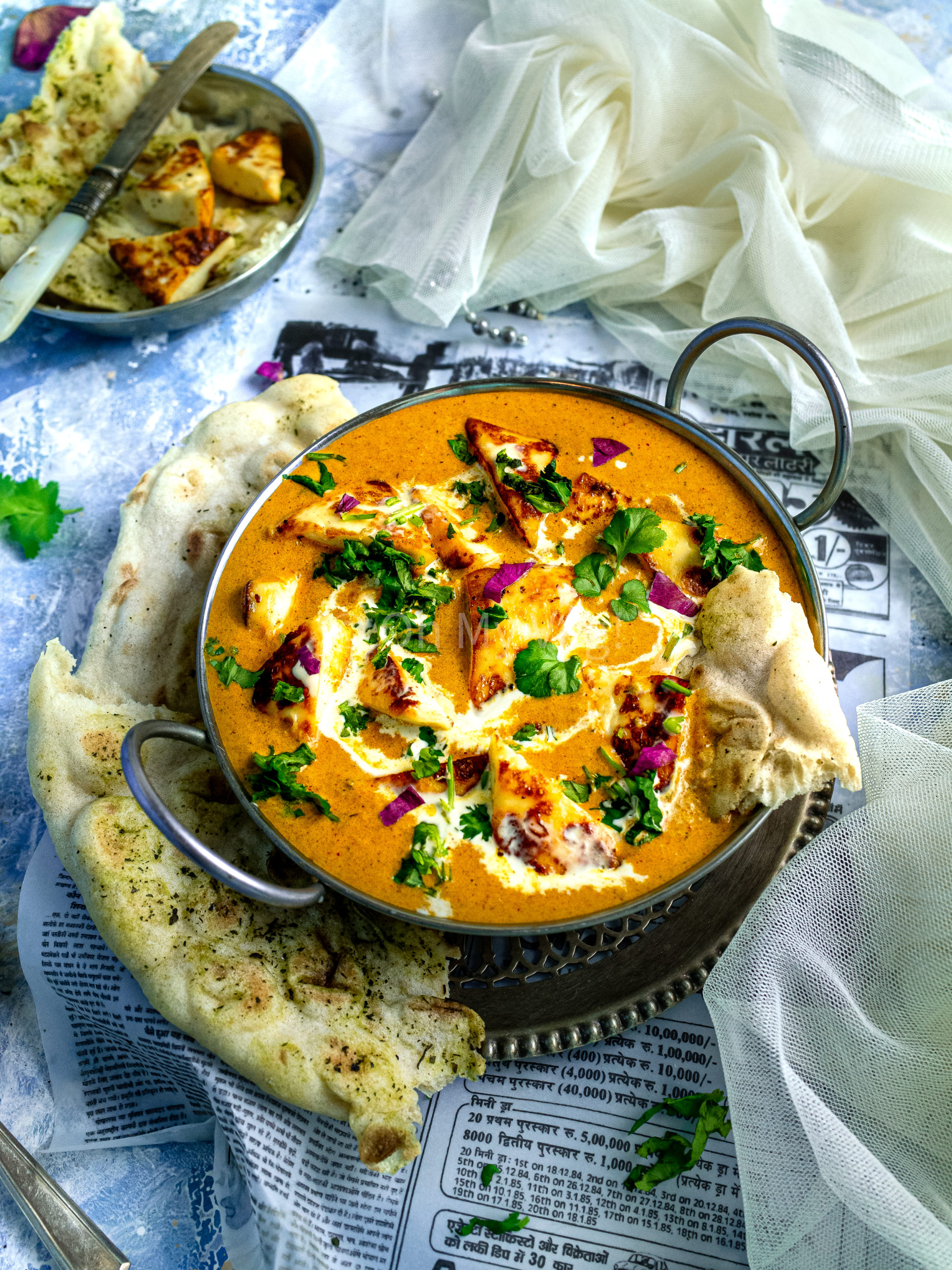 Do you love Indian food? Love vegetarian food? If the answer to both of these questions is yes, then you have to add some paneer dishes to your weekly meal rotation. Although I love paneer in all forms — tandoori paneer, paneer biryani, paneer kathi rolls, palak paneer (I could go on!) — shahi paneer is the best of the best. In Hindi, shahi translates to royal, and I think that's all you need to know!
In all seriousness, shahi paneer really is royal. Gently caramelized chunks of fresh, milky paneer; velvety smooth sauce loaded with aromatic spices like smoky black cardamon, sweet cinnamon, and licorice-scented star anise; creamy richness from cashew and melon seed paste; hints of decadence from toasted saffron, torn rose petals, and perfumed kewra water. It's a dish so complex in flavor and yet so perfectly balanced that it's almost impossible to describe. This recipe for shahi paneer is so heavenly that it simply must be tasted to be believed.
There is no greater joy in life than good food.
For us foodies, that quote will always ring true. But shahi paneer is more than good food; it's delightfully indulgent, fragrant, sweet, spicy, rich, creamy, and dangerously mouth-watering. Best of all, the recipe takes just 30 minutes to cook. What are you waiting for — shall we get into it?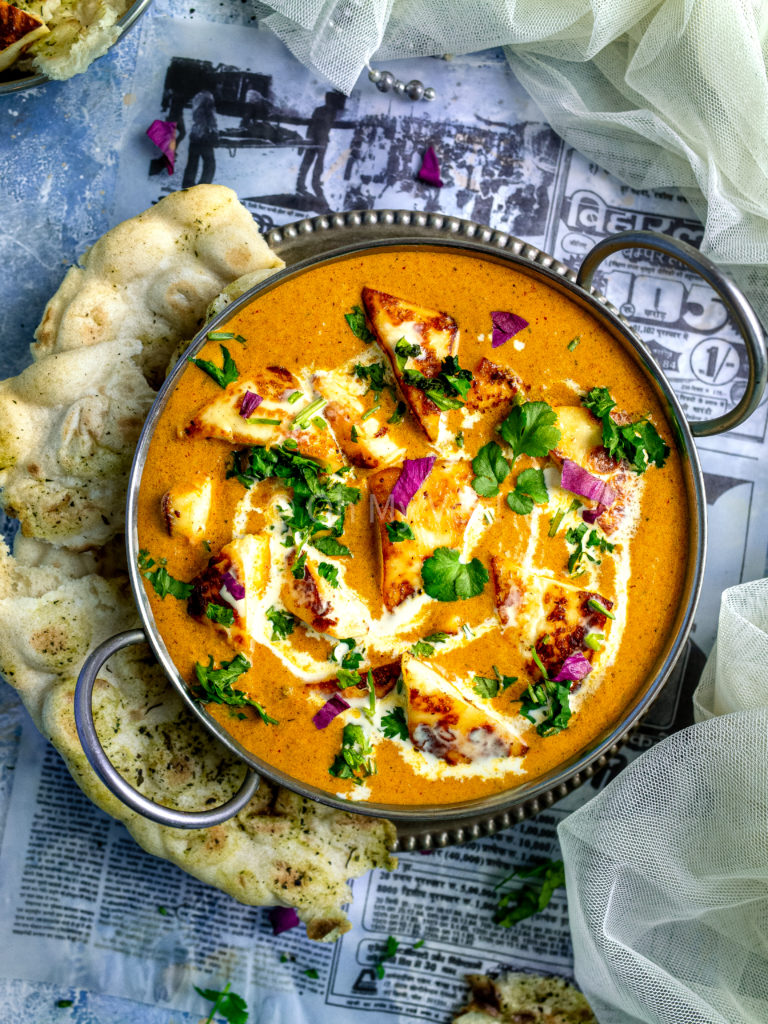 Is Shahi Paneer Vegan, Gluten Free, Nut Free, or Soy Free?
Shahi Paneer is naturally Gluten Free and Soy Free, but it isn't Vegan or Nut Free. However, it's really easy to adapt this recipe to suit a wide range of dietary requirements.
How to Make Shahi Paneer Vegan?
The main ingredient of Shahi Paneer is cheese — specifically, paneer, otherwise known as Indian cottage cheese. Although cheese, a dairy product, is obviously not suitable for vegans, substituting it for extra-firm tofu produces a similar texture. Tofu has a mild flavor and acts as a "sponge," absorbing the rich aromas and flavors of the dish while providing supplementary protein. Additionally, swap out dairy-based cream for a vegan alternative such as cashew cream, almond cream, or coconut cream — the nutty flavors will be at home in this recipe.
How to make Shahi Paneer Nut Free?
If you have a tree-nut allergy, you should still be able to consume melon seeds (magaz) without any issues. Just switch out cashew nuts for two tablespoons of extra dairy or plant-based cream.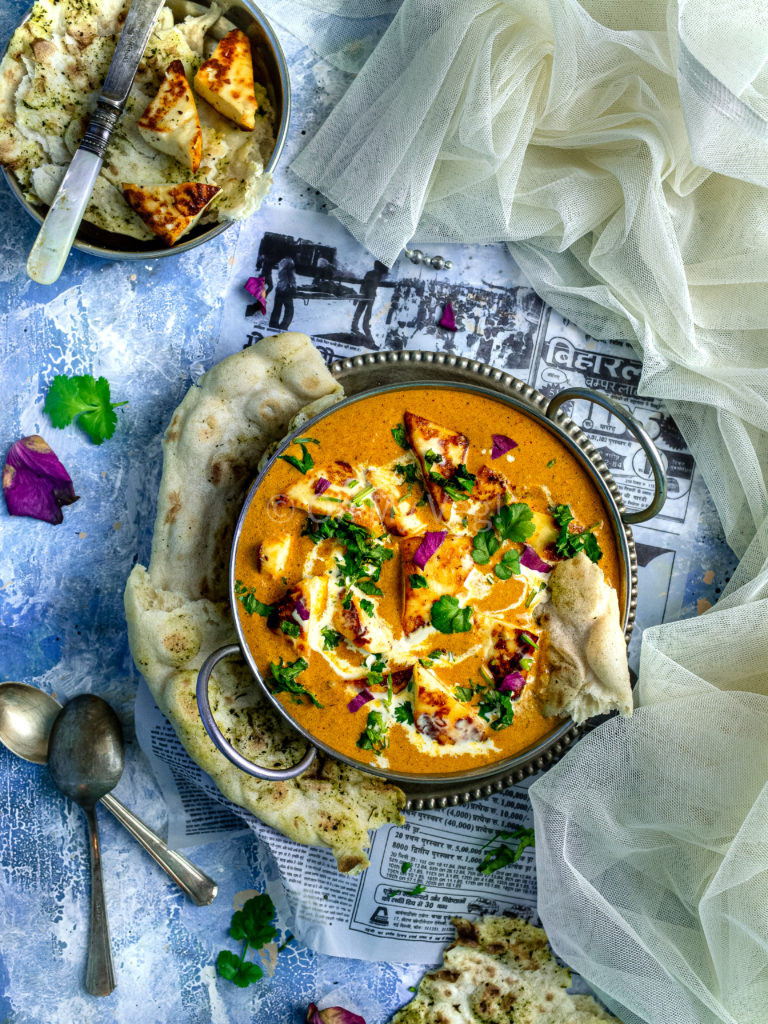 Tips for the BEST Shahi Paneer
Soak the paneer. If you're using store-bought paneer, begin by cutting it into your desired shape, and then add it to a deep bowl and cover it with boiling water. Let it soak for 5-10 minutes, then drain and rinse the paneer in warm water. This is a must-do step if you're using store-bought paneer. It makes it softer and less sticky.
Fry the paneer. I like to gently fry my paneer in ghee, butter, or oil before I add it to the dish. The paneer develops a gorgeous caramelized crust which adds an extra layer of flavor. If you want to cut down on fats, you can skip this step.
Don't overcook the paneer. After frying the paneer, I set it aside. I only add it back into the curry right at the end of cooking, just to warm through. This will ensure that it's not overcooked and doesn't risk becoming rubbery.
Toast your saffron. Saffron is one of those ingredients that make this dish live up to its name – royal. To get the best flavor of your saffron, don't just add the strands directly to your dish. Instead, dry roast them for 30 seconds – 1 minute, until toasty. Then grind them in a mortar and pestle to a fine powder and add them to the dish. The resulting flavor will be far more intense.
Add sugar. This recipe really benefits from a small amount of sugar, just to balance the flavors.
Garam Masala at the end. This is vital! Garam Masala is made from dry-roasted spices which have then been ground to a powder — meaning that it's essentially already cooked. For this reason, we want to add it right at the end. That way the potency of the flavor is preserved.
What are the ingredients of Shahi Paneer?
Paneer: A non-melting Indian cheese with a mild and creamy taste. You can buy it at your local Indian market, or make it yourself at home with whole milk, lemon juice, and salt.
Whole Spices: This adds aroma and depth of flavor to our recipe. I use star anise, cloves, Indian bay leaf, black peppercorns, cinnamon, black cardamom, and green cardamom. It may seem like a lot but I promise you the flavor payoff is worth it.
Onion: White or red onions are fine here, although red onions are the preferred choice in India.
Garlic: I like to use lots of garlic, but I recommend 3-6 cloves depending on your preference.
Tomato: This dish is less tomato-heavy than Paneer Makhani or Paneer Butter Masala, but the tomato still adds sweetness.
Cashew Nuts: These nuts add a rich decadence to the dish and are blended with other ingredients to make a creamy base.
Melon Seeds: An unusual ingredient worth seeking out, melon seeds (known as magaz in Hindi) not only have a nutty and sweet flavor but also help make the dish extra thick and creamy.
Saffron: Just a touch of saffron helps elevate this dish to the next level and turns it into a beautiful color.
Ground Spices: To bring out their flavors, we'll fry Deggi Mirch (substitute Kashmiri Chilli Powder), turmeric powder, and coriander powder.
Salt and Sugar: Both balance the complex notes of the dish.
Double Cream: Added at the end, this mellows the spice and creates a gorgeously velvety sauce. For my American readers, substitute heavy cream.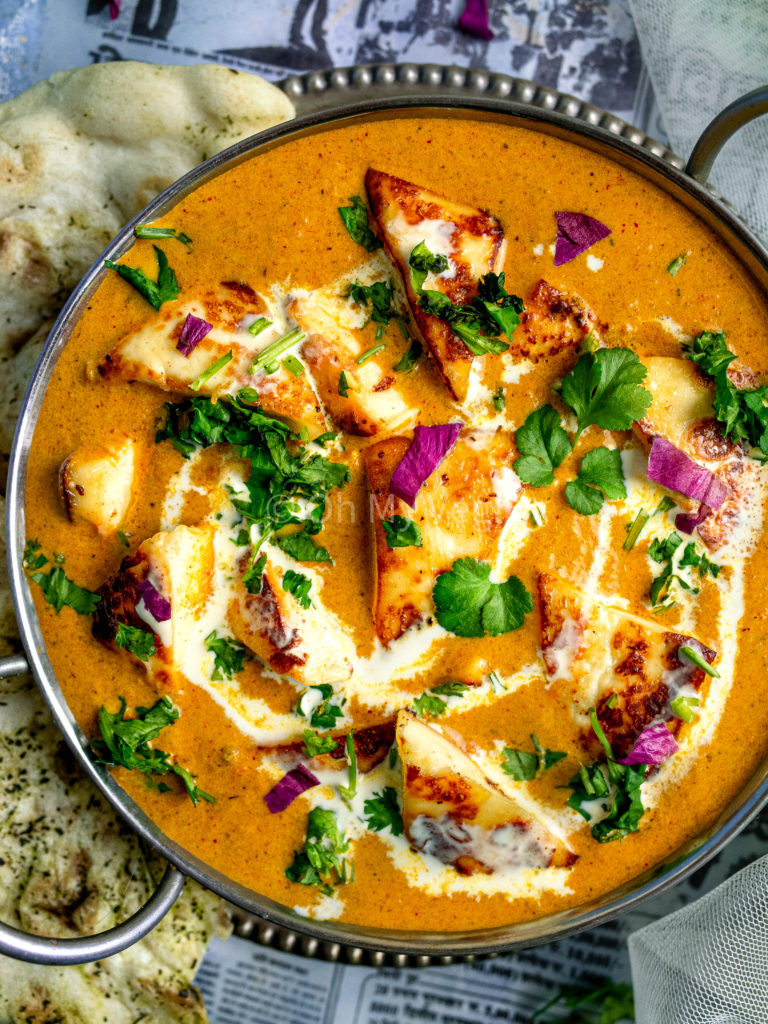 What is the difference between Paneer Makhani, Paneer Butter Masala, and Shahi Paneer?
If you struggle to determine the difference between all these paneer dishes, you're not alone — even people that are fairly familiar with Indian cuisine have problems distinguishing between all these tomato-based creamy paneer dishes. Adding to the confusion is the fact that many households across India have their own unique takes on each dish. However, there are discerning characteristics that can help you tell them apart. Let's go through them:
Paneer Makhani translates to 'buttery paneer,' and has a tomato, ginger, garlic, cashew nut, and onion base. The paneer cubes are usually fried in butter before being added to the dish, and a high quantity of Kashmiri chili powder results in a medium spice level. On the other hand, Paneer Butter Masala is a milder dish due to a higher proportion of cream and butter. It's also more textured, with an extra layer of fried onions with spices added at the end. Comparatively, Shahi Paneer has more ingredients; melon seeds, nuts (cashews or almonds), saffron, and additional aromatic spices. Some people also add fragrant essences such as kewra water or rose water, to enhance the taste further.
This Recipe Is:
Rich, luxurious, and decadent
Authentic North Indian
Thick and creamy
Easy and simple for beginners
Perfect mopped up with homemade fluffy naan
Ready in about 30 minutes
---
---
Shahi Paneer - Creamy Indian Restaurant Style Paneer Curry
The most indulgent of all paneer dishes, Shahi Paneer is creamy, rich, aromatic, and above all, royal. Perfect to serve with naan or rice.
Ingredients
200g Paneer
3 Tomatoes, Quartered (220-230g)
1.5 Onions (160g)
6 Garlic Cloves
1 Star Anise
3 Cloves
1 Tej Patta (Indian Bay Leaf)
6 Whole Black Peppercorns
1 Black Cardamon
4 Green Cardamon
1-inch Cinnamon
20g Cashews
1 tbsp Melon Seeds
300ml Water
For the Curry Gravy
2 tsp Neutral Oil
Pinch Saffron
1 tsp Red Chilli Powder
1/2 tsp Turmeric Powder
1/2 tsp Coriander Powder
200ml Water
1/2 tsp Salt
1/2 tsp Sugar
1/4 tsp Garam Masala
1/4 tsp Cardamom Powder
1/4 tsp Kewra Water (optional)
5 tbsp Full Fat Double Cream (75ml)
Instructions
Cook the paste. Add tomatoes, onions, garlic, whole spices (star anise, cloves, bay leaf, black peppercorns, black cardamon, green cardamon, and cinnamon), cashew nuts, melon seeds, and water to a saucepan. Cook on low heat for 10 minutes, or until the tomatoes and onions have completely softened.
Blend the paste. Once the ingredients have softened, turn off the heat and cool. When cooled, remove the whole spices and then add the ingredients to a blender Blend until smooth and creamy. Once blended, pass through a sieve to achieve an ultra-silky texture.
In a small tadka pan, roast the saffron until it smells aromatic. Once roasted, turn off the heat and use a mortar and pestle to grind it into a coarse powder.
Cook the paneer. In a large nonstick frying pan or kadai, heat 1 tsp oil on medium heat. Once hot, add cubed paneer, and cook until the edges of the paneer are just caramelized. Set aside.
In the same pan, add an additional 1 tsp oil (or less, if there is residual fat) along with the roasted saffron and dried spices (red chilli powder, turmeric powder, coriander powder). Gently saute for 30 seconds, taking care not to burn the spices.
Cook the curry. Immediately add the curry paste to the pan. Cook for around five minutes, or until the paste becomes thick. Next, add water to adjust the consistency, and let it simmer for 2 minutes.
Season the curry with salt, sugar, garam masala, cardamom powder, and kewra water. Stir in the cooked paneer and double cream, then turn off the heat. Garnish with fresh coriander and rose petals.
Serve Shahi Paneer alongside Garlic Coriander Naan, Paratha, or Jeera Rice.
Recommended Products
As an Amazon Associate and member of other affiliate programs, I earn from qualifying purchases.
Nutrition Information:
Yield:

3
Serving Size:

1
Amount Per Serving:
Calories:

417
Total Fat:

31g
Saturated Fat:

15g
Trans Fat:

1g
Unsaturated Fat:

12g
Cholesterol:

74mg
Sodium:

987mg
Carbohydrates:

24g
Fiber:

5g
Sugar:

9g
Protein:

17g
Nutrition information isn't always accurate.