Quick and Easy Beetroot Hummus
This post contains links to affiliate websites such as Amazon, and I receive a commission for any purchases you make using these links. I appreciate your continued support for Oh My Veg!
I've been cooking for over ten years, yet, in all this time, I've struggled to find a better vegetarian appetizer recipe than the classic hummus. That all changed when I whipped up a batch of this quick and easy beetroot hummus in less than five minutes. Yes, you read that right — five minutes!
While my simple hummus recipe was already delicious, adding the vibrant root vegetable transformed it to new heights. It was only a minor change, but the flavor spoke for itself: it's intensely earthy, subtly sweet, creamy from chickpeas, zesty from lemon, nutty and mildly bitter from tahini, and gently spiced. In addition to being a fabulous beetroot recipe idea that's quick and easy, this beet hummus is ideal for spreading on toast, dipping with vegetables, slathering on wraps, or just as a base for falafels and naan. Read on to explore tips and tricks, then let's get cooking!
Vegetarian food is notoriously colorful, but this beetroot hummus takes the crown for the prettiest snack.
---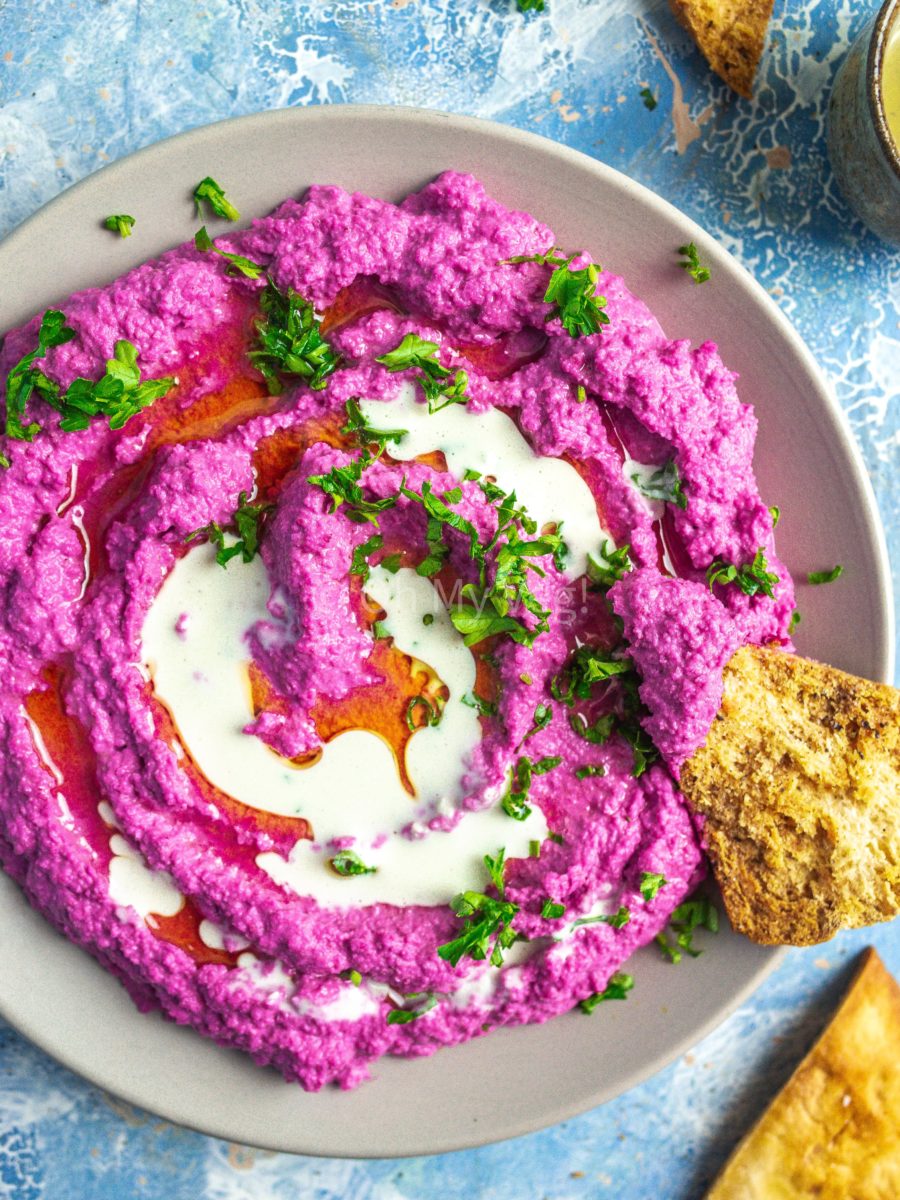 Is Beetroot Hummus Suitable for Vegans?
There's good news! This beetroot hummus recipe is vegan, gluten-free, soy-free, and nut-free, making it an ideal party dip. It's excellent for potlucks, vegan charcuterie boards, school lunches, and much more.
However, although this is technically a nut-free beetroot hummus recipe, like traditional hummus, it does contain tahini. Roasting sesame seeds produces tahini, and while it's not a nut, some individuals with nut allergies can experience similar allergic reactions when exposed to it. If you have any doubts, I advise seeking guidance from your Doctor.
What is Homemade Beetroot Hummus Made Of?
Chickpeas form the basis of any traditional hummus recipe. While you can use dried chickpeas, soaked overnight and then pressured cooked, as in my classic vegan hummus recipe, in this case, to save time, I opted for organic canned chickpeas. Although the result is slightly less creamy, it's far less intensive.
Tahini is a paste made from roasted sesame seeds. It's oily, nutty, rich, and full of umami flavor. We only use a little in the hummus, as it's bitter and tangy. If you have an allergy, consider sunflower seed butter as an alternative.
Lemon Juice brings brightness and vibrancy of flavor to this quick and easy beet hummus. Please use fresh lemon juice for the best results!
Beetroot is the central ingredient! This straightforward beet hummus uses pre-cooked beetroots from the supermarket, which really cuts down on cooking time. You can also make roasted beetroot hummus from raw, fresh beets.
Extra Virgin Olive Oil helps everything blend together and contributes a deliciously subtle fruity flavor. Use the best quality olive oil you can find.
Ice Cold Water helps to make the beetroot hummus extra creamy.
Sea Salt is a seasoning that balances the nutty, fruity, sweet, and sour flavors.
Cumin Powder is optional, but highly recommended. It conveys warmth and earthiness, adding real depth to the other ingredients.
Garlic provides pungency to the hummus. While I love lots of garlic in traditional plain hummus, I only use one clove for this vegan beetroot dip, and allow the other elements to shine. Instead, I've chosen to top it with a tahini garlic sauce (more on that later!).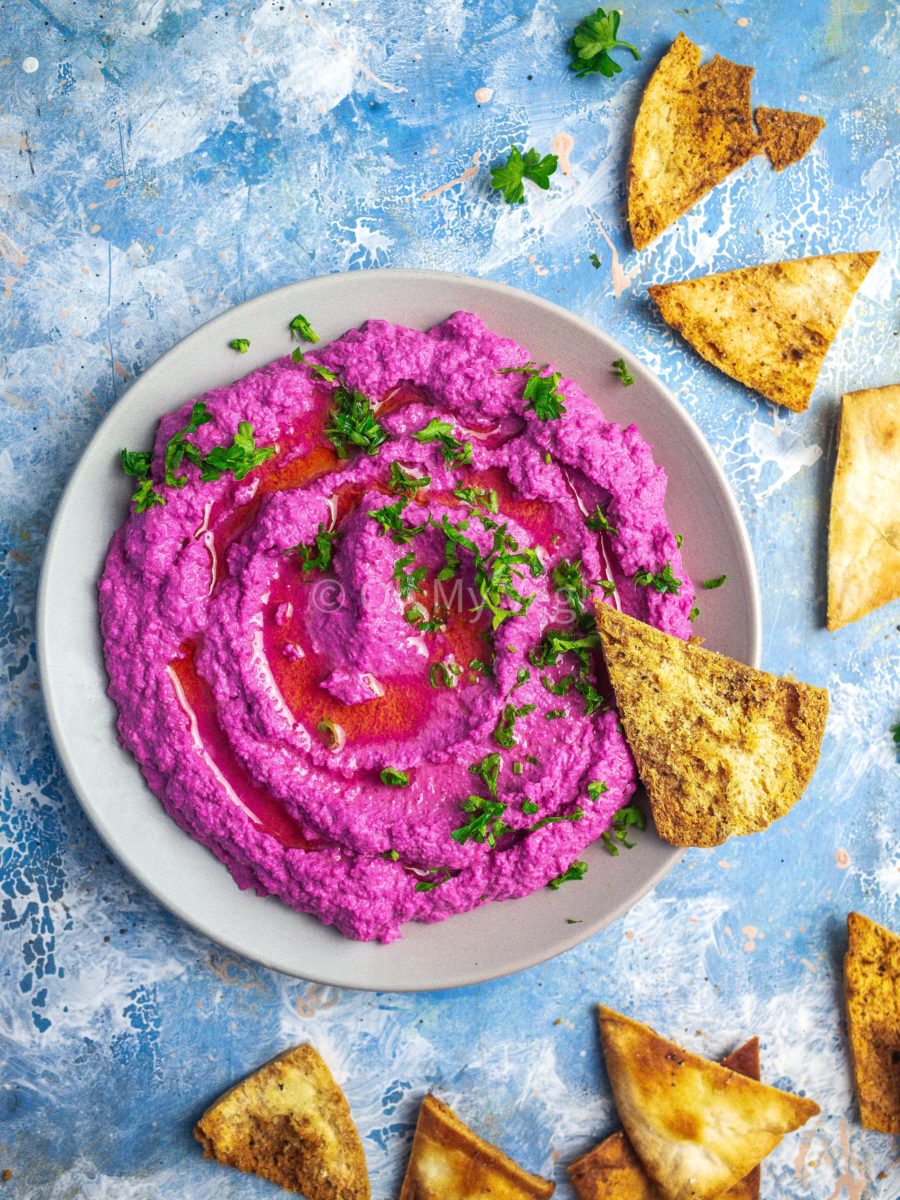 How to Make Easy Beet Hummus at Home?
Making a beetroot and chickpea dip at home is surprisingly easy. I've made the recipe as straightforward as possible, with minimum steps.
Add tahini and lemon juice to a high-powered blender. Pulse until smooth and creamy.
Next, add the chickpeas, olive oil, garlic, beetroot, salt, and cumin powder. Pulse until all the ingredients are combined and the hummus is thick.
Add cold water little by little to adjust the consistency.
Be sure to read my full recipe below for the ingredient measurements and more detailed instructions!
Creamy Beetroot Hummus Variations
Roasted beetroot hummus only requires one change from this quick and easy beetroot recipe. Instead of pre-cooked beetroots, buy raw beets. Chop off the top and bottom, slather with olive oil, and wrap in tinfoil. Roast the beets for around an hour, and then continue with the recipe as written.
Beetroot hummus without garlic is ideal for anyone following the Jain religion or abstaining from garlic for fasting reasons. If you'd like to preserve a hint of the flavor, add a tiny pinch of asafoetida (hing).
Spicy beetroot hummus is delicious! I've kept it easy and uncomplicated by only including cumin. However, other warming spices — like cayenne, paprika, roasted coriander powder, and black pepper — would also complement the flavor of beet hummus.
Add roasted onions for a boost of sweet, caramelized notes.
Toppings add another dimension to homemade beet hummus, and there are so many possible variations:

Feta cheese contrasts nicely with the sweet notes of beetroot by adding saltiness.
Toasted nuts add texture. Almonds, pistachios, and walnuts each pair well with beetroots.
Halloumi is a Mediterranean cheese that, like feta, adds saltiness. However, halloumi has a chewy, almost rubbery texture which grills perfectly.
Mint provides freshness and is a classic match for beetroot.
Garlic tahini sauce is my personal favorite topping. I've included a recipe and method in the recipe card below. It's creamy, tangy, nutty, garlicky, and really bold.
What Are the Health Benefits of Beet Hummus?
Beetroot spread isn't just vibrant and gorgeous — it also packs a punch in the nutrition department.
Beetroots, a root vegetable, are loaded with fiber, antioxidants, vitamins (B9 and C, respectively), potassium, iron, and other essential minerals. This results in many health benefits, including low blood pressure, heart health, restorative immune function, and better blood flow. This kid-friendly beet hummus recipe is also a fantastic way to encourage children to eat more vegetables!
Other ingredients in this healthy beetroot hummus, such as chickpeas, are a vital source of fiber and protein.
It's even believed that hummus is one of the best snacks for dieting since the nutrients — specifically, fiber — will help keep you full for sustained periods of time. A scientific study even showed that the urge to snack decreased by 20% after eating hummus.
What to Serve with Healthy Beetroot Hummus
Use it as a beetroot hummus spread by slathering wraps or sandwich bread with the dip. The quick beet hummus will add a healthy amount of protein to your lunch sandwiches or wraps.
Vegetable dippers like cucumber sticks, carrot sticks, bell peppers, and celery sticks are a popular choice to serve with any hummus recipe, and easy beet hummus is no exception. Crunchy fresh vegetables are some of the best dippers for beetroot hummus. The contrast of crisp veggies with creamy hummus is to die for.
Pita chips are one of my favorite accompaniments for healthy beetroot hummus. Cut pita into strips or triangles, brush with olive oil, and bake until crispy. Yum!
Any Mediterranean bread will taste delightful when dipped in the hummus. Try pita, laffa (Israeli pita), simit, fluffy garlic naan, or barbari.
Potato crisps (or chips, for my U.S.-based readers!) were my go-to hummus dipper in my youth, and they still hit the spot now. Sometimes, I like to mix it up with some tortilla chips, too!
Falafels are always a good choice to serve alongside hummus.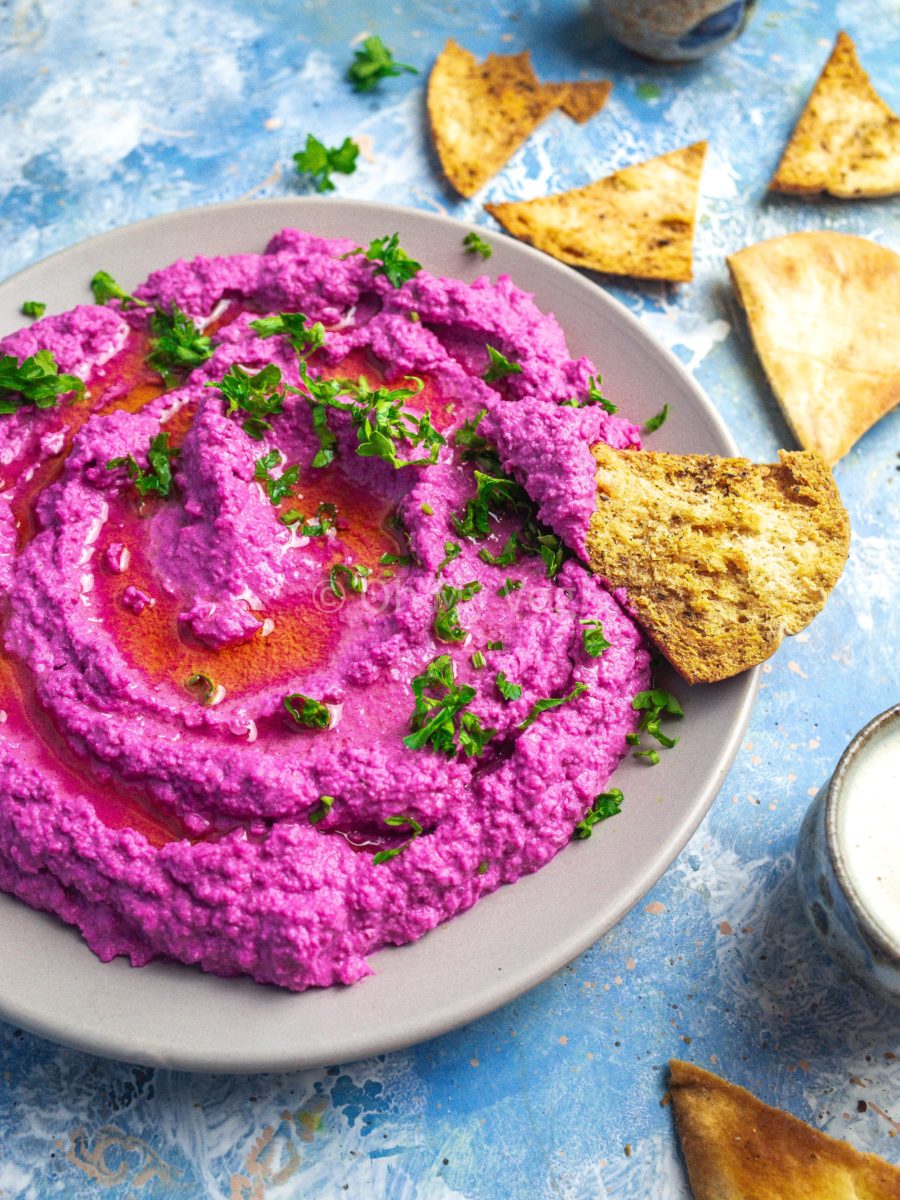 How to Store Beet Hummus
You can store this low-fat beetroot hummus refrigerated in an airtight container for up to three days. Ensure you don't eat/dip from the same container you store the hummus to prolong its expiry date.
I wouldn't recommend freezing the beet hummus, as it'll change the texture.
This Vegan Beetroot Hummus Recipe Is …
If You Love This Recipe, You May Love …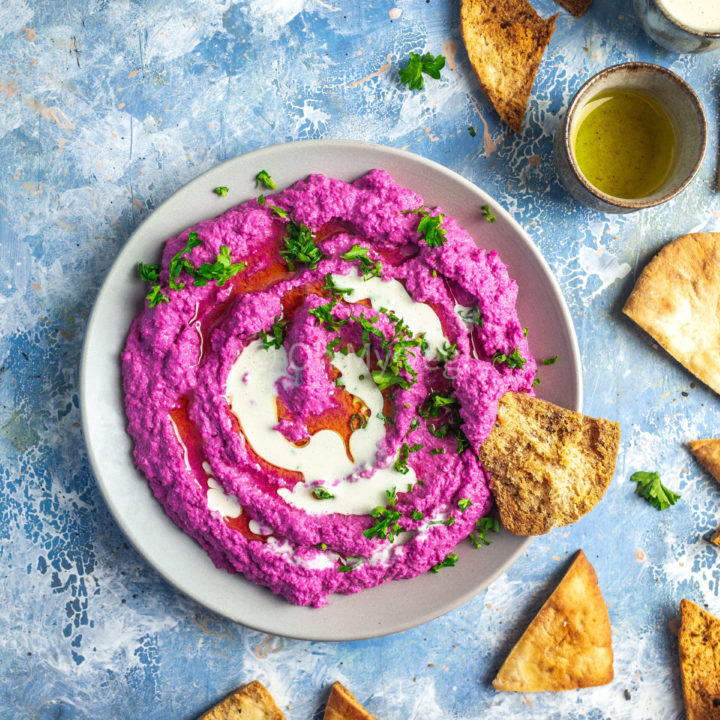 Quick and Easy Beetroot Hummus
This quick and easy vegan beetroot hummus recipe is vibrant, flavorsome, and ideal for parties, potlucks, or school lunches.
Ingredients
400g Tinned/Canned Chickpeas*
60g Tahini
2.5 tbsp Fresh Lemon Juice (About 1 Lemon)
120g Pre-Cooked Beetroot (About 2 Beetroots)**
2 tbsp Extra Virgin Olive Oil
100ml Ice Cold Water, to adjust consistency
3/4 tsp Sea Salt, or to taste
1/2 tsp Cumin Powder
For the Tahini Sauce
40g Tahini
40ml Water
Juice of 1 Small Lemon
Sea Salt, to taste
1 Small Garlic Clove
Instructions
To make the beetroot hummus, add tahini and lemon juice to a high-powered blender. Pulse until smooth and creamy. The mixture will become very light in color.
Next, add the chickpeas, olive oil, garlic, beetroot, salt, and cumin powder. Pulse until all the ingredients are combined and the hummus is thick.
Add cold water little by little to adjust the consistency.
Optionally, to make the tahini garlic sauce topping, add tahini, water, lemon juice, sea salt, and garlic to a small blender. Pulse until smooth. Spoon over the hummus.
Notes
* Be sure to save the liquid from your tinned chickpeas. It's called aquafaba, and it's a fabulous egg replacement for vegan baking.
** I love to use pre-cooked beetroots from the grocery store for this recipe, as it really cuts down on time. However, feel free to use raw beetroots! You'll have to rub them with oil, wrap them in tin foil, and bake them for around an hour before using them in the hummus.
Note: For an ultra-creamy consistency, it helps to boil chickpeas for around 30 minutes — even tinned ones. I've skipped this step as I don't mind hummus that's not ultra-smooth (and this recipe is a quick one!), but you can adapt it to your preferences.
Recommended Products
As an Amazon Associate and member of other affiliate programs, I earn from qualifying purchases.
Nutrition Information:
Yield:

6
Serving Size:

1
Amount Per Serving:
Calories:

244
Total Fat:

15g
Saturated Fat:

2g
Trans Fat:

0g
Unsaturated Fat:

12g
Cholesterol:

0mg
Sodium:

576mg
Carbohydrates:

22g
Fiber:

6g
Sugar:

5g
Protein:

8g
Nutrition information isn't always accurate.
Frequently Asked Questions About Beetroot Hummus Spread
How long can I store beetroot hummus in the fridge?
Beetroot dip can. be stored in the fridge for up to three days, provided it's kept in an airtight container.


Are there any allergen-free beet hummus recipes?
Yes! This healthy beet hummus is actually allergen-free. It's dairy-free, soy-free, gluten-free, and nut-free. However, some people with nut allergies may also suffer from sensitivity to sesame seeds (although they're not a nut), so it's best to check if tahini is suitable for you personally with your Doctor.


Why does beetroot hummus turn brown?
Your creamy beetroot and tahini dip should not turn brown. If it turns brown in the fridge, it's likely you haven't stored it properly. Be sure to always keep the hummus in an airtight container, and don't eat directly from the same container you use for storage.


What's the origin of beetroot hummus?
We don't know the exact origin of beetroot hummus. However, hummus recipes likely developed in North Africa or the Levant. Similarly, beetroot was first domesticated in the Middle East, meaning it could be an ancient addition to the rich chickpea and tahini dip. However, it's just as likely to be a more addition, along with other vegetables such as sundried tomatoes or caramelized onions.


Is beetroot hummus good for you?
Yes, beet hummus is very healthy. It boasts vital fiber, protein, antioxidants, minerals, and vitamins which are beneficial for our health.