Have you ever had Malai Kofta? Although popular in Indian restaurants, this is not a dish I commonly see in the UK. Even across India, Malai Kofta is such a rich and indulgent dish that it is only eaten in restaurants, rather than being made at home. Made of a velvety smooth, rich and creamy gravy of tomatoes, cashews, and aromatic spices, the gravy warmly caresses crispy-on-the-outside, soft-on-the-inside kofta made from potato and paneer (firm cheese).
A Mughlai dish in nature, Malai Kofta has all the hallmarks of Persian influence on Indian cuisine – luxurious, buttery, rich, creamy, and full of nuts. The warm aromatics of cloves, cinnamon, cardamom and nutmeg add an exquisite warmth and picante flavour that perfectly compliments the creamy richness.
It's easily adaptable to be Vegan, whilst naturally being Gluten Free. Malai Kofta is also perfect for those who prefer milder curries, whilst still being full of flavour. Although the ingredients list can look long, don't be intimidated – it's an easy dish to master.
This dish will be sure to impress anyone and is better than even the best Indian restaurants.
Can you make Malai Kofta Vegan and Gluten Free?
Yes! Malai Kofta is naturally Vegetarian, Soy-Free and Gluten Free. It can easily be adapted into a Vegan friendly dish too.
To make the dish Vegan: Simply substitute double cream for cashew cream – which can be easily made by soaking and blending raw cashews – or with a good vegan cream of your choice. Additionally, replace the Paneer in both the Kofta and the Gravy with grated or mashed Extra-Firm Tofu. Bear in mind that the addition of tofu to this recipe to make it Vegan will mean that it is no longer Soy-Free.
To make this dish Nut Free: Leave out the cashews which are used in the gravy. Replace with extra diary or Vegan cream for a dash of richness.
Can you Oven Bake or Air Fry Malai Kofta?
Yes! Although I like to shallow fry my Kofta, they are also suitable for oven baking or air frying as a healthier, less oily option.
To bake Malai Kofta, preheat your oven to 200C. Prepare a baking tray with parchment paper and arrange the Kofta. Spray with neutral cooking oil and once the oven is hot, put them to cook for 20 minutes, or until golden brown. Turn over halfway and spray with more oil if needed.
To air fry Malai Kofta, heat the air fryer to 180C and spray the fryer basket with neutral cooking oil. Once the air fryer has heated, arrange the Kofta in the basket and further spray with oil. Air fry for 10-15 minutes. Turn the kofta halfway through cooking and spray with more oil.
Tips for the best Malai Kofta
Don't overcook the potatoes. You want your potatoes to be just cooked – not completely falling apart. The proper texture of potatoes will affect the consistency of your final kofta.
Make flatter kofta, not round. Flattening your kofta into disks (as in the pictures) rather than round balls not only makes them less likely to break, it also means that it's easier to shallow fry, oven bake or air fry the kofta. Plus, it maximises crispiness!
Coat your kofta in cornflour before frying. This gives the outer skin of the kofta an extra crispy crunchiness and also helps it hold together well in the oil.
Sieve the gravy. No matter how powerful your blender is, I always recommend sieving the gravy for the best results. This will create a silky smooth and rich gravy that feels even better than at a restaurant.
Top with extras! Malai Kofta tastes best when it's topped with freshly chopped coriander, a liberal drizzle of cream, and crushed Kasuri Methi, and a little bit of grated paneer.
Variations on Malai Kofta
Make in Vegan. This is really easy! As mentioned above, instead of using dairy cream replace with your favourite Vegan/Dairy Free cream. You can also use additional cashews in the gravy. Finally, replace the paneer in the Kofta and gravy with grated Extra-Firm Tofu. You have yourself delicious Malai Kofta.
Make Palak Kofta instead. Not fancying a tomato-based gravy? No problem! Follow the kofta recipe below and add it to the Palak gravy from my Palak Paneer recipe.
Add nuts and fruits to the Kofta. Personally, I prefer a Kofta that isn't stuffed. However, you can add your choice of nuts and dried fruits to the middle of the kofta and wrap the potato and paneer mixture around it. Cashews and raisins work well and incorporate a little sweetness.
This Recipe Is …
Vegetarian, Gluten Free, and Soy Free
Easily adaptable to be Nut Free and Vegan
Rich, creamy and indulgent
Perfect to serve with Naan
An authentic Punjabi Recipe
For more authentic Indian recipes, why not try Punjabi Samosa, an authentic recipe with homemade crispy flaky pastry stuffed with spiced potatoes and peas; Bhindi Masala, a simple dry curry made from Okra; Gulab Jamun, a festive sweet soaked in a cardamom scented sugar syrup; Chana Masala, a Vegan chickpea curry which is rich with aromatic spices, or Dal Tadka, a creamy and warming lentil dish topped with tempered spices.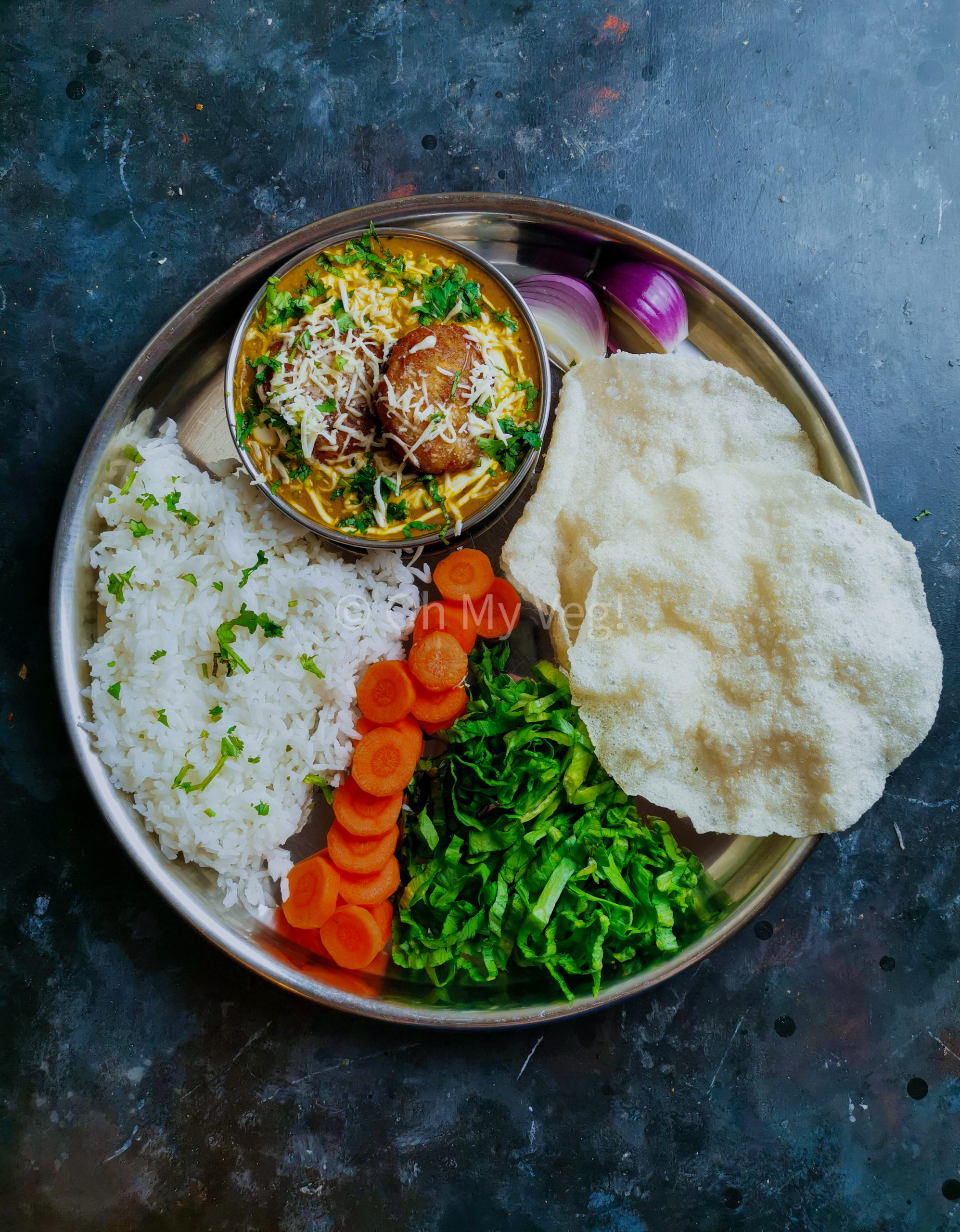 How to Serve Malai Kofta
Since Malai Kofta is a rich, creamy, and restaurant style North Indian dish, it pairs very well with extravagant sides like Garlic and Coriander Naan, Jeera Rice – or even both! Soft and fluffy naan is perfect for scooping up the thick, creamy gravy and crispy kofta, while the fragrance of Basmati compliments the aromatic tones of cardamom and cinnamon.
Malai Kofta would pair well with Punjabi Chole (chickpea curry), Palak Paneer, Dal Tadka and a sweet dessert like Gulab Jamun, Seviyan Kheer or Aamrakhand.